Martinique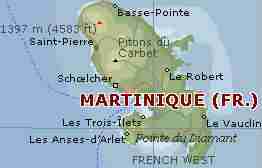 Click the map to see a larger version
Language: French.
Population: 415,000 of West African descent, plus Europeans.
Money: Euro - fluctuating but currently worth about 1 US$.
Landscape: Semi-arid on the western (left) side, with rainforest in the center and lush farming on the east.
Visited: We visited Martinique 3 times: April 17-25 with Terry & Gina, May 8-25 with Emilie Cobb, and then again from June 22-30.
History: The French first colonized Martinique at St. Pierre in 1635, a year before King Louis XIII authorized the use of slaves in the West Indies. The colonists settled quickly, and in 1640, colonized Fort-de-France, named for the fort they built overlooking the harbor. Forests were cleared to make room for sugar plantations, and conflicts with the Caribs eventually led to massive fighting. In 1660 the surviving Caribs were forced off of the island.
British interest in Martinique was keen, and in 1794 Britain invaded and took control. Martinique continued to prosper, and avoided the French Revolution. Shortly after being returned to France in 1815, sugarcane became less and less important, and the aristocratic plantation owners lost political power. In their wake came the abolitionists, led by Victor Schoelcher, the cabinet minister responsible for overseas possessions. He convinced the government to sign the 1848 Emancipation Proclamation, ending slavery in the French West Indies. He is considered a French hero.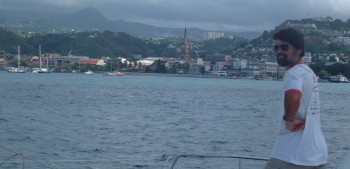 Approaching the city of Fort-de-France, Martinique
On 08 March 1902, Mont Pelée in northern Martinique erupted. It completely destroyed the then capital city of St. Pierre, killing 30,000 people instantly (it seems an election was coming and the politicians didn't want to evacuate the city just because the mountain was rumbling). The sole survivor was a man locked in prison, and even he nearly died as scalding gasses worked into his cell. He went with no food and little water for three days. It is the worst natural disaster in Caribbean history to this day. The capital was moved from the destroyed city to Fort-de-France, where it remains today. Although the formerly bustling city of St. Pierre has been somewhat rebuilt, it is a shadow of its former self, with a current population of about 5,000.
(Jon) Martinique is probably our favorite of these islands, not the least because our first born son was born here in 1986. Christopher was the only white baby in the whole clinic, and weighed much more than any baby the staff had seen in a long while. The French islands are generally more developed than the ex-British islands, but they have their own flavor and culture, which includes croissants, pain-au-chocolate, other French pastries, delicious and cheap French wines, French cheeses, and many other delightful decadences (I wouldn't want you drooling on your keyboard). There is also enough yachting activity that we can get good stainless steel and other bits for the boat. Since Ocelot was built in France to begin with, the fact that everything is metric here actually helps.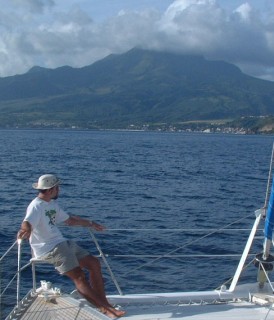 Mont Pelée, with St. Pierre below
Physically, Martinique is a delightful mix. The road winding through the Carbet peaks down the center of the island goes through the middle of the tropical rain forest. There are several botanical gardens to visit along the way. There is a trail up the volcano, but the view from the trail head parking lot is stunning enough.
Mount Pelée, in the north end of Martinique, erupted violently in 1902, killing 30,000 people in the town of St. Pierre (then the capital). Only one person got out alive, and only because he was in the dungeon. There are now about 5,000 people in St. Pierre, along with several good pastry shops and a couple of volcano museums. St. Pierre makes a good jumping off point when headed north, and is usually where we head for after the long trip down from Dominica, but few cruising boats seem to know about it. Some friends of ours were snorkeling off the town and found bits of broken pottery that appeared to date from the eruption. Pretty cool.
On the flanks of the volcano is the Gorge de la Falaise. Now, imagine this if you will: You start by walking down a steep trail, through heliconias and birds of paradise and other tropical wonders. At the bottom you come to a stream and start wading up through the refreshingly cool water. After a while the sides of the gorge narrow until you can reach out and touch both rock faces. Looking up, you can see that they go straight up for well over 100 feet (30m) before opening out. All you can see above you is a slit of blue sky, with tree ferns jutting out, giving the impression you are back in prehistoric times. Ahead, you swim through the pool in front of you and around some rocks you come to a small waterfall, 3-4 feet (1m) high. Climbing the falls you find another pool and you swim around the rocks and further up the gorge. The pool ends in another small waterfall, and the stream continues in this way until you've climbed perhaps half a dozen small waterfalls and swum or waded through a similar number of long winding pools. Then, there it is: a 30' (10m) tall waterfall plunging down into a round pool. You almost expect Tarzan to come swinging down on a vine. On the way back down, you play in the pools and the waterfalls and wonder if this was where they got the ideas for water based theme parks...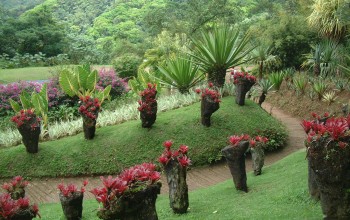 La Balata Botanical Garden in the central highlands
(Sue) For me, the return to Martinique was more emotional then I expected. Yes, it was exciting to show Chris the home he first lived in on the hills above the bay and to recall his birth in the little open-aired clinic above the city. And Amanda became an official teen the day we arrived in Fort-de-France. But I also grieved for the loss of my dad who was so vibrantly alive in my heart as we walked through the Botanical Garden and drove the rain-forested hills of Martinique like we had in 1986. I have my parents to thank for first introducing me to the Caribbean in 1963 when we spent a Christmas vacation here, traveling from Antigua to Grenada. Now that we've had a few days in Martinique, and I've had a chance to wander the Caribbean-style cosmopolitan streets of Fort-de-France again, I once again can enjoy the city for its special mix of sophistication and tropical ambiance.
Our favorite anchorage of the 1980's, Anse Mitan, across the Bay from Fort-de-France is not much more crowded than in 1986, but that's probably because the hundreds of cruising boats that visit here now gather on the south-eastern corner of the island, in a large protected bay near Sainte Anne. When we sailed into St. Anne in the early 1980's we were the ONLY cruising boat there. We drove by the other day, and looked down on over 200 cruising boats, and a marina of maybe 500 charter and local boats.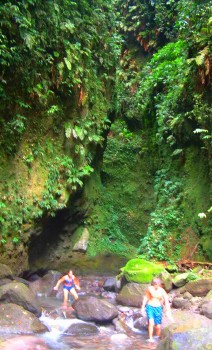 Chris & Amanda emerge from
the Gorge de la Falaise
(Chris, age 15) For me, going to Martinique (technically back to Martinique, but I left just a few months old) is a slightly odd feeling. It was neat to see where where I was born, but it wasn't much more than that. I did appreciate Martinique's beauty, and, while I think Guadeloupe may be more beautiful, Martinique isn't bad at all. I also like Fort-de-France. It has an excellent Internet cafe, which is actually where we uploaded the first version of this web site from. They also have Magic, The Gathering collectible card game cards (which I collect, I had a few thousand back home but brought only my favorite decks with me) for sale there, the first I have seen in the Caribbean. They are in French, of course, but that is actually sort of fun.
(Amanda, age 13) Well, my dad just about said it all. The Gorge de la Falaise was the coolest of the cool. I've always liked rock climbing and scrambling, but it's even more fun when you're in the tropics, in a narrow gorge, with water all around you. We could have gone with a guide, but we decided that we would rather go up by ourselves; my parents had already been there, and it wasn't at all possible to get lost. I think it was more fun this way, because we could take our time going up and down, and my mom wouldn't always be yammering away at our guide in French.
Actually, I'm surprised at how much French I'm picking up, despite my stubbornness in not learning it. When we go to restaurants, I always used to order in English, or point at what I wanted, saying a quiet Merci when it came. Now, I order in complete French, and I can actually understand most of the menu! I'm not saying I'm anywhere as good with French as I am with Spanish, but, then again, I haven't actually said anything in Spanish to a native Spanish-speaker. But I will soon!
Up | Martinique | St. Lucia | St. Vincent | Bequia | Tobago Cays | Carriacou | Grenada
Leeward Islands | Windward Islands | Venezuela | Southwest Caribbean | Caribbean Provisions | West Indies Flora & Fauna
Top Level: Home | Destinations | Cruising Info | Underwater | Boat Guests | Ocelot | Sue | Jon | Amanda | Chris | Site Map | Make a Comment
---
Lifetime
Commodores
of the
Seven Seas
Cruising
Association

If our information is useful,
you can help by making a donation
Copyright © 2000‑ Contact: Jon and Sue Hacking -- HackingFamily.com, svOcelot.com. All rights reserved.