Dessert
Potlucks are a way of life in the cruising community, and Amanda (the Dessert Queen) and Sue have become known for our tantalizing desserts. Here are just a few...
---
This recipe was given to us by another Amanda, cruising on her boyfriend's parents' yacht. She served them to us one potluck night in Chagos and we decided we needed the recipe. The gooey, chewy bars are a wonderful treat, but if you use fresh coconut instead of desiccated (as we did the first time) the texture comes out all wrong. Instead of the cookie crumbs, we sometimes use a mixture of oats, whole wheat flour, and sugar. One decadent time we used Indonesian chocolate condensed milk and hazelnuts. All variations were good.
Melt in a 9x12 baking dish:
Sprinkle on a mixture of:
1 c. cookie crumbs
1/4 tsp cinnamon
1/4 tsp nutmeg
Pres down until all of butter is absorbed and all crumbs are moist. Layer on:
1/2 c. desiccated (dried) coconut flakes, unsweetened
1 can sweetened condensed milk
1 c. chopped nuts (almonds, hazelnuts, pecans, walnuts)
1 c. chocolate chips
1/2 c. desiccated coconut
Press down firmly. Bake 20 - 40 minutes until lightly golden. Cut into bars when cool.
---
We first had this dessert in Colombo, Sri Lanka, on a whim, and loved it so much that we judged a restaurant that didn't serve it to be second-class! The cardamom, nutmeg, coconut milk, and palm sugar make flans and other baked custards pale (literally!) in comparison. We scoured the streets of Galle for a cookbook that had the recipe, and eventually found it. Heavenly, especially served cold in hot Sri Lanka.
Beat well:
Add and beat again:
1 c treacle
1 c coconut cream
--> alternatively, melt 1 c brown sugar in 2 Tb coconut cream, then add the rest of the coconut cream.
Add:
1/2 tsp grated nutmeg
1/4 tsp grated cardamom
1 tsp vanilla essence
Pour into a 9x9 casserole dish (or individual custard cups). Bake in a water bath for about an hour. Halfway through, sprinkle on top:
roasted chopped cashew nuts
Serve either hot or cold.
---
One calm afternoon in a secluded Chagos anchorage, we had Abigail (9) and Eliza (12) from Estrela onboard for school. The class: Pizza! Their mother Kyle was rather surprised when, later that night after a pizza dinner, we pulled out this fabulous gooey, meringue-y dessert pizza. It was a hit both then and for breakfast the next morning, but perhaps best served NOT with regular pizza. Named ASEA for Amanda, Sue, Eliza, and Abigail.
Make half a batch of pizza dough using 1/4 c sugar. After letting it rise, spread it out onto a well-greased pizza sheet, leaving a well-designated crust around the edge.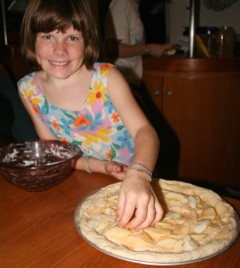 Abby lays apple slices on the pizza
Peel, core, and slice thinly:
Place on pizza dough, spreading evenly. Make sure pizza crust edge is higher than the apple pieces.
In a bowl, mix:
3 eggs, well beaten
1 1/2 c granulated sugar
1 Tb brown sugar
1/4 c flour
1 tsp baking powder
3+ Tb cinnamon
1/2 Tb allspice
Pour over apples. Do not over-fill pizza crust edges. Top with:
Bake 20-40 minutes until crust is lightly golden and topping is firm. Cool 10 minutes or longer. Cut into pieces and serve.
---
This decadently, devilishly chocolate concoction was invented by Amanda one warm day in Brisbane, Australia. Three desserts in its own right means sharing with three times as many friends, or hoarding it for three times as long.
Crust:
Make a batch of Ocelot's Chocolate Shortbread (see below). Press dough into bottom and sides of pie pan. Bake 15-20 minutes or until no longer glossy.
Fudge:
Mix in a large saucepan:
3 c. sugar
2/3 c. cocoa
1/8 tsp salt
1 1/2 c. milk
Bring to a boil, stirring occasionally. Boil without stirring until 234°F or until a small blob dropped into cold water flattens softly. If it's not boiled long enough, it won't set; if it gets too hot, it becomes candy. Reduce heat if it threatens to boil over.
Once at the right temperature, remove from the heat. Add, without stirring:
1/4 c. butter
1 tsp vanilla
Cool at room temperature until lukewarm. Beat with a wooden spoon only until it thickens and begins to lose its gloss. Spread into shortbread crust. Cool and/or refrigerate.
Topping:
By this point in the recipe I'm fairly sick of making things from scratch. I usually whip up an instant chocolate pudding or mousse packet and spread that on top. However, if you're more industrious than I am, you can use this recipe for chocolate mousse:
Melt together over medium heat while stirring constantly:
6 oz. dark chocolate
1/4 c. strong coffee
Remove from heat and allow to cool. In a separate bowl, beat until smooth:
5 egg yolks
1/2 tsp vanilla
1/4 c. sugar
Slowly drizzle egg mixture into cool chocolate. Blend well. In separate bowl, beat:
until it forms soft peaks. Beat chocolate into cream until well mixed. Spread over fudge and refrigerate until ready to serve.
---
A Greek dessert may seem a bit strange to find on a cruising boat, but we have been thrilled to find filo dough in the freezer sections of the French Polynesian supermarkets, Alatini's specialty market in Neiafu, Tonga, and in the freezer sections of most supermarkets in Fiji. There's filo dough in Australia, too. With its clarified butter and nuts the calorie count is high, so it's a real treat when we make our baklava. This recipe was finalized in Christopher's fourth grade class with the help of his Greek teacher, Mrs. Georvasilis.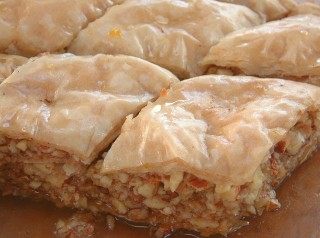 Baklava is a real treat!
Have ready:
1-pound package of frozen filo dough, defrosted according to instructions
Mix and set aside:
4 c. finely chopped walnuts or almonds (a Cuisinart works better than hand chopping)
1/2 c. sugar
Melt and bring to a boil 1 1/4 c. butter. Discard foam. The remaining butter is clarified. (In some places you can buy pre-clarified butter, called Ghee.)
Brush some butter on the bottom of the pan (9" x 13" works well)
Layers:
5 sheets of filo, each brushed with butter
Nut filling
Repeat until 5 sheets of filo are left, and no more nuts. Lay down last five sheets with only butter in between. Butter top well.
Cut diamond shapes through all but the bottom layer of pastry.
Bake at 300 degrees F for about 1 hour. Cool.
Syrup:
Mix in a saucepan:
1 c. sugar
1 c. water
a pinch each cinnamon, ground cloves, and orange peel
Boil for 5 minutes. Add 1/2 c. honey.
Pour hot syrup over cooled baklava. Cool and serve. Do not refrigerate.
---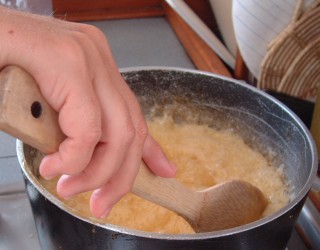 Heat the mixture until it changes color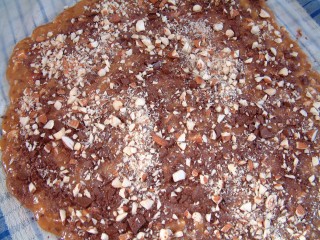 Sheet of Almond Roca before being broken up
This is a bit new for us, seeing as almond roca is more a candy than a dough-or-batter dessert. The recipe was given to us by our dear friend Kelcey on Lady Starlight, and is absolutely exquisite. We've got another recipe for almond-roca bars, which are more cookies with the almond roca topping. Very good, but this almond roca is more like the real stuff. As all candies are, though, timing is important and it gets easier as you make it more. One note - don't forget the water!
Put in a saucepan:
1½ c. granulated sugar
1 c. butter
3 Tb water
Cook on high heat, stirring occasionally with a wooden spoon, until light tan. Don't let it burn! Add:
Then:
Continue cooking, stirring continuously, until dark tan. The mixture will smoke slightly.
Pour onto wax-paper-coated cookie sheet and spread thin. Do not use a plastic tray, or it will warp.
Sprinkle evenly and out to the edges with chopped chocolate chips and more chopped almonds.
Cool completely, peel off wax paper, and break candy into small pieces.
Store in the refrigerator or a cool place until served.
---
One of our favorite desserts of all time is pumpkin pie, but that requires a bunch of other ingredients, and a long baking time. These pumpkin cups are basically pumpkin-pudding mousse in filo-dough cups. In the States we bought pre-made, pre-cooked filo cups, but out in the islands of the Tongan Vava'u Group, you can't buy those. But you can buy filo, so we just made them! Together with the mousse, it makes a wonderful finger-food dessert.
Filo cups: makes 8
about 6 sheets of filo dough, depending on size
1/4 c. butter, melted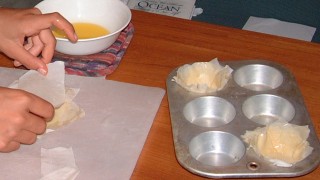 Filo cups are a bit of work, but really worth it!
Pre-heat oven to 350 degrees.
The amount of filo dough you need depends on what size cups you want. We don't have any small-size cupcake tins on board, so we used regular-size cupcake tins. For that size, we cut the filo dough into 4" x 4" squares. For the smaller size, cut them into 2.5" x 2.5" squares.
For each cup, lay down one filo square on a clean, flat surface. Using a pastry brush, brush a thin coating of butter onto the square. Lay another square on top of the first one, at a slight angle. Brush on a coat of butter. Lay a third square on top of the other two, at a different angle so that the three layers form a ragged-edged circle. For bigger cups, you can put one more layer on. Butter the top layer, then carefully lift the layered square and place it upside-down on top of the cupcake tin. Press into one of the holes, and fold the corners of the dough out to make a semi-smooth rim.
Once all the holes are filled, brush the inside of each cup with another thin coat of butter. Bake the cups for 5-10 minutes, until lightly golden and crispy. Allow to cool several minutes in the tray, then carefully transfer to a plate or wire rack to cool completely.
The cups can be made beforehand, then re-crisped in the oven for 3 minutes just before being used.
Pumpkin mousse:
To fill 8 filo cups: Blend in a blender:
1 c. unseasoned pumpkin
1/4 c. whipping cream
3 Tb brown sugar
1/4 t. each nutmeg and cloves
1 t. each cinnamon and allspice
Adjust spices to taste. Chill pumpkin mixture until needed.
At the last minute, whip:
3/4 c. whipping cream
1 Tb powdered sugar
Fold the pumpkin mixture into the whipped cream. Fill the cooled, baked cups and garnish with freshly grated nutmeg if desired. Serve immediately.
---
We discovered this in The Essential Galley Companion by Amanda Swan-Neal on the passage from the Galapagos to the Marquesas, and since then we have changed the recipe marginally to make it a favorite. We use a 9x9 inch glass pan, but haven't tried any other type.
Combine:
1 egg
2 t. cinnamon
1/2 t. salt
1/4 t. nutmeg
1/4 c. oil
1/2 c. white sugar
1/2 c. brown sugar
1 c. flour
1 t. baking soda
2 c. peeled, cored, chopped apples (about 2)
3/4 - 1 c. chopped pecans
(1 can drained pineapple chunks)
Bake 35 - 40 minutes at 350F.
---
This is the best, richest chocolate cake that we have ever had. It's a favorite on board for birthdays, especially, but also whenever we get that craving. It's delicious, but part of the craze for it on board is that our cake pans are too small, so we have to eat some of it raw. A vanilla frosting provides a wonderful contrast.
Combine:
2 c. sugar
1 3/4 c. flour
3/4 c. cocoa
1 1/2 t. baking powder
1 1/2 t. baking soda
1 t. salt
Pour into the dry ingredients and stir until smooth:
2 eggs (if using dried/reconstituted, stir in the powder first, then the water)
1 c. milk
1/2 c. oil
2 t. vanilla
1 c. boiling water
This creates an unusually thin batter. Pour into 2 round 9" oiled/floured cake pans. Bake 30-35 minutes at 350F.
Icing:
Cream
1/3 - 1/2 c. butter
2 c. powdered sugar
1/2 - 1 t. vanilla
Spread jam (raspberry is our favorite) between the layers and spread icing over the whole cake when cool. Serve with milk.
---
There's a family tall tale that I caught Jon on an Apple Crisp. Whether true or not, I continue to ensnare him with tropical versions such as Pineapple Crisp. This is a real winner if you have lusciously sweet fresh pineapple.
Peel and cut out the eyes and core of one or two ripe pineapples. Cut fruit into large-bite-size chunks and place in a baking dish. (I use a 9 X 14 for this recipe.)
Prepare topping by cutting together until it forms small chunks (do not use an electric mixer):
1 1/2 sticks of butter, soft but not melted
1 1/2 cups white sugar
1 1/2 cups flour
1 teas cinnamon
1 teas all spice
1/2 teas nutmeg
Spread topping over pineapple, and bake at 350 degree for about 45 minutes, or until the top is golden brown, and a fork stabs the fruit easily. Serve hot or room temperature, alone or with plain yogurt (my favorite), or ice cream (for those with a real sweet tooth!)
Variations: you can increase the quantity by adding several peeled, cored and sliced apples to the pineapple. Also, if you use a smaller dish, then portions of 1 stick of butter to 1 cup floor and 1 cup sugar work well. Adjust the spices to your liking.
---
Ocelot's Chocolate Shortbread/Oreos
Another Amanda/Sue creation, when the urge for chocolate overlaps with a desire to bake. It takes great will-power to get the dough onto the cookie tray while there's still enough left to warrant baking. We use Venezuelan, Grenadan, or, if we have it, Hershey's cocoa powder.
1/2 cup butter, softened

1 cup flour

1/4 cup cocoa

1/4 cup powdered sugar
Form into a ball and press onto a cookie sheet, about 1/4 inch thick. Score into 8 pie-shaped slices. Bake 350 degrees F. for about 15 to 25 minutes. You can ice the cooled cookies to have them be more like Oreos - sandwich cookies to be more authentic, or icing only on one side to get more per cookie!
Icing:
7/8 c. powdered sugar

1/4 t. vanilla

1 Tb. milk
---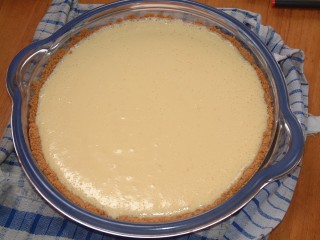 Ocelot creation: Key Lime Cheesecake Pie
Ocelot's Key Lime Cream Cheese Pie
Created by Sue and Amanda, using ginger snaps for the crust (because there are no graham crackers available where we've been sailing), and adding the cream cheese to a standard key lime recipe. Makes a tangy, limey, cheese cake pie. This fills a fairly deep, 9" pie pan.
Crush about 15 ginger snaps and stir in up to 1/4 c. melted butter. Press into pie pan and pre-bake 350 degrees for about 10 minutes.
Filling: In a blender, blend together
1 8 oz package cream cheese
1 can condensed milk
1/2 cup lime juice (plus, try lime marmalade &/or lime peel for added flavor)
2 eggs
2 heaping Tb flour
Pour into pre-baked crust. Return to oven for about 10 minutes until set. Cool and serve.
---
This recipe is a conversion from one given me by Jeanne Harshbarger for Caramel Flan, and it's a great hit.
3/4 cups white sugar
6 eggs
1 teas vanilla
1/4 cup sugar
1/2 tsp salt
2 cups milk
1 can Coco Lopez (or other) coconut cream
In a frying pan, heat the 3/4 cups of sugar until it melts and turns golden brown. (Careful not to burn it!) Pour the caramelized sugar into the bottom of an oven baking dish and tilt it to coat the bottom and part way up the sides. Set aside.
In a bowl beat eggs, 1/4 cup sugar, salt, and vanilla.
In a saucepan bring the milk and coconut cream to a simmer and sir into the egg/sugar/vanilla mixture. Pour into the oven pan. Bake in a water bath at 325 degrees for about 50 to 65 minutes. Chill and serve.
---
Created by Sue and Amanda for a potluck at the St. Martin Yacht Club, which is really four old containers with a bar and a TV under cover and everything else out in the wind (and rain!).
Crust:
1 cup butter
2 cups flour
1/2 cup powdered sugar
Mix well and press into a 10x13" pan. Bake at 350°F 20 minutes or until golden brown.
Topping:
In a bowl, mix
3 eggs
1 1/2 cups brown sugar
1/2 tsp baking powder
1 tsp vanilla
3/4 cup oats
1 cup chopped pecans
Spread evenly onto shortbread crust. Bake another 15 - 20 minutes until bubbly. Cool, cut, and eat.
---
Cruising Recipes: Up | Bread | Breakfast | Lunch | Dinner | Dessert
Cruising Info: General Cruising Info | Equipment | Pacific Ocean Cruising | Indian Ocean Cruising | Provisioning Food & Fuel | Cruising Recipes
Top Level: Home | Destinations | Cruising Info | Underwater | Boat Guests | Ocelot | Sue | Jon | Amanda | Chris | Site Map | Make a Comment
---
Lifetime
Commodores
of the
Seven Seas
Cruising
Association

If our information is useful,
you can help by making a donation
Copyright © 2000‑ Contact: Jon and Sue Hacking -- HackingFamily.com, svOcelot.com. All rights reserved.