2-Handed Cruising
1 August 2009, at sea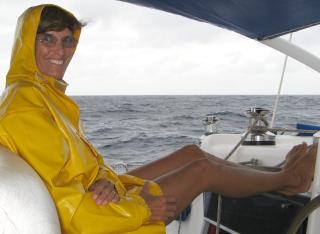 Sue on watch, more hours now each day!!
Dear Friends and Family,
Sue here, for once. We are on the last 50 mile approach to Madagascar and the sea is glassy, so I'm able to work on the computer. Many of you have asked what it's like for us to sail with only Jon and me, after so many years with the 4 of us. Well, first of all, let's say it's different. We miss both Chris and Amanda tons. Not only for their company, laughter, competence, and easing the chores and the night watches, but because they are great friends! Ah well. Life goes on.
Jon and I, of course, are not strangers to sailing with just the 2 of us, as we managed about 20,000 miles in the 1980's in the Caribbean, Panama, and Central America up to San Diego in our little trimaran. Some of that was arguably less than double-handed as we had infant Chris aboard for the final 2 of those 7 years. This recent passage from South Africa to Mayotte, at over 1,200 miles, has been the longest one just the 2 of us have completed, so we feel pretty good about that, now.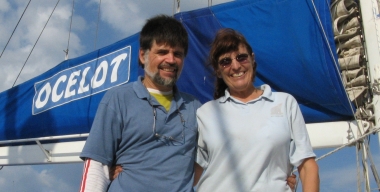 On our own, once again!!
Standing night watch is the biggest place where we feel the lack of extra crew. We used to stand 1.5 hour watches, then get 4.5 hours of sleep. Now Jon and I divide the night like this: I take sundown to 2000 (8 pm) while Jon rests. He stands the 8pm‑midnight, then gets me up for the midnight to 4 am. He takes 0400 to anytime after sunrise. He usually has a radio schedule with other boats at 0600 or 0700 so that works well. A few times he's had to haul me out of the bunk to hand steer the boat while he transmits, but not everyday, luckily! (That used to be Amanda's watch, so I really miss her for that!) Although 4 hour watches can feel interminably long this works for us, as I especially hate being awakened twice in the night, as I was with the shorter schedule.
Chris used to be in charge of the water-maker: maintenance and daily running of it. Now Jon does all that, as he has for the past 3 years. The kids used to cook dinner, but now I do that, and happily. I do love to cook! Cooking at sea never feels like a chore, but can sometimes feel like a challenge if the boat motion is too wild. Jon does dishes occasionally, and I do boat maintenance occasionally, but by and large the jobs are split "pink and blue": he gets to plunge his hands into the engine oil/diesel/grease/fish guts, and I get to plunge my hands into soap suds. Sounds fair to me.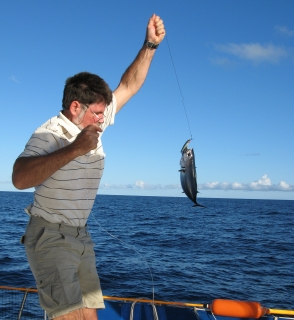 Jon used to have Amanda's help with fish!
Amanda was the master baker and bread maker and I have a ways to catch up on that. We're eating far fewer desserts these days, and I have yet to try my hand at bread making. It's been many years since I taught Amanda, and then promptly got out of practice! The challenge, of course, is that I'll be baking bread for just the 2 of us, and won't want to have any go to waste. Provisioning the boat is a big challenge right now: I think I put enough food on here for the 4 of us! It was hard to NOT fill the lockers with all the goodies we knew we wouldn't see again after South Africa. Or Mayotte. Or ... Oh dear. If we stop in the Seychelles, will I re-provision again???
We're still fishing, but with fewer crew it's harder to work our way thru a 7kg fish before we're sick of it. I am referring again to a list I made in the 1980's -- the progressive stages of fish eating:
| | |
| --- | --- |
| Day 1: | Raw or lightly sautéed with garlic. |
| Day 2: | Fish salad for lunch, more sautéed for dinner or perhaps done in the Polynesian style of poisson cru (with lemon juice, chilies, coconut cream). |
| Day 3: | Fish salad for lunch, maybe with a touch of curry in the dressing, dinner of stir-fried fish with sesame or some light Chinese sauce. |
| Day 4: | Fish curry, either Thai, Indian or Indonesian with coconut milk. |
| Day 5: | Fish loaf with ketchup and herbs. |
| Day 6: | Sweet and sour fish. |
Notice how I disguise the fish flavor more and more? Of course, a good cold fridge really helps, also the freezer (if there's room in it). Sometimes we break down and have chicken or beef along about day 4!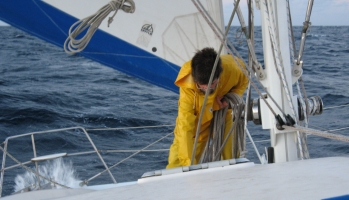 Jon alone at the mast. I'm watching!!!
Sail changes are another area where we really miss the extra crew! It used to be, with Chris and Amanda on board we rarely needed all hands on deck, but often there were 3 of us involved. Usually I'd stay in the cockpit to deal with the lines that come back there while Jon/Chris/Amanda would be up at the mast. It was always reassuring to me to know that the 2 at the mast could look out for each other if the seas were rough and that back at the helm I could see everything that was going on. Now, it tends to be Jon who goes to the mast, and I stay in the cockpit. But it definitely takes longer for just one person to reef the sails (shorten them) or shake out the reefs.
My emotional response to a passage with just the 2 of us was interesting. I used to put on a very brave, cheerful demeanor for the sake of the kids. But as Jon and I got ready for the big passage up the Mozambique Channel in mid‑July I found my anxiety level rising: so I had to play "mom" to myself! But once we were underway it was as though we had never had that 20-month hiatus. It helped to have beautiful following seas for 2 days, so by the time it got rough I was already right at home. Well, except for one morning when I woke up in a bad mood, annoyed that the boat was throwing me around and the waves were slapping and slamming. But I got over it!
Jon and I have to be a bit sharper, mentally, as there are fewer people to remind us of things that need doing. Thank goodness we both like lists! We also figure the mental exercise is good for us! There's more physical work with just 2 of us: like carrying the sailing dinghy from the bow to the stern to be nestled into the inflatable, helping to lift diesel jugs from the dingy to the boat, wrapping and stowing big dock lines, things like that. But it's all good exercise, as long as I remember to keep my abs tight!
Decisions are easier with just 2 people to consider, and Jon and I still thrive on each other's company, even after 34 years!! Stay tuned for more from the intrepid twosome.
Take care, and keep your wits about you and your abs tight!
Fair Winds and Calm Seas -- Sue and Jon
General Info: Up | Track Files | 2-Handed Cruising | Why Sail a Catamaran | Cruising with Teens | F A Qs | Cruising Expenses
Cruising Info: General Cruising Info | Equipment | Pacific Ocean Cruising | Indian Ocean Cruising | Provisioning Food & Fuel | Cruising Recipes
Top Level: Home | Destinations | Cruising Info | Underwater | Boat Guests | Ocelot | Sue | Jon | Amanda | Chris | Site Map | Make a Comment
---
Lifetime
Commodores
of the
Seven Seas
Cruising
Association

If our information is useful,
you can help by making a donation
Copyright © 2000‑ Contact: Jon and Sue Hacking -- HackingFamily.com, svOcelot.com. All rights reserved.