Why Sail a Catamaran
A shorter version of this article, called "Why Cruise on a Catamaran?" written by Sue, was originally published in the July 2006 issue of Cruising World magazine. Here, we publish it with new photos.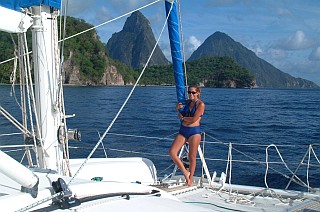 Sailing the dream - on a cat, of course!
By Sue Hacking
Those of us who sail catamarans don't have to do a lot of proselytizing. We like our boats, and we know why we like our boats. As I figure everyone does. But when our cruising friends Scott and Sonia told us they were going to sell their beautiful monohull, Peregrinata, and look for a catamaran to cruise in, I was shocked.
Why would someone sell a perfectly good cruising boat and start all over with an unknown boat, especially when you're already half way around the world?
The conversation that ensued really got me thinking. Just what is the allure of catamarans?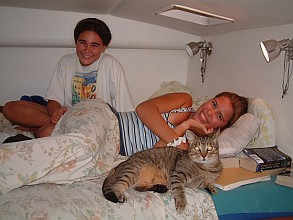 One cabin per kid, plus cat and cousin
Comfort: That's the first word that came to mind. I pictured some of the cruising families we know cramped into various mini-cabins and pilot berths. After six years on our own 45 foot (14m) French Wauquiez catamaran I wouldn't trade places with a family on a 55 foot (17m) monohull for a night. Jon and I enjoyed the privacy of "the adult side of the boat" and the knowledge that our teenage kids relished their own digs in the port hull. Of course there's a down side to space: if you want to keep your catamaran light you have to fight the urge to fill the spaces (and the deck!) with "stuff".

Ocelot's 10 knot wake off the Australian coast
Speed: Keeping a cat light not only keeps it safe – less strain on the rig – but fast. But just what is the story with speed and catamarans? On the long haul from Ecuador to the Marquesas some monohulls we knew had taken a frustrating 35 or 40 days. We did it in 23, but that was no record breaker: we came in at the tail end of the group that left the Galapagos together, mainly because Jon choose to keep us in lighter winds to have a more comfortable passage. Thinking about it, I realized it was choice that made the issue of speed on cats more than a simple "I can go faster than you" kind of argument. It's about the choice to sail faster or slower, depending on conditions, comfort and need.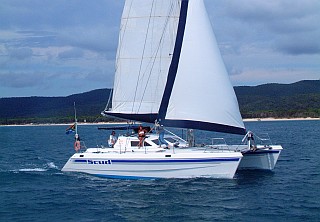 With almost no wind, Scud makes an
effortless 5 knots in Moreton Bay, Australia
In July 2005 we set out on a 570 mile passage from Fiji to Vanuatu. It was blowing 25‑30 knots, with higher gusts so we were reefed down, keeping the boat just fast enough to skim the awkward seas, but not so slow she was sluggish or so fast she was uncomfortable. We were averaging about 9 knots. We rarely sail Ocelot to her capacity, always aware that she is our home. Breaking things is not only dangerous and expensive, but making repairs cuts into other more important cruising activities like diving, socializing and exploring. Six hours out of port the skies remained overcast, the seas were building, and our weather forecasts showed increasing headwinds between us and Vanuatu. By 3 pm the fun had worn off. We were crusty with salt spray and not looking forward to several more days of worsening weather. Although we were 40 miles SW of the last easily navigable pass into Fijian waters we brought Ocelot around. Now, with the promise of a shower and the anchor down for the night we didn't mind a bit more salt spray. Nor did we worry about a few hours of being thrown around on a carnival ride. We shook out a reef, set a course for Navula Pass and let her fly. We covered the 40 miles in just over 3 hours and sailed behind the fringing reef at dusk. Nestling the anchor into the mud of Momi Bay we were really glad to have had those few extras knots hiding in our sails, and to be able to anchor in a bay that shoaled to two meters.
Draft: Most catamarans draw only about one meter, giving them the ability to anchor close to shore. This often means the boat is in more protected waters and it makes for shorter dinghy rides to the beach. Cats can also tuck up onto sand shelves where monohulls daren't go. In Ocelot, this meant we could log time in some rarely-visited lagoons with shallow passes like New Caledonia's Nekanmue Atoll off the Isle of Pines. Of course, an unwary skipper can put a catamaran aground just as easily as a monohull -- cats just end up in shallower water. On firm mud or sandy shores with good tidal range many catamarans can use their two beaching keels as a solid platform for careening.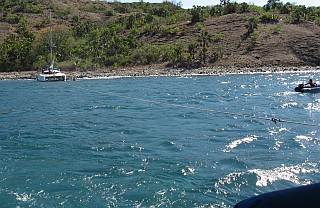 Ocelot's twin diesels supply the power
to pull Pimienta off the rocks in Madagascar
Redundancy and Power: Two hulls of course means double the work to scrape and paint, double the engine maintenance, double the risk of one of those many thru-hulls giving out, higher marina fees – the list goes on and on. I won't deny that cats are expensive machines to buy and expensive to maintain. But the safety of redundant systems makes them worthwhile. In central Tonga we caught a line in one propeller, putting that engine out of service. A few days later we had to make for shelter in a 40 knot squall. The second engine allowed us to tuck behind a small island instead sailing the reef-strewn waters for another three hours. Twice now, once in Fiji and again in Madagascar, we have used every bit of horsepower in our two Yanmar diesels to pull stranded boats off reefs or rocky shores. Two hundred miles from land we hit a sleeping whale in the Mozambique Channel. When it dove, it thumped the hull and bent the prop, knocking the port engine out of commission. If it weren't for the second Yanmar diesel in the starboard hull, we'd have had a very scary entrance into the shoal waters of Mozambique where we sought refuge to survey our damage.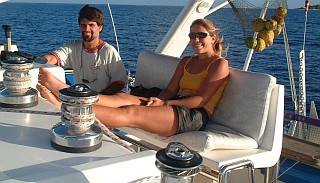 At the helm, safely within the cockpit
Safety: In boating circles a debate has long smoldered between multihull aficionados and monohull diehards about the safety of their boats. I won't tell monohull sailors their boat is unsafe or claim that mine is safer. But I know that it would take a very major catastrophe to sink our foam-sandwich cat. Very little of it is heavier than water. Even if both hulls were open to the ocean, we'd still float. In the event of a capsize, well, it's said that an upside down catamaran makes a better life raft than those inflatable ones. What we especially like about a catamaran is that we feel safer going to and working at the mast than we do on a heeling monohull, not only for the stable platform on which we sail, but also because we are far from the water. On some catamarans, the helm station is centrally located in the cockpit, making this a very safe place from which to steer the boat. We had no qualms sending our young teens out for night-watch (by themselves) when they're 16 feet (5m) from the water and on a level platform.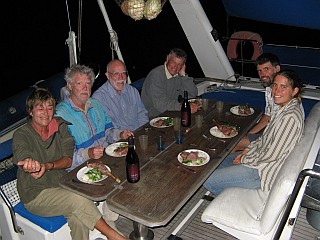 A spacious catamaran cockpit means
you get to be the party boat!
Space: Meter for meter, catamarans win out over monohulls hands down in the matter of space -- not only in accommodation, but deck space as well. Many cats are floating platforms for surfboards, kayaks and sailing dinghies. Most have some deck or cabin-top space for huge arrays of solar panels. Then there's the entertainment angle. One evening we sat in our spacious cockpit sharing dinner with Sonia and her family. "We owe you big-time in the entertainment department," she said. We shook our heads and laughed it off.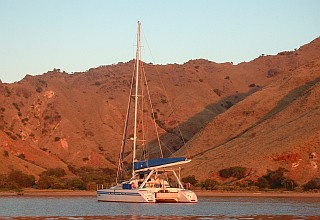 Nowhere I'd rather be
than out cruising on a catamaran
The truth is we love being the party boat. Cruising isn't all about passages and sailing. 93% of our evenings we're anchored in port, often socializing. Jon and I have known that for years. On Ocelot we hosted 23 people for Easter in St. Maarten one year, and our son's 18th birthday in Tonga with 10 kids and 10 adults. Even in bad weather we have room for 12 to sit below at the table. Sharing our spacious cat is part of the fun.
When I asked about the boat buying/selling decision Sonia said, wistfully, that they'd like a cat. But it wasn't in the cards right now.
"No worries, mate," I said. "There'll be one for you someday." We gave each other a knowing smile. We both knew the most important thing about cruising is being out there, doing it, whether it's in one hull or two. But give me two hulls, any day.
Sonia and Scott and their daughters are in Victoria, BC stocking up the cruising kitty to continue their circumnavigation.
General Info: Up | Track Files | 2-Handed Cruising | Why Sail a Catamaran | Cruising with Teens | F A Qs | Cruising Expenses
Cruising Info: General Cruising Info | Equipment | Pacific Ocean Cruising | Indian Ocean Cruising | Provisioning Food & Fuel | Cruising Recipes
Top Level: Home | Destinations | Cruising Info | Underwater | Boat Guests | Ocelot | Sue | Jon | Amanda | Chris | Site Map | Make a Comment
---
Lifetime
Commodores
of the
Seven Seas
Cruising
Association

If our information is useful,
you can help by making a donation
Copyright © 2000‑ Contact: Jon and Sue Hacking -- HackingFamily.com, svOcelot.com. All rights reserved.