Logs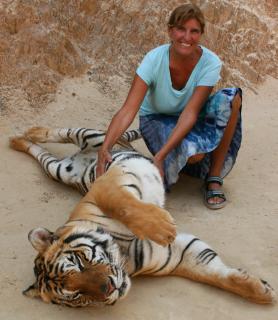 At the Tiger Temple, Thailand. Tummy
scratch for the tiger.
I don't write a lot of newsletters about our life on the boat but I do occasionally put entries into "Sue's Log". These take the form of whatever I am thinking about at the time, so content varies a lot.
Below is a list of entries from my logs over the past few years, ordered from most recent to oldest.
By July 2007 we had said goodbye to both Christopher and Rachel (Amanda's buddy from Australia) and sailed 2/3 of the way across the Indian Ocean. It had been a year of highs and lows, and I touch on that in the log I wrote from the 2007 Seychelles. Cruising with teenagers has become quite a topic of conversation amongst our cruising friends so I did some writing on that subject, too which you can read in our Cruising Information section on Cruising With Teenagers.
There was a long gap in my log writing as we adjusted to life with just three of us on board once Chris had left for college. In my log of December, 2006 I write a bit about the people we sailed with along the way from Fiji to Malaysia, with a special emphasis on other teen boats and our time with them in Australia. I wrote this from 2006 Malaysia, just before Chris came back to join us for 3 months.
In August, 2005, Amanda left us for 6 weeks to take a crew/babysitting job in the States. With Christopher already off at university Jon and I had some very welcome time alone together. To read about life on a sailboat as just a couple, and the difference when there aren't teens around, read my log entry written in 2005 Lautoka, Fiji.
During our last few months with Christopher on board before he left for college, I wrote from the 2005 Yasawa Islands of Fiji about our experience home-schooling the teenagers.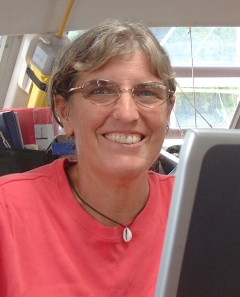 Sue at the computer aboard Ocelot
In 2004 Tonga I wrote a bit about our cruising community and our friends on Lady Starlight. Also some information and impressions of the Tongan culture.
In 2004 French Polynesia I wrote a bit about living in a French culture, what it was like to return to the States for 4 months, and how cruising with friends is not the same as cruising just as a family.
On the 2003 Ecuador page I have a short description of our passage making in the first log entry, then a mini-essay about the human impact on the Galapagos Islands.
The 2003 Venezuela page tells a bit about the political struggle in Venezuela and the strike that kept family from coming to visit us. I also sum up the first year of cruising, and how the family has changed and grown, and tell about our musical evenings with cruising friends on Fifth Season who we first met in Martinique and saw again in Bonaire.
On the 2002 Grenada page I describe some of the changes I've seen in the Caribbean since we last cruised there in the 1980's. There are also lots of pictures of other cruising families and their kids.
The 2002 Martinique logs cover tidbits about our daily life, water usage, friends aboard, language learning, and changes to the Caribbean.
The 2002 St. Martin logs cover the first few months aboard Ocelot, talking about friends aboard, schooling routines, Arthur the cat, and cruising friends.
---
Sue's Logs: Up | 2012 Thailand | 2011 India | 2007 Seychelles | 2006 Malaysia | 2005 Lautoka, Fiji | 2005 Yasawas, Fiji | 2004 Tonga | 2004 French Polynesia | 2003 Ecuador | 2003 Venezuela | 2002 Grenada | 2002 Martinique | 2002 St. Martin
Sue's Pages: Sue Muller Hacking | Logs | Provisioning
Top Level: Home | Destinations | Cruising Info | Underwater | Boat Guests | Ocelot | Sue | Jon | Amanda | Chris | Site Map | Make a Comment
---
Lifetime
Commodores
of the
Seven Seas
Cruising
Association

If our information is useful,
you can help by making a donation
Copyright © 2000‑ Contact: Jon and Sue Hacking -- HackingFamily.com, svOcelot.com. All rights reserved.