2011 India
April 2011, Chennai, India, Indian Ocean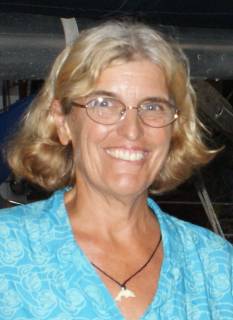 Me, Chennai harbor, aboard Vamp
A lot of water and a lot of miles have passed beneath our hulls since I last made a log entry. I guess sometimes I'm just too busy living life to stop and reflect on it.
Sailing with Just 2 of us!
The biggest change since my 2007 entry is that Jon and I are now alone on the boat, a couple once again, just the two of us sailing as is the case with probably 90% of cruisers out here. In 2008 we left Africa by plane to take Amanda back to begin her Oceanography studies at the University of Washington. She had chosen to apply to only 2 universities in the States, so the whole process was a lot less drawn out than it was for firstborn Chris. In the end, her decision as to where to go revolved around which university offered more oceanography science classes, as opposed to ecology/environmental classes -- she chose UW in Seattle for its awesome range of hard science courses. It was also convenient, and friendly, to have both kids at the same university, in the same town!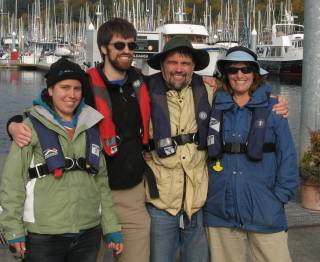 Family together, about to sail the Sound. Brrr.
We had just gotten Amanda settled into dorm life, when it was time to fly back to Africa, and my anxiety was growing. Empty nest syndrome was hitting me hard, and we hadn't even left the States yet! It was our great good fortune, then, to have Paul Diaz, an old boss of Jon's, give us a call and ask if Jon was available to work! Yay! Income is good!
We stayed 8 months in the USA, living part of the time with my brother in Seattle, and part of the time with our young friend Laura Jean (LJ, who we first met years ago when she was 7, sailing around the world with her parents) who was about to embark on a sail-across-the-Indian-Ocean adventure. We still had our old car, so we could get around and see the kids both mid‑week and weekends. We stocked up the cruising kitty, bought goodies for the boat, and headed back to South Africa in March 2009. We then faced the re-crossing of the Indian Ocean and all the scary issues concerning the Somali pirates. We decided to sail to the northern tip of Madagascar and take a "pirate reading" there, to see if we considered it safe to continue. We knew it was "off-season" for the pirates, the ocean being too rough for them in the South East winter Trades and we were diligent in keeping abreast of their activity and locations. We also had good friends in the US Consulate in Seychelles who could keep us informed of safely issues. We had an uneventful, and even delightful passage east, back to Asia!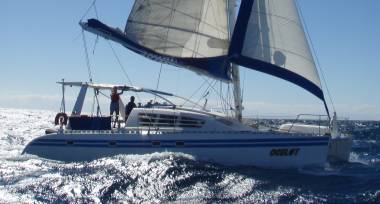 Jon and I sailing Ocelot at 8 knots, Madagascar
Dropping from a crew of 3 to a crew of 2 wasn't as difficult as you might think. When we raise that heavy (250 lbs, 100 kg) mainsail, we put the boat on autopilot pointing into the wind, and Jon and I haul it up together. He and I take turns being on watch during the day, allowing the times to fall as they will. One of us is always on the helm seat, and if conditions allow, we can read out there. We often have the music cranked way up, which keeps us from getting drowsy. Before sunset, if we're on passage, I get the evening meal ready, we both shower in the cockpit, then enjoy dinner while the ocean changes from blue to purple and gold. Jon and I have set times to be on watch at night -- 4 hours on, 4 hours off. It takes about 3 days and nights to get into the rhythm of it.
Medical care overseas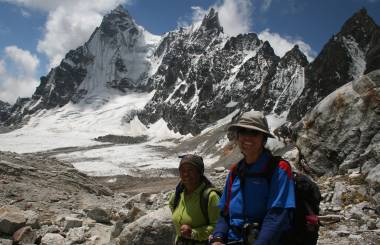 Not bad for 60! Pema & Sue, on Renjo La, 17,500ft
Back in SE Asia we spent months in Penang, Malaysia taking care of my other knee. We had a goal of trekking in the Himalaya in the spring of 2010, and I was determined to have knees strong enough to hike me around the villages and up and down 17,500' (5,300m) passes for 3 months. It was my 60th birthday present to myself (and the family)! To shorten a long story, it worked! Health care overseas (i.e. outside the USA) continues to impress us, and the costs are 1/2 to 1/3 or less for the same level of care. Modern equipment, same drug choice or generic at a fraction of the cost, same‑day accessibility to doctors, including specialists, physicians trained in the US, UK, Australia who speak excellent English. We have lots more to say about this, so stay tuned.
From March through June 2010 we were in Himalayan heaven -- traveling and trekking in Nepal with Chris and Amanda who had flown in from the US to join us. We've got lots of newsletters and photos from that trip, so I won't repeat it here. We feel so blessed to have adult children who enjoy traveling and trekking with the "parentals"! I'm sure our years on the boat contributed greatly to that easy camaraderie that the 4 of us share.
Back to the States
Jon and I had no sooner returned to Ocelot in Malaysia when it became apparent that we needed to put in some time in the States: 3 big projects: our own house in Redmond needed some TLC, my mom's house (rented out) needed to be fixed up ready to put on the market, and Sasquatch Books asked to write a 3rd edition/revision of my guide book to walks in the Northwest, called Take a Walk. So, not having seen the kids for 2 whole weeks, we flew Stateside and began a summer of taking walks, pulling blackberries, cleaning out a 4,000 square foot (370 m2) house on Whidbey Island, and writing, writing writing.
Boat work? Nope! Going cruising! Borneo!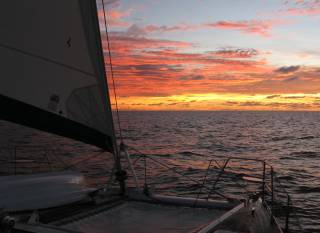 Sunset South China Sea. Why I love cruising.
When we got back to Ocelot in September 2010 we found her in fine shape, except for the visible green mold growing on all the inside surfaces. We had left her at the dock at Danga Bay (Johor Bahru) Malaysia (right next to Singapore) and the humidity and heat really did a number on her. No worries. Two days of scrubbing with white vinegar, opening all the hatches, and doing lots of loads of laundry had her ready for guests. Our friend Joe Rooney from Leprechaun dropped by with an anchor of ours he had shipped over in a container, and he was amazed that we could be gone 5 months and return to the boat and be ready to sail in 2 days. His own steel monohull always seemed to need weeks if not months of repairs to be ready to sail. I could only chalk it up to a bit of luck on our part (fiberglass boat!), and a lot of laziness. As time would tell in the coming months, we had our share of boat repairs.
One of the beauties of this cruising lifestyle is the ability to sail to very isolated and exotic‑sounding locations. Our own jaunt to Malaysian Borneo for 3 months in 2011 was a real eye-opener. Borneo is NOT what I expected!
Although it's on the South China Sea the water is not clear. There is lots of mud run-off from the mountainous interior.
The people are not "primitive" by any definition. The cities of Kuching, Miri, Labuan, and Kota Kinabalu are modern and bustling, albeit with lots of touches of Chinese Asia thrown in.
The main attractions of Borneo are in the interior, and fairly easily accessed by private or public boat, or by road and train.
Where Borneo met my expectation was in its variety of scenery and its fabulous flora and fauna, which continuously amazed and astonished us. The word Borneo still reverberates in the back of my mind as some National Geographic‑like jungle filled with native peoples in grass huts, and orangutans perched in trees. The real Borneo, the one we came to love in our 3 months, still has lush jungles and trees filled with proboscis monkeys, orangutans and hornbills and kingfishers. Beautiful!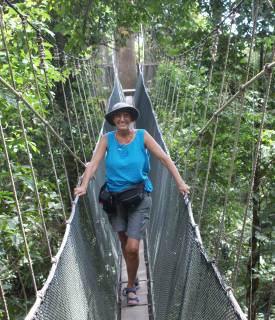 In the Borneo rainforest canopy
The rest of 2010 and the beginning of 2011 has been a fabulous time sailing in the company of our dear friends Kim, Carmel and daughter Rachel aboard Vamp. They left eastern Australia in May, and we met up, boat to boat, in Labuan, on the coast of Borneo, right next to the Sultanate of Brunei. We shared anchorages and marinas for a few months, shared Christmas in Langkawi (our third one there!), then on into Thailand for some great snorkeling in the off‑shore islands. Both boats left for the Andamans and India in February 2011.
India by Boat!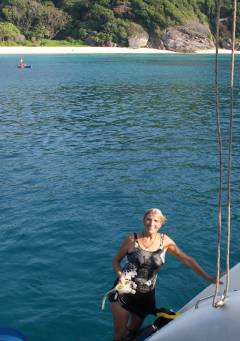 Swimming off coast of Thailand
What a different way to visit this vast continent of complexities and subtleties and contradictions! By arriving first in the Andamans, we sort of eased our way into the delicious chaos of India. Port Blair is a small town, tough it spreads out over miles of green hills. We could walk from the anchorage to most of the town, or take rides in ancient white Ambassador taxis that looked like (and probably were) old British cars from the 1950's. We anticipated great snorkeling and scuba diving here, and to that end spend time and money getting our tanks and BC's and regulators all serviced. What a disappointing blow to fin that the coral had bleached in April of 2010 due to rising sea temperatures. None of the cruising boats in the 2011 season had been forewarned, because most boats visit in Jan/Feb/Mar, and so they had all left before the bleaching. We snorkeled with schools of massive groupers over gray/dead coral. How the huge and prolific fish found enough to eat is a mystery. Perhaps, farther offshore, in deeper water, the world‑famous coral of the Andamans still thrives. What remains the most precious memories of the Andamans are the helpful folks at the cell phone company, the small villages along the Great Andaman Trunk Road which we visited while transiting the cross‑Andaman waterways, and the good food and colorful markets.
Chennai (formerly known as Madras). The Good, the Bad, the Ugly, the Beautiful
It was back in Labuan in October, that Rachel Mather (on Vamp) and I sat down one day and Googled all we could on the seaport city of Chennai. Did it have a port? Was there anyone there we could contact? Was it feasible to take our boats there? Noonsite, a commercial site with lots of info for cruisers all around the world did not have any info on sailing into Chennai. We persevered, and found both a HAM radio guy (who Jon had already been in touch with!) and a local sailing club, the Tamil Nadu Sailing Association, who took us under virtual wing, following our progress from Borneo all the way to India. This thrill of looking at a map, and then a nautical chart and choosing somewhere new to sail to, is a large part of the thrill of adventure on a cruising boat! We were to be some of the first modern sailboats to EVER enter that port.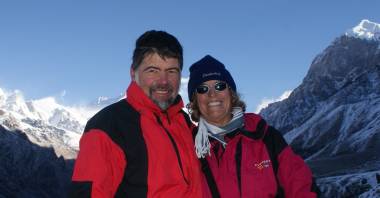 And age 61, back in the Himalayas with my love
But Chennai extracted its toll: both in high port fees (we were treated as container vessels/freighters, not private sailboats!) and in coal dust. Black greasy dust. Everywhere. Our white boats took on layers of gray and black. Footprints smashed into teak and white decks. Grit filtering below through closed hatches, grit in our drawers and lockers, getting everywhere with the tenacity of water. No secure place to tie up, without worrying about having to move the boat suddenly to allow a tug or search and rescue boat to move between us and the wall. That's the bad and the ugly.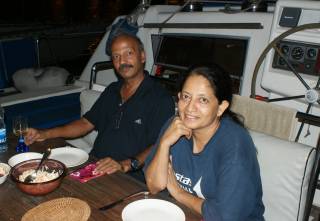 Wonderful new friends! Ravi and Shantha
The Good was the proximity of Chennai to the rest of India, the ease of traveling by train or plane to the far or near corners of this wondrous continent. And we took advantage of that, with the little time we had: flying to the north to explore Darjeeling and the hills of tea plantations in West Bengal, then jeeping into Sikkim to visit old friends and indulge in (and struggle through!) an early season Himalayan trek to the base of Mt Kanchendzonga, the world's third highest mountain.
The Beautiful of Chennai was the people: Gopal and his family offering hospitality at the Rowing Club, the Cricket Club and in their home; Shantha and Ravi and their many friends at the Tamil Nadu Sailing Association; birding with Shantha at a sanctuary south of Chennai; Usha and her hours of relentless driving the crazy yachties from store to store to find the provisions we all needed, and especially Ashok and his help in easing the pain of bringing our boats into the harbor, finding mooring, arranging our haul out, and hosting numerous dinners for the 7 wild yachties who had turned up on Chennai's doorstep.
We love you Chennai! We may be back some day, especially when the coal terminal moves! Further sealing our bond of friendship with Chennai and her people, we were thrilled to have Shantha Ravikumar join us for a passage onward from India. Destination -- unknown. Such is cruising!
---
Sue's Logs: Up | 2012 Thailand | 2011 India | 2007 Seychelles | 2006 Malaysia | 2005 Lautoka, Fiji | 2005 Yasawas, Fiji | 2004 Tonga | 2004 French Polynesia | 2003 Ecuador | 2003 Venezuela | 2002 Grenada | 2002 Martinique | 2002 St. Martin
Sue's Pages: Sue Muller Hacking | Logs | Provisioning
Top Level: Home | Destinations | Cruising Info | Underwater | Boat Guests | Ocelot | Sue | Jon | Amanda | Chris | Site Map | Make a Comment
---
Lifetime
Commodores
of the
Seven Seas
Cruising
Association

If our information is useful,
you can help by making a donation
Copyright © 2000‑ Contact: Jon and Sue Hacking -- HackingFamily.com, svOcelot.com. All rights reserved.