1 April 03
Dear friends & family,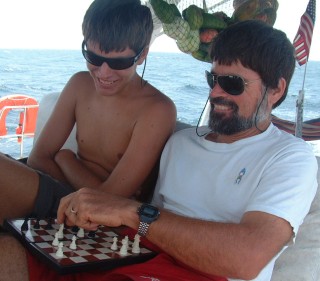 Chris and Jon enjoy a game of chess underway
At 5:30pm today we were at 4° 52' N, 80° 00' W, or about 150 miles off the Columbian Pacific coast (see map). We've sailed some 210 miles through the water (a bit more over the bottom as we've had some assistance from a current) and we have about 350 miles to go to Manta, Ecuador.
We've had a delightful sail today. Last night we kept the radar busy as we passed lots of ships heading in and out of the canal. After a fairly calm night under just the jib, we put up a reefed main and we've been running "wing and wing" (sails out on each side) all day, reaching speeds of 10 knots, and staying above 8 knots for extended periods. Tonight the winds seem to have calmed somewhat, so we'll leave the sails as they are. We're doing about 5 knots through the water with about 1 knot of assist from the current. Let's hope it holds for the night!
Cheers -- Jon, Sue, Chris & Amanda
s/v Ocelot, heading for the South Pacific!
Up | 31 March 03 | 1 April 03 | 2 April 03 | 3 April 03 | 4 April 03 | Ecuador Home | Galapagos Flora/Fauna
Panama Letters | Ecuador Letters | Galapagos Letters | Marquesas Letters | Tuamotus Letters | Tonga Letters | Fiji Letters | New Caledonia Letters | Australia Letters
Top Level: Home | Destinations | Cruising Info | Underwater | Boat Guests | Ocelot | Sue | Jon | Amanda | Chris | Site Map | Make a Comment
---
Lifetime
Commodores
of the
Seven Seas
Cruising
Association

If our information is useful,
you can help by making a donation
Copyright © 2000‑ Contact: Jon and Sue Hacking -- HackingFamily.com, svOcelot.com. All rights reserved.