31 March 03
Dear friends & family,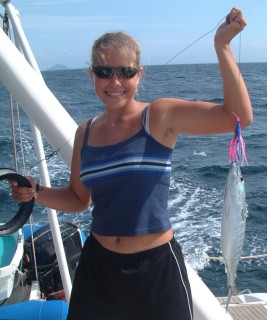 Amanda hauls in a nice Pacific tuna
We left the Balboa Yacht Club this morning, bound for the port of Manta in Ecuador, 600 miles due south. Winds are predicted to be light and fluky, so we're predicting a 5 day passage. We're currently (5pm EST) at 7° 44' N, 79° 40' W or about 66 miles out. This is still within the Gulf of Panama (see map). We're sailing almost due south with about 18 knots of breeze directly behind us and having a delightful sail. We caught a nice tuna almost immediately after we left Panama, so perhaps the Pacific will be nicer to us than the Caribbean, fishing-wise. We've also seen 3 whales, 2 quite close, and a couple of huge rays. And just now we were visited by a pod of about 20 dolphins, who played in our bows for 10-15 minutes while we all waved and whistled to encourage them.
The exciting news (for us) is that our new autopilot seems to be working very well. We've hardly touched the wheel since we left. This evening we pass Punta Mala, which Sue and I rounded in 1987 on our way north to Costa Rica. Lots of freighters seem to like to hang out here, turning slow circles to swing their compasses (this is an area of no magnetic variation). We'll try to dodge them.

All is well on board and we're doing fine. Stay tuned for further installments.
Cheers -- Jon, Sue, Chris & Amanda
s/v Ocelot, heading for the South Pacific!
Up | 31 March 03 | 1 April 03 | 2 April 03 | 3 April 03 | 4 April 03 | Ecuador Home | Galapagos Flora/Fauna
Panama Letters | Ecuador Letters | Galapagos Letters | Marquesas Letters | Tuamotus Letters | Tonga Letters | Fiji Letters | New Caledonia Letters | Australia Letters
Top Level: Home | Destinations | Cruising Info | Underwater | Boat Guests | Ocelot | Sue | Jon | Amanda | Chris | Site Map | Make a Comment
---
Lifetime
Commodores
of the
Seven Seas
Cruising
Association

If our information is useful,
you can help by making a donation
Copyright © 2000‑ Contact: Jon and Sue Hacking -- HackingFamily.com, svOcelot.com. All rights reserved.