Pacific Destinations
Up | Caribbean Destinations | Pacific Destinations | Indian Ocean Destinations | Pacific Newsletters | Indian Ocean Newsletters | Flora and Fauna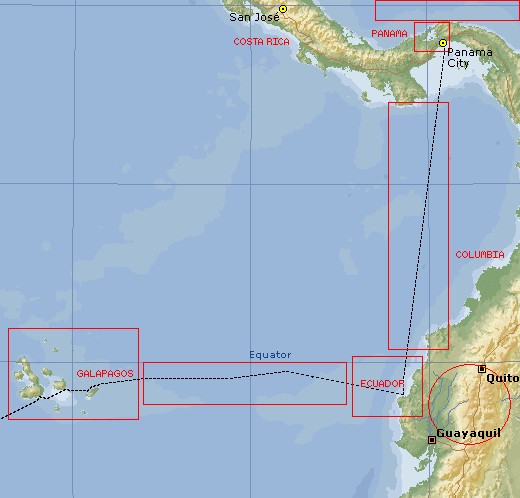 The East Pacific - Click on a marked part of the map to go to that page
Our original journey across the Pacific Ocean took three years, from March 2003 to April 2006. We sailed to: Ecuador & the Galapagos Islands; the Marquesas, Tuamotus and Society Islands of French Polynesia; Tonga; Fiji; New Caledonia; and finally Australia. This page is in chronological order, so the most recent maps and synopses are at the bottom. Click on any of the highlighted sections of the maps to go to that page.
In 2019 we reentered the Pacific from NE Indonesia, so we could cruise Papua New Guinea and the Solomon Islands. We don't have Destinations pages for them yet, but we do have Cruising Information pages, with maps and details of our anchorages. So fun to return to the Pacific after 13 years!
---
After we transited the Panama Canal (March 2003), we sailed down the coast to Ecuador, where we explored inland for several days. From there we sailed to the Galapagos for a month before starting our long passage to French Polynesia.
We stayed in the Marquesas a while, then sailed to the Tuamotus, where we enjoyed the beautiful atolls for over a month. About that time we started thinking of a trip back to the states, and sailed to Tahiti to get everything set up. Grid‑lines on both maps are 5 degrees (300 miles or about 500km). Hiva Oa is just above the 10 degree south Latitude line.