Pacific Newsletters
Up | Caribbean Destinations | Pacific Destinations | Indian Ocean Destinations | Pacific Newsletters | Indian Ocean Newsletters | Flora and Fauna

Jon sending email while on passage
This section is a collection of the newsletters we've sent out from Ocelot while we've been cruising the Caribbean and Pacific Ocean.
As these were originally sent out via our low-bandwidth radio email system, they're usually pretty short. But we wanted to preserve them as they really reflect our at-the-moment impressions of where we've been and what we've seen and done and, most importantly, what we felt and thought.
When they were originally sent by email, these newsletters were just plain text. By putting these letters on the website we've been able to add photos -- so check them out! Clicking on a photo will yield a larger and more detailed version of that photo.
If you'd like to be added to our newsletter mailing list and get these sent to you directly, feel free to sign up. Our list is as private as we can make it, never shared with anyone, and you can take yourself off the list or change your subscription to a new address whenever you want just by clicking this link.
Our newsletters from the Pacific Ocean, as well as those from the Indian Ocean, are arranged by the destination we were sailing to at the time. The first few newsletters for a given destination are often "passage notes" that were sent out while we were on passage to that destination, but they also include those newsletters that we sent out once we'd arrived.
So our Panama pages cover our passage from Curacao to the San Blas islands of Panama.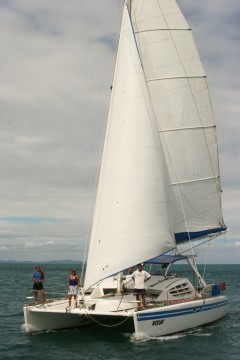 Ocelot sailing beautifully off Fiji
Ecuador covers our trip from the Balboa Yacht Club in Panama to Manta, Ecuador. Our Galapagos newsletters contain not only our passage from Ecuador to the Galapagos, but our Galapagos tour as well as some Galapagos cruising information for those cruisers following in our wake.
The Marquesas section is quite long as it covers our almost 3,000 mile passage from the Galapagos to French Polynesia, with additional information about Nuku Hiva and Ua Pou, as well as more cruising information on the Marquesas.
The Tuamotus section includes our passage from Nuku Hiva to Makemo Atoll, as well as more detailed newsletters about each of the atolls we visited in the Tuamotus - Makemo, Tahanea, Fakarava, and Toau.
Our Tonga letters tells the story of our difficult passage from Maupiti, French Polynesia, to the Vava'u Group in Tonga, as well as tales of our adventures in the "Friendly Isles" - racing accidents and whales, and hauling Ocelot for repairs.

Chris typing an email as we sail
Although our passage to Fiji was short and sweet, our Fiji newsletters also include many of our thoughts and adventures as we cruised the many islands of the delightful Fijian archipelago - Our initial impressions, Suva, Christmas, and Western Fiji. More importantly for cruisers, we've included some cruising info and a list of uncharted hazards between Tonga and Fiji. That page includes overlay files that can be downloaded into MaxSea to both plot those dangers and show our passages through the Vava'u Group, the Ha'apai Group, and western Fiji.
Our New Caledonia letters include 6 days of passage from Fiji to Noumea in October 2005, plus a couple others that describe the wonderful cruising grounds near Noumea and further afield, inside the world's second largest barrier reef system.
The collection from Australia covers the 7-day passage from New Caledonia to Brisbane in November 2005, our initial impressions, our road trip, the southern Queensland coast, the Coral Coast and Great Barrier Reef, and over the top to the Gulf of Carpentaria and Darwin in 2006.
Most of these letters were written by Jon, but everyone took a hand writing them at one time or another, even Arthur (the sea-cat)! If you want to know who wrote an individual letter, usually it's the first name at the bottom.
Enjoy!
Up | Panama Letters | Ecuador Letters | Galapagos Letters | Marquesas Letters | Tuamotus Letters | Tonga Letters | Fiji Letters | New Caledonia Letters | Australia Letters
Caribbean Destinations | Pacific Destinations | Indian Ocean Destinations | Pacific Newsletters | Indian Ocean Newsletters | Flora and Fauna
Top Level: Home | Destinations | Cruising Info | Underwater | Boat Guests | Ocelot | Sue | Jon | Amanda | Chris | Site Map | Make a Comment
---
Lifetime
Commodores
of the
Seven Seas
Cruising
Association

If our information is useful,
you can help by making a donation
Copyright © 2000‑ Contact: Jon and Sue Hacking -- HackingFamily.com, svOcelot.com. All rights reserved.