Nepal Letters
Caribbean Destinations | Pacific Destinations | Indian Ocean Destinations | Pacific Newsletters | Indian Ocean Newsletters | Flora and Fauna
The map below shows the 5 primary areas we visited while we were in Nepal: Kathmandu, Chitwan, Langtang, Pokhara, and the Khumbu (Everest) area. Kathmandu, about in the center of the map, is the capital of Nepal and the hub for our explorations. Chitwan, to the southwest, is the lowland jungle where we went game viewing. Langtang, to the north, was our first trek, and actually included the Gosainkund and Helambu treks as well. Pokhara, to the northwest, is the only other "city" in Nepal and formed a pleasant respite between treks. Our last month we spent in the Khumbu (Everest) region to the east. The newsletters we sent out are listed in chronological order on the left.
We've had a relationship with Nepal for a long time. But first, some history...

Sue, her father George, and Nima in 1974
Before the US got into World War II, the Japanese were attacking China. China had essentially no air-force, certainly nothing that could take on the Japanese Zero (indeed, it took the US several years before they could produce a plane that out-performed a Zero). So the Chinese hired retired US Captain Claire Chennault, 200 mechanics and 100 pilots as mercenaries (the American Volunteer Group, or AVG) and bought them 100 P‑40 Warhawks, the best fighter plane the US had at the time. The P‑40 was pretty heavy and could out‑dive a Zero, but that's about the only thing it could do better than a Zero. The P‑40 has an air‑scoop just under the propeller that looks a bit like an open mouth, so the AVG painted very distinctive eyes, teeth and a red tongue along the sides of the air-scoop, and called themselves the Flying Tigers. Despite being constantly short of parts, people, and pilots the Flying Tigers ran up a very impressive kill ratio. A good book about the Flying Tigers is God Is My Co‑Pilot
(1943) by Col. Robert L Scott Jr., one of the commander/pilots.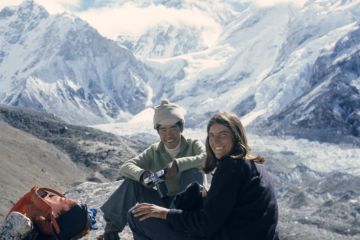 Sue and Nima in 1974, in front of Mt. Everest
After the US finally entered WW II in December 1941, the Flying Tigers were incorporated into the US military as the 14th Air Force. When Sue's father George volunteered, he was stationed in China as a weatherman for the Flying Tigers. He developed a great fondness for the Himalayas and even managed to go trekking in Sikkim when he got some time‑off for R&R. So Sue grew up hearing stories about the Himalayas and seeing the hundreds of photos that her father took over there.
When Sue's father retired in 1974, he pulled Sue out of grad‑school and took her trekking in Sikkim and Nepal, claiming that "Grad‑school will always be there!" The Sikkim part was organized through the American Rhododendron Society, rhododendrons being one of the main trees in the Himalayas. For the Nepal part they needed a guide so they went to Mountain Travel, the only trekking company back then. Mountain Travel could organize the whole trek (for lots of money) or for $20 they'd introduce you to a Sirdar (guide) and wash their hands of the situation. Sue's father went with plan B and was introduced to Nima Tenzing Sherpa of Khumjung, who organized their whole trek in from Jiri to Everest Base Camp and back out to Lukla.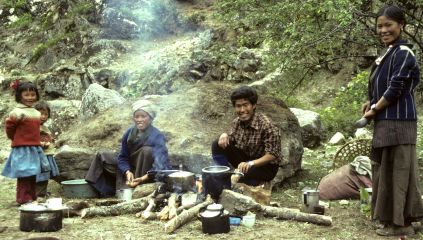 Nima's family in 1980 (with friend Lakpa, sitting)
1974 was also the year that Jon took a year out of his studies to travel around Africa with his brother Tony. When they got back from Africa, Jon and Sue got together. Being hopelessly addicted to traveling, Jon wanted to take Sue to Africa and Sue wanted to take Jon to the Himalayas. We were finally able to put that trip together in 1980, after we'd been married less than a year - sort of an extended honeymoon. For the Nepal part, we again contacted Nima, who remembered Sue and her father fondly and agreed to be our Sirdar as well. He met us at the airport, helped us with supplies and planning in Kathmandu, and did a wonderful job looking after us as we trekked through the Khumbu (Everest) region for 6 weeks. Nima's wife, Pema, helped on both treks, and we also got to carry their 2 little girls, Nima Yangji and Ngawang Doma up to the Mani Rimdu festival, so we got to know and love the whole family pretty well.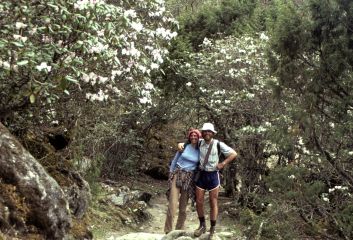 Hiking under rhododendrons near Thangboche in 1980
Several years later, Nima wrote to say that his girls had done what they could at the school that Sir Edmund Hillary setup in Khumjung, and that further education would have to be in Kathmandu, but that Kathmandu schools cost him an entire year's salary. So we offered to sponsor the girls schooling and they did very well. But school in Nepal isn't like school in the US. The children were ridiculed if they asked questions (insecure teacher?) and the teachings didn't really prepare the kids for earning a living. When we brought the family to the US for a visit in 1995, we asked the girls what they wanted to do in life, and they had no idea! Nothing had prepared them for the opportunities that were open to them.
Unfortunately, Nima died in 2002. Sherpas don't record birthdays so we don't know how old he was - he claimed to be 3 years younger than Sue in 1974, but then in 1980 he claimed to be 3 years older than her, so ages are obviously rather fluid in the Sherpa culture. But with our help the girls learned English, made their way back to the US, got nursing degrees, and both are now working as nurses! They're both married and as of 2019 they have 4 kids between them. Two families who now have endless opportunities, thanks to a little education. Pema now lives mostly in Kathmandu but she gets to see her daughters and grandchildren pretty often. She was our hostess here in Nepal, and she organized Nima's nephew, Tenzing, to be our Sirdar for this trip.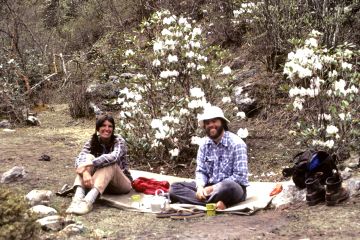 Lunch stop in 1980 - no tea-houses here
A note on place names - Sherpa is not a written language. While Nepali is written, they use a non-Arabic script, so Arabic spellings are somewhat variable. In these newsletters we took the names and spellings from our maps, but even our maps don't agree with each other (and sometimes aren't even consistent within themselves!) Tengboche, Thengboche, Tangboche, & Thangboche are all common spellings for the main monastery in the Khumbu region, so if you're trying to look for names elsewhere, you might have to try alternate spellings.
For this trip we spent:
| | |
| --- | --- |
| Days | Activity |
| 12 | Exploring Kathmandu and surrounds, a fascinating area |
| 5 | Traveling in busses (total) |
| 2 | Game watching in the jungles of Chitwan |
| 17 | Trekking the Langtang / Gosainkund / Helambu trails |
| 4 | Exploring Pokhara |
| 35 | Trekking in the Khumbu (Everest) region |
| 75 | Days total in Nepal |
The newsletters we sent while we were in Nepal are:
Nepal Newsletters: Up | Chitwan | Langtang | Gosainkund | Pokhara | Into the Khumbu | Thangboche | To Everest | High Passes | Mani Rimdu | Last Leg
Related Pages: Overview Map | Chitwan Map | Langtang Map | Khumbu Map | Destination Nepal | Nepal Newsletters | SE Asia Flora & Fauna
Indian Ocean Newsletters: Laos Letters | Vietnam Letters | India Letters | Nepal Letters | Indonesia Letters | Malaysia Letters | Thailand Letters | Sri Lanka Letters | Maldives Letters | Chagos Letters | Seychelles Letters | Madagascar Letters | Mayotte Letters | Africa Letters
Caribbean Destinations | Pacific Destinations | Indian Ocean Destinations | Pacific Newsletters | Indian Ocean Newsletters | Flora and Fauna
Top Level: Home | Destinations | Cruising Info | Underwater | Boat Guests | Ocelot | Sue | Jon | Amanda | Chris | Site Map | Make a Comment
---
Lifetime
Commodores
of the
Seven Seas
Cruising
Association

If our information is useful,
you can help by making a donation
Copyright © 2000‑ Contact: Jon and Sue Hacking -- HackingFamily.com, svOcelot.com. All rights reserved.