Cruising Malaysia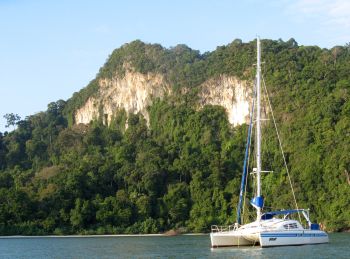 Anchorage near Langkawi, northern Malaysia
(Updated June 2014)
Malaysia is composed of 2 distinct land masses: Peninsular Malaysia which extends south from Thailand to Singapore, and Malaysian Borneo to the east (also referred to as East Malaysia) which is the northern part of the dual-nation island of Borneo. Much of the coastline of the country can be sailed as day-sails, which, due to the many obstacles in the water (see below) is a very good thing! The main exception is the 375 mile passage from Sarawak, Borneo to the Peninsula which must be handled as a passage.
For more info, see Noonsite's Malaysia pages.
Track Files: We have updated the MaxSea Track files for Malaysia/Thailand as well as for the Indian Ocean (now over 1MB). However, we have now embraced the free navigation program OpenCPN, mainly because it offers much better AIS support. Therefore, the MaxSea track files do not include Malaysian Borneo. We will be publishing our OpenCPN track (GPX) files, which do include everywhere we went in Malaysian Borneo, soon. Although we draw less than 5' (1.5m) we generally note on the track files how much depth there is and the state of the tide when things get shallow.
Time: Despite its vast width Malaysia observes just one time zone (GMT+8), so that in the far east, around Kudat, Borneo, daylight is approximately 0600 to 1800 while on the whole of the peninsula daylight is approximately 0700 to 1900. For cruisers wishing to make day sails along the coast these time differences are important.
Officialdom: Malaysia is an organized tangle of many states, some more semi-autonomous than others. What this means is that each port likes to know what boats and what people have sailed in and out. It is important to check out with the harbor master when leaving a port, as the next destination will request your (internal) port clearance. On the Peninsula the clearance ports (from south to north) are Johor Bahru, Melaka, Port Dickson, Port Klang, Penang, and Langkawi. The states of Borneo, Sarawak in the west and Sabah in the east, are more autonomous than the states of the Peninsula. For example, flying from Sarawak to Sabah you must pass thru immigration. In Borneo the clearance ports (from west to east) are Kuching, Bintalu, and Miri in Sarawak. The island of Labuan is a Federal Territory, apart from either Sabah or Sarawak, so clearance is necessary. In Sabah the clearance ports are Kota Kinabalu, Kudat, Sandakan and Tawau (on the north east side). We did not take Ocelot into Sabah.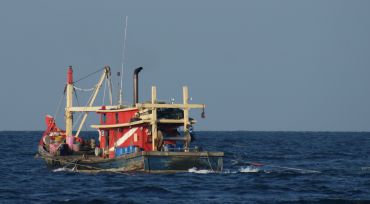 Fishing trawler off Malay coast. Note lines aft.
Given that Malaysia spans such a vast area and is a natural place to stop when traveling from Australia or the Pacific to the Indian Ocean, it is cruisers' good fortune that clearance procedures are very straightforward. Clearance is usually hassle-free and generally free, although there may be a small fee for "light charges" of a few dollars depending on tonnage. We found no corruption and no overtime charges. No one ever questioned our passage time from one port to another. English is widely spoken and the customs, ports and immigration people have all treated us with respect and courtesy. (The latter, of course is a 2‑way street!)
Weather: Malaysia, lying so near the Equator, is outside the cyclone zones of both the Pacific and the Indian Oceans. Borneo is sometimes referred to as "the land below the wind" (meaning it is below the strong circular storm belts). There are 2 distinct seasons in Malaysia: the Southwest Monsoon and the Northeast Monsoon. Monsoon is a word from Arabic mawsin, meaning season. A monsoon is not a storm. The SW Monsoon blows from May or June until November or December and brings rain and "Sumatras" (daily thunderstorms) to the lower Peninsula. This monsoon puts all of the west coast of the Peninsula on a lee shore. This is the time of year to enjoy the islands to the east of the Peninsula (something we have yet to do) or to sail to Borneo as you get following winds and current.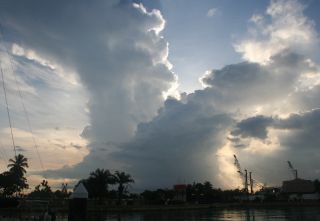 A "Sumatra" over southern Malay Peninsula
The NE Monsoon blows from about December to April and is the drier of the seasons, a great time to cruise the west coast of the Peninsula or to sail back to the Peninsula from Borneo. Winds along the coasts are very light, and can be strongly effected by local squalls.
Malaysia is hot (85‑95°F or 30‑35°C) and the humidity is high, often above 80%. It is the only place in all our many years of ocean cruising that we have even had a discussion about buying or renting an air conditioner for Ocelot! But the weather makes for a very green, very beautiful place!
Money: The Malaysian Ringgit (RM) is exchanged at a rate of about RM3/US$. ATMS are ubiquitous. Meals in local restaurants cost about RM3‑10 for local food (much more for "western" food). The exchange rate has been basically the same from 2007 to 2014.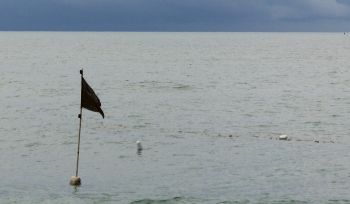 Fishing flags are ubiquitous on the Malay coast
Fuel: As of mid 2014 the price of diesel in the stations was RM2.00/liter ($0.66/L or $2.50/US gal). Malaysia claims that this is a subsidized price, and that foreign yachts should pay more, despite the fact that Malaysia pumps it right out of the ground, and that they add road (and other) taxes to the price of fuel just as virtually every other country does. Since boats don't use roads, we normally get our diesel duty free, but Malaysia actually charges yachts a 50%(!) surcharge, and they've made it illegal to buy more than 20 liters at inland stations. But there aren't many places where boats can buy fuel legally at any price. And since winds are generally pretty light, we burn a lot of diesel all through Malaysia.
Some stations will let you buy more than 20L (sometimes with a small surcharge) but they keep changing their policies. As of 2014, the station 5km north of Telaga on Langkawi would let us buy as much as we wanted at RM2.2/L, and the Petronas station 1km inland of Kuah would sometimes let us buy it at the pump price. There's a woman at the dinghy dock off Kuah who will organize diesel for a more substantial surcharge. We rented a car in Port Dickson and the closest station to Admiral Marina was happy to sell us as much diesel as we wanted, even letting us pay with a credit card.
There are legal (at RM3+/L) fuel docks at Telaga, Royal Langkawi YC, Admiral Marina (Port Dickson) and Puteri Harbor Marina in Johor Bahru, but the pumps at RLYC and Admiral Marina have been broken for years, which means there's no working fuel dock for the 450nm between Johor Bahru and Langkawi, a notoriously airless stretch with few protected harbors, requiring many 60‑80nm days, which almost always have to be motor‑sailed if you want to arrive before dark. The whole situation is a bit awkward and seems pretty poorly thought out.
Obstacles and concerns: Just hearing "The Malacca Straits" used to strike fear into sailors, as it had a well-deserved reputation for piracy. By about year 2000, the Malaysian Navy had pretty much cleaned up its side of the straits (but not the Sumatra side) and the greatest threat to sailors on the coast is fishing nets. On the Indonesian side of the Strait there are still be a few bastions of piracy, but most boats cruise the Malaysian side. Singapore is not a worry at all (except that us yachts have no rights in the crowded shipping lanes). That being said, it is wise to close up the boat and lock it when leaving it. Minor theft is always a possibly, but no more so here than elsewhere in the world.
Both the coast of Borneo and the Peninsula have thousands of local fishermen who lay their buoyed nets (sometimes with a flag at the end, sometimes not) along the coast. They can be found in anywhere from 20‑100 feet (6‑30m) of water, and there may or may not be ample depth to sail between the floats. Some fishermen off Borneo use black plastic bottles to buoy the nets and these are very difficult to see. On the Peninsula you are more likely to see nets with flags at the ends and white floats. Some are laid in lines, some in circles, and they can extend for half a mile or more. Often the first sign of a net is the small open fishing boat moored to the leeward end of the net. In 2014 we encountered a number of situations where the fishermen set the nets then allowed them to drift on the current, both in river mouths and at sea. And yes, Ocelot has been well and truly netted several times while at anchor.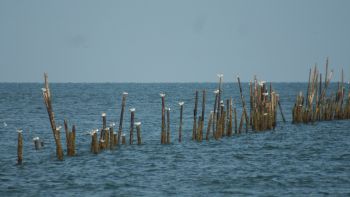 Stakes hold fishing nets (& birds) on Malay coast
Stick structures that hold underwater nets are also common, and they may be active or decrepit. Some south of Malacca extend more than 2 miles out to sea. Some are in long lines, some just as stand-alone structures.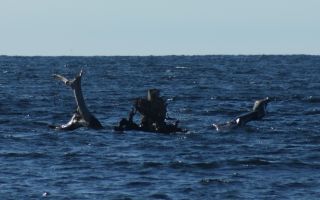 Floating tree off Borneo
North of Malacca there are larger trawlers and care must be taken to not pass too close behind one that is towing a net. With binoculars you can usually see the black lines for the net extending aft. Sometimes 2 boats will tow a net between them, which is an extremely dangerous situation if you find yourself in the loop.
Off the coast of Borneo there are many oil fields. So far, we have found most of these to be marked on the charts, but we use pretty recent electronic charts, and even so it's disconcerting. Oil rigs and drilling platforms are well lit and pretty obvious.
Borneo's main problem is all the logs in the water. We tried not to sail at night, but time constants and plans meant we did make a couple passages west of Brunei. The area around Miri and Brunei was especially bad for random logs when we were there, but the logs could be anywhere. There are river mouths all along the coast, and as long as there is logging inland those huge tree trunks, sometimes still with branches on them, can be washed out to the sea. Often we didn't see them except for the white terns perched on them. Many are caught in eddies of the strong currents that flow along the coast and constant vigilance is necessary to avoid damage to hull, rudders or propellers.
One of the most dangerous obstacles to sailing this coast are the ubiquitous tugs. Although international agreements demand that all commercial vessels over 300 tons (or carrying passengers) must carry an AIS, this does not extend to tugs, even with barges in tow. They usually travel just inside the shipping lanes on the Malaysian side, and will be encountered if you sail far enough offshore to avoid the fishermen and the nets, but not within the shipping lanes. Be vigilant!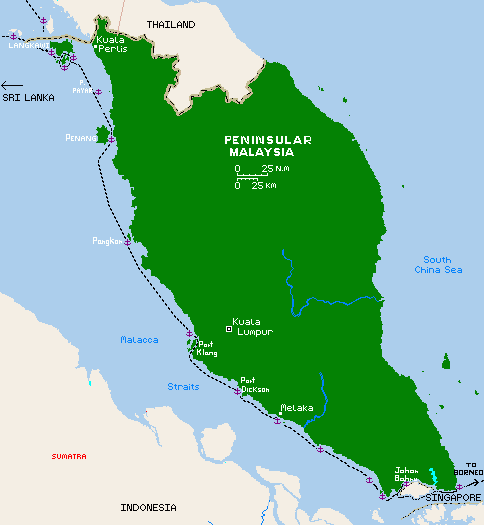 Anchorages on Peninsular Malaysia: The table below and the map at right show most of our anchorages and marina stops in Peninsular Malaysia, and below that, Malaysian Borneo. They are organized radiating outwards from Singapore, except the first ones on the peninsula are to the east of Singapore, and up to Tioman Islands. Because we traveled up and down the west coast several times, the date shown, and the comment, refer to the most recent use of this anchorage/marina unless otherwise noted. Clicking on an anchor on the map will also take you to a description of that anchorage.
2014 Update: Sadly two of our favorite marinas have fallen into ruin and are no longer available: Tanjung City Marina in Penang is so destroyed that you cannot even take a dinghy to the wall to get ashore. The relatively new Straits Key Marina north of Georgetown is an option, though it is small so often full. Melaka Marina is defunct but might still be able to accommodate a dinghy if you anchor off. Danga Bay Marina, though not fallen into ruin, was closed for business at the end of June 2014. The good news is that Labuan Marina has apparently been renovated (after falling into disrepair in 2011‑2013) and is now open for business once again. The anchorages in yellow below are valid, but we haven't written them up yet...
Date
Town or Bay
Depth
North
Latitude
East
Longitude
Comments
Jun 2014
west side Pulau Tioman
35'
02°48.6
104°08.3
Off resort, sandy patch. Great snorkel
Jun 2014
Pulau Tinggi
21'
02°16.9
104°04.2
Sand/mud. Off jetty, nice snorkel
Jun 2014
Pulau Sibu, east
21'
02°13.3
104°04.3
Sand, nice beach. Preferred place
Jun 2014
Pulau Sibu, south east
25'
02°12.2
104°05.3
Tight but good holding. Beware rocks
Jun 2014
n of Tlk. Penawar, coastal
20'
01°32.6
104°16.3
Beware rocks to south. Extensive.
Sep 2010
Teluk Punggai
any
01°23.3
104°17.1
East of Singapore, choose spot. Mud
anchored off 2010
Puteri Harbor Marina
n/a
01°24.9
103°39.7
Near JB, good facilities, a bit isolated
2010 & 2014
Danga Bay Marina
n/a
01°28.3
103°43.5
CLOSED June 30, 2014
Jun 2014
mouth of Selat Johor
17'
01°17.8
103°36.1
Out of shipping but near pilot boats
Dec 2006
Kukup
10'
01°18.9
103°26.7
Exposed to SW, mud
Nov 2010
Pulau Pisang
28
01°28.6
103°15.3
Some protection, soft mud
Nov 2010
Tanjung Tohor Point
any
01°50.7
102°44.9
Exposed, soft sand/mud
Mar-June 2010
Malacca Marina
n/a
02°11.2
102°14.5
DEFUNCT sometime after 2010
2006 & 2014
Pt Dickson, Admiral Marina
n/a
02°28.6
101°50.7
All-weather marina, long walk to town
Dec 2006
Port Klang, Angsa Light
20'
03°11.2
101°13.1
OK for night stop, rocky/muddy
Dec 2010
Port Klang, S anchorage
20'
02°55.1
101°15.7
Protected river mouth, some wake

May 2014

south of Klang, in river

27'

02°53.4
101°18.0

Part way up river before village

May 2014
coastal anchorage
25'
03°39.6
100°55.6
fishing nets everywhere
Dec 2010
Sungai (river) Bernam
20'
03°50.8
100°49.8
Protected, mud, boat wakes
2010 & 2014
Pangkor Island
20'
04°12.6
100°33.0
Reasonable protection
Jun 2014
Jerejak Is anchorage
20'
05°19.1
100°18.5
Dinghy to mall on Penang. Quiet spot
June 2010
Penang YC anchorage
20'
05°21.3
100°19.0
Protected, shallow approach
Oct-Dec 2009
Penang, Tanjung City Marina
n/a
05°24.9
100°20.7
DEFUNCT sometime after 2011
2009 & 2014
Pulau Payar
mooring
06°03.8
100°02.6
4 moorings, semi-clear water
Dec 2009
Langkawi south, Teluk Chawi
20'
06°10.2
99°48.4
Several spots, sand, lovely
Feb 2010
Langkawi, Kuah
15'
06°18.6
99°50.8
All supplies available here, soft mud
Jan 2010
Rebak Marina
n/a
06°17.7
99°41.9
Marina & hard stand, resort, pool
Feb 2010
Langkawi, Telaga
14'
06°21.8
99°40.9
Beautiful, sand/mud, nice walks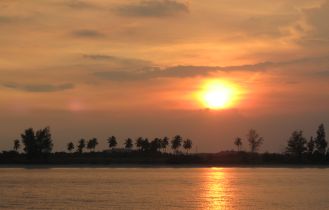 Sunset on the Malay Peninsula, E of Singapore
Teluk Punggai 01°23.33N 104°17.1E
East of Singapore, still on the Peninsula. From Singapore, heading east towards Borneo, or arriving from the east, shelter can be taken along the Malaysian coast. During the SW Monsoon we anchored on the mudflats just west of the shipping lanes. This allowed us to leave the anchorage and cross the north/south portion of the lanes to the east of Singapore in daylight to begin our passage to Borneo. As with most other mudflat anchorages along the Malaysia coast you can nose in and find whatever depth suits you. Be sure to check the tidal range, though! We anchored off Teluk Punggai in 15 feet, good holding in mud. In the NE Monsoon we would have sought shelter further west, but still on the Malaysian coast. Singapore does not allow casual overnight stops along their coast. It is a surprisingly long coastline past Singapore from one bit of Malaysia to the other: more than 60 miles.
Thunderstorms are common during the transition months of September and October, making the crossing of the shipping lanes a bit interesting.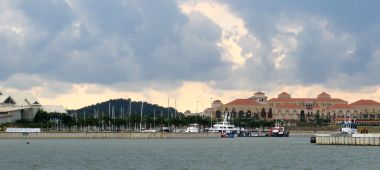 Entrance to Puteri Harbor Marina, Johor Strait
Johor Strait marinas and anchorages, west of Singapore
When sailing north from Singapore, be sure to stay on the Malaysian (west) side of the Johor Strait as you approach either Danga Bay or Puteri Harbor. The Singapore police boats will approach you aggressively if you stray too far to their side of the straits. The charts show some obstacles on the south side of the main span of the bridge, but one can (and probably should) pass under the main span to get clearance for the mast.
From Singapore, heading north up the Johor Strait (Selat Johor), it is possible to anchor at the mouth of Selat Johor, out of the shipping lanes, or to anchor just north of the bridge that joins Malaysia and Singapore, in the mud flats to the west.
We have also spent the night anchored in the entrance to Puteri Harbor Marina (01°24.95'N 103°39.67'E). Puteri Harbor Marina has a good reputation with the cruisers. Friendly staff and good facilities. The main drawback is its isolation from town. You need transport into Johor Bahru for shops, access to airports, busses and Singapore transport. They also charge real money, which Danga Bay didn't. Although they're supposed to have a fuel dock, it wasn't working in June 2014. Since the dock workers make money by charging RM2.90/L to get you diesel, they have no incentive to get the fuel dock working.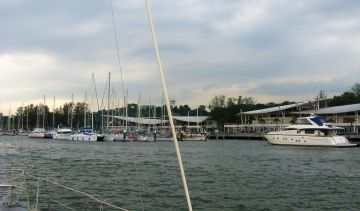 Danga Bay Marina. Protected, and near JB
Danga Bay Marina 01°28.3'N 103°43.5'E
UPDATE JULY 2014: Danga Bay Marina is closed. They required all boats to leave by 30 June 2014, as it was closing. No reason given. No alternative at present except Puteri Harbor marina to the south.
Kukup, Pulau Pisang, and Tajung Tohor Point
These are three possible anchorages in the southwestern corner of Peninsular Malaysia, but in truth anchorages can be found just about anywhere along the coast in soft mud. The trick is to be sure there are no strong southwesterlies forecast, because then the coast is uncomfortable at best, untenable at worst. Movement along the coast during the NE Monsoon is the best time to use these open roadsteads. The Pisang Islands may offer more protection in the SW Monsoon, but we have not traveled this section of the coast during that season. The Peninsula is long, and to day sail it is hard without a few long days of 60 or 70 miles. For boats that can't make those distances during daylight, it is possible to anchor just about anywhere the winds allow. Night sailing is risky due to the incredible number of fishermen who lay their buoyed nets perpendicular to the coast. Some parts of the coast have stick structures that extend for a mile or more out from shore and are not lit at night. Both trawlers and purse seine fishing boats frequent the Straits.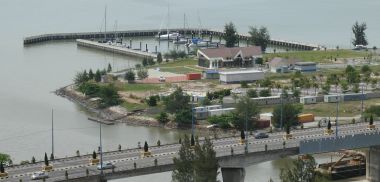 Malacca marina as seen from tower, river in foreground
Malacca Marina 02°11.2N 102°14.5E DEFUNCT AS OF 2013
This relatively new marina only began charging for space in 2009, but the surrounding sea wall is made of vertical pilings which keep out the waves but allow the swell to roll through. During the 2010 SW monsoon, several boats were damaged and the docks broke apart. Apparently, the marina is not being repaired. In 2010 the marina charged RM2/meter/day, less if you stay a week or a month. There were hot showers, toilet facilities and a small air conditioned yachtie room (but no windows to the boats). The marina office folks were friendly and welcoming, but they were not "boat" people. The 2010 photo below shows some detail (and Ocelot with her blue cockpit shade). As a side note, the crew of the big catamaran on the end went on to crew for the Quest, and were later killed by the Somali pirates.


Close up of Malacca Marina. Note vertical pilings as sea wall.
Malacca is a great town to visit -- very historical and nicely renovated with a beautiful river walk. A 10 minute walk to town, part of it along the river promenade, brings you to the heart of old Malacca with its many museums, restaurants, and shops. It's possible to do an international immigration clearance here, but they are not very experienced with yachts, and it took over an hour to get the simple paperwork done for one yacht arriving from Borneo.
Malacca is known for its restaurants and cuisine, and for its history and museums -- a must‑visit place on the coast. Anchoring is possible in the shallow waters south of the marina behind an island, and the marina used as a dinghy dock, but "Sumatra" squalls can bring strong winds from the SW so most boats go to the better‑built and more protected Admiral Marina in Port Dickson and rent a car or take a taxi to Malacca for a few days.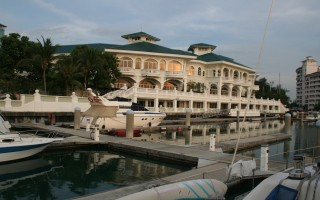 Admiral Marina, from the docks towards shore
Admiral Marina 02°28.6'N 101°50.7'E
Just 37 miles north of Malacca is the better-built Admiral Marina. Office staff here will do your clearance paperwork. The swimming pool is usually functional but the fuel dock was not working in mid 2014. Unfortunately it is a long schlep on foot to the town of Port Dickson, so it's not a convenient place for little errands or meals ashore. There are grocery stores in town and taxis can be hired for the return trip. In 2007 we left the boat here and took a taxi (only $10 each way at the time) to Malacca for a couple days.
Anchorage near Admiral Marina. Heading south in June, 2010 we dropped the hook for the night in the mud flats to the north of the marina. It was a rolly night, but the holding was good, and it saved pulling into and out of the marina. Again, these open roadstead anchorages are only good in settled weather, or when the NE Monsoon is well established.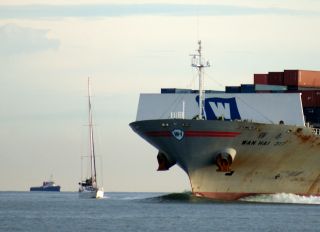 Crossing shipping lanes, Port Klang. BRAKES!
Port Klang 03°11.2N 101°13.1E for Anggsa Light in the north.
02°55.1'N 101°15.7'E for the southern anchorage near the ranges.
Port Klang is the major port for the west coast of Malaysia and is busy, busy, busy. We've found a couple anchorages in and around the area out of shipping lanes, but there are actually several more. On the northern side, near the Angssa Light we found anchoring depth, but it is only viable in calm weather. You're pretty close to the rocks. Better is the southern anchorage where you can tuck into the mangrove entrance to a small river, outside the shipping lanes, near the tall white leading lines to the port. Holding is good, in mud. Local fishing boats will pass in the night and early morning so be sure to show an anchor light. Passage thru the port itself is fascinating -- an up close look at big ships, container loading facilities, and military ships. The lanes are wide, and there is room to sail the edges safely. Do be aware of ferries and tugs that may not stay in the lanes!
If you have time or want a good place from which to explore Kuala Lumpur, the Royal Selangor Yacht Club up the river is a good alternative. Some cruisers spend weeks up there, enjoying the friendly folks at the club, the convenient restaurants and shops, and the direct rail service into the city. But you also have to watch out for rats...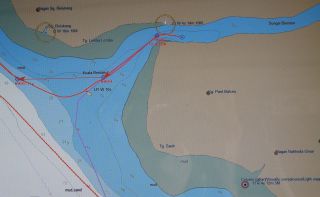 OpenCPN chart of Sungai Bernam
Sungai Bernam 03°50.8N 100°49.8E
We found this wonderful spot, just inside a river mouth, as we were sailing north from Klang toward Pangkor. We had thought to try and make 90 miles in a day but sanity prevailed and we turned into this river. Although the charts show only 8‑10 feet of controlling depth, we found 12‑15 feet (4‑5m, low to mid-tide) as we passed close to the red and white buoy that marks the channel. Once inside the river mouth, we turned south and found protected anchoring in 25' (8m) just off one of the small kampungs (villages) that dot the green shoreline. We didn't go ashore but enjoyed the sound of birds in the evening and morning. This is a busy river with a lot of fishing boat traffic, so anchor accordingly. As the tide recedes, expect currents of 2+ knots to rush by your boat. (Waypoint given above is not entry, but anchorage.)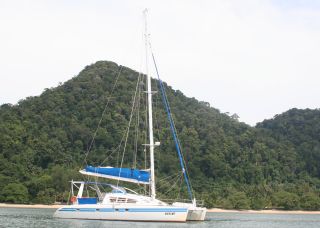 Ocelot at Pangkor Island anchorage
Pangkor Island 04°12.6N 100°33.0E
A favorite stop for us, both north-and southbound. Tucked into a nook on the southwestern side of Pangkor you can get pretty good protection from all but a howling westerly. To get the most protection, you need to nestle into the coast as far north as you dare, but the bottom rises sharply from 60 to 20 feet and less. Ashore are a few restaurants and resorts, with their normal paddle boat and jet ski rentals (the latter we could do without!). There are some beaches to explore, and lots of greenery! This is a hilly, lovely place compared the flat coastline farther south. The water here is clear enough for a hull inspection, hull wipe-down, or maybe even a fun swim! There is apparently some snorkeling to be had on the reef off the resort on the small western island, but we've not checked it out. However, in December 2010 Jon was attacked by sea lice and had the welts (and itching) for several weeks afterwards to show for it, so we suggest Stinger suits.
Up the river lies the town of Lumut and a marina, which we've not visited. We have heard OK reports about it from those who stayed there. The train to KL is easily accessed from Lumut.
There's apparently a small marina on the east coast of Pangkor but we've never visited it. A small marina was built on the north west coast of Pangkor in 2008 and was washed away within a few months. In a country that can build the world's tallest twin towers you'd think they could build a good marina...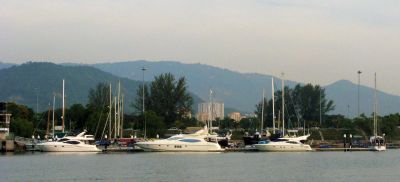 Anchorage off small yacht club south of Penang bridge
Yacht Club Anchorage, south of the Penang Bridge. 05°21.3'N 100°19.0'E
This protected anchorage is at the north end of Jerejak Island (between Jerejak and Penang Island), just on the south side of the Penang Bridge. It is most easily approached from the south. From the north, one must hug the south side of the bridge, staying about 20m from the bridge to avoid the sand banks and flats to the south. This northern approach is very shallow, and keel boats may prefer to approach from the south, or anchor off Jerejak Island. It is possible to tie a dinghy to the docks at the Yacht Club for shore access, but the marina is apparently perpetually full. Busses ply the north/south road outside the club to get to shopping malls (a large one south) and Georgetown to the north.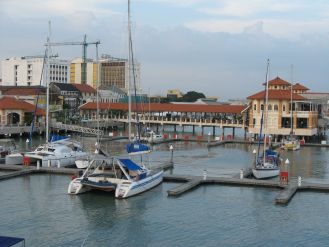 Ocelot at the (old) Tanjung City Marina, Penang
Tanjung City Marina, Georgetown, Penang 05°24.9'N 100°20.7'E NOW DEFUNCT
Alas, like Malacca, this was another poorly constructed marina in a great location. Located immediately adjacent to the Georgetown/Butterworth ferry terminal there was a great deal of wake that came in past the floating docks. The outer dock of the marina had been broken for several years, and no repairs seemed forthcoming, and eventually the rest of the docks succumbed and broke apart as well. As of 2014, there wasn't even a place to tie up a dinghy. No docks or ramps were visible at all.
The marina was brilliantly located just a few blocks from Georgetown's historical Chinatown, Little India, and other colonial areas of this fascinating city. The bus terminal is 1 block to the south, and there is a free inner-city bus that stops right near the marina and makes a loop to the tall Komtar shopping center (grocery stores, etc) every 15 minutes. There are dozens of excellent restaurants within a few minutes' walk of the waterfront. There was a large yachties-only air conditioned lounge with large screen TV and DVD player, tables, couches and a book swap. In the Ladies restroom were a couple free washing machines and warm showers. <sigh>
A down-side to the location is the presence of the QEII night club, which is the large orange building right in the middle of the marina (see photo). On most Friday and Saturday nights they play loud music until 4am so we would take Ocelot out of the marina and anchor out. The best place for this is the so-called "junk anchorage" just south of the ferry terminal. Not sure if the name refers to junk-rigged vessels that used to anchor there, or all the junk on the bottom. Be very careful to set your anchor well. Plastic bags don't make for very good holding. But now there's no place to tie up the dinghy, so most boats anchor further south.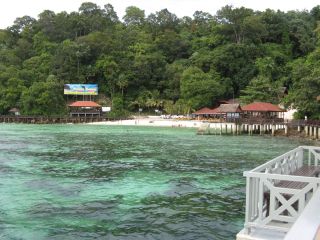 Reef, dock and beach at Pulau Payar, Malaysia
Pulau Payar 06°03.8N 100°02.6E
This marine reserve incorporates 2‑3 small islands about 25 miles south of Langkawi. For those who don't want to sail the 70 miles from Penang to Langkawi in one day, this is a reasonable stop. Unfortunately, the main island Pulau Payar has moorings on the southeast side only, and in winds with any south or east in them it can be a pretty bouncy place to stop for the night. We have spent a few days here on the 4 free moorings provided, and it blew up to 20 knots. The island is used by local ferries bringing hundreds of (mostly Malay) tourists out for a day of snorkeling and beach-ing. When we stopped here in October 2009 the water was still murky from the monsoon, but we understand it can get quite clear during the dry season. There is an expensive floating restaurant, some nice reef and lots of fish to be seen, even from the docks. Several nice forest walks lead you to vistas above the northern cliffs, or along the south coast. After about 3‑4pm the crowds leave and you have the place to yourself. The bird life is great: pied imperial pigeons, egrets, and kingfishers. Our May 2014 stop gave us clearer water and we snorkeled on the small rocky islets to the east of the main island where we found some great fish life including a few small reef sharks, some pelagics and a diverse collection of reef fish. Currents can run quite strong here.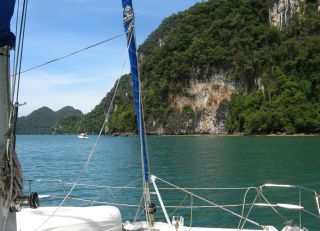 Lovely cliffs near Lake of the Pregnant Maiden
Langkawi south: (lots of anchorage possibilities)
Teluk Chawi 06°10.2'N 99°48.4'E
This is a very quiet, beautiful anchorage under towering cliffs. There are several small beaches nearby to explore. Lots of sea eagles in the area. See photo at top of page.
Lake of the Pregnant Maiden 06°11.5'N 99°47.1'E
You can't actually anchor AT the lake, but nearby. The narrow cleft in the rocks to the south of the lake dock is stunning, but a bit deep in places, and the wind can funnel through in big gusts. The Lake is a prime tourist destination for the Malay people, and dozens of small power boats ferry the life‑jacket clad tourists back and forth from Kuah to the Lake. It's a lovely walk on a jungle trail to the lake (an old volcanic caldera) where you can get your feet nibbled by small lake fish, or dive into deliciously cool FRESH water for a great swim. Be prepared to be applauded if you dive in, swim laps, or do anything more athletic than simply floating in a life jacket. The majority of Malay people do not swim, and seem quite impressed with our watery talents.
Teluk Ketapang 06°11.21N 99°43.92E
Another lovely spot to drop the hook. Take the dinghy out and explore the limestone cliffs. If the tide is right, you can take the dink into s few small "hongs". OK, I'm borrowing the word from Thailand. A "hong" is a sea cave in limestone cliff -- very common up in Thailand's Phang Nga Bay to the north. But Langkawi has its share of "hongs" as well.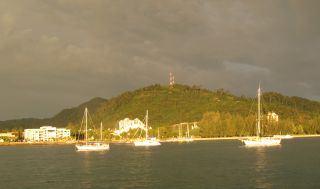 Anchorage off Kuah, Langkawi
Kuah Town, Langkawi 06°18.6N 99°50.8E (approximately - it's a big bay)
This is the primary anchorage on Langkawi Island. Here you'll find customs, immigration and port captain for both domestic and international clearance. They are open daily at the ferry terminal. There is no charge. Royal Langkawi Yacht Club has berthing, a small chandlery, restaurant, bar and swimming pool. None of that entices us though, and we have always preferred anchoring off a small jetty to the north of the "Eagle" (a huge sculpture that decorates the skyline north of the ferry terminal. However, the mud on the bottom is extremely soft, so it can be difficult to get the hook to set well.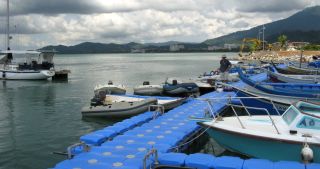 Jeti Pelancongan, Kuah. Dinghy dock in town.
Jeti Pelancongan has a few small boats tied up, some ferries, fishing boats, tourist boats and a lots of dinghies. It is a private jetty and the daily charge for tying your dink there is RM3 ($1) but the man who collects the money arrives only infrequently. It is a ten minute walk to the south to the Billion supermarket and mall, or a bit farther to the ferry terminal shopping complex, or farther to the RLYC. To the north lie the main shopping streets of Kuah where you can get just about anything you need: batteries, anti-fouling paint, other boat stuff, fabrics, groceries, cheap clothes, souvenirs, and duty free liquor. Beer and spirits are cheaper here than anywhere else in Malaysia (including Labuan Island in Borneo). The main thing this town lacks is a bookstore, although you can get cruising guides, used books, and charts at a print shop near the Bay Hotel.
There are endless choices of restaurants: Indian, vegetarian, Chinese, seafood, or western. On Saturday and Wednesday nights the street south of the river is blocked off for a night market and we usually have dinner there, walking from stall to stall tasting the satay chicken, potato samosas, fresh donuts, murtabak (thin roti with flavorful beef or chicken filling), and for dessert: homemade coconut ice cream or cream caramel or hot donuts. Yum!
Getting around Langkawi by land is not cheap. There is no public transport, and taxis can hit you about MR10 ($3) from one end of town to the other. A taxi to the airport is MR24 ($8) one way. Luckily, there are many motor scooters for rent, and some reasonable car rental deals if you want to see the hills and rice paddies and small villages that make up the "other" Langkawi.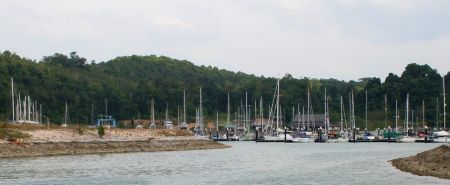 Entering Rebak Marina. Hard stand and travel lift to left.
Rebak Marina 06°17.7N 99°41.9E VHF 69 Phone: +6049-665-566 Email: Mazrizal.Othman@tajhotels.com
The builders got this marina right: and the very full capacity shows that we cruisers know a good thing when we see it. Rebak is on a small island off Langkawi, and is very protected from the sea. The 2004 tsunami, however, lifted many docks off their pilings, resulting in lots of damage to many yachts. But, tsunamis aside, you won't get better all season protection than Rebak. Many cruisers leave their boats here on the hard for a year or more, while others leave them in the water, at the docks for short sojourns inland in Asia, which we did in 2007 with the kids while we went to northern Thailand. Otherwise we have only ever visited Rebak for haul‑outs (3 so far) so most of our time in the marina has been on either end of the chore of out-of-the-water boat work.
The yard at Rebak is THE BEST we have ever experienced. The men working the travel life (for boats up to 7.5 meters wide) are competent and courteous. The yard itself is paved with paving bricks which are kept clean, so despite the nasty work of painting, sanding, etc, the place feels clean. There is a small chandlery run by Noel Bradley, a good guy who can help procure things you need or receive packages from abroad for those "flown-in" items. A small open-air restaurant serves good, well priced dinners from 4‑10 pm, (a God-send, as nobody wants to cook on board after working all day) and there is free WiFi. There are showers both at the hard stand area and in the Rebak Resort area. Washers and dryers are available for MR3/load, each. And -- here's the bonus: the resort swimming pool is open to yachties! What a great way to cool off mid‑day when the paint is drying between coats, or you just can't stand another minute out in the sun!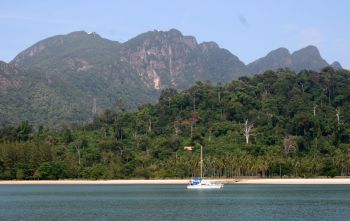 Telaga anchorage, northern Langkawi, Malaysia
Telaga, Langkawi 06°21.8N 99°40.9E
This is perhaps our favorite anchorage on the west Malaysian coast. Protected by 2 small, man-made islands on the west, the bay is fairly shallow (about 12‑15 feet or 4m) and lies under tall jungle‑clad mountains. Inland of the anchorage is Telaga Harbor Marina, another well‑protected marina on Langkawi (that also suffered in the 2004 boxing‑day tsunami). Telaga is a port of clearance, with (supposedly) daily office hours for immigration, customs and port captain. (We have sometimes had to rent a scooter or car, or get a taxi to Kuah to find the port captain, who seems to keep less rigorous hours than his counterparts in the other departments.) There is a Petronas fuel station (which in 2014 decided to not sell fuel to cruisers) and mini‑mart here plus a fuel dock (RM3/L or US$3.70/gal). A few small restaurants border the marina but they are all pretty pricey and seem to cater to the mega‑yachts that line the northern wall of the marina. There are a couple of local restaurants at the west end of the outer Telaga harbor that offer good meals at reasonable prices and a nice view of the anchorage. The marina office will rent cars for RM10/hr ($3.30/hr) which is wonderful.
A great walk involves heading north on the beach road from the anchorage, then cutting inland (right) at the "T" intersection towards the base of the cable car (another great outing, in itself!) to the trail that leads to the "Seven Wells" waterfalls. Ten to 30 minutes up hill (depending on your fitness level!) gets you to great views and a lovely cool, cascading river with small falls and pools for splashing about. On the way up, beware of the monkeys that can be a nuisance and look for opportunities to grab any food you might be carrying. Beautiful black and white-faced dusky langurs may be seen lounging in the branches or on the phone wires by the road. No problem bathing in your shorts and top -- they will be dry by the time you descend the path and are back in "civilization".
---
Anchorages in Malaysian Borneo: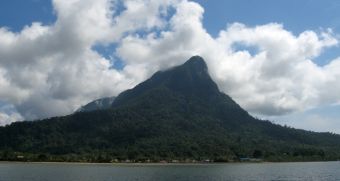 Santubong Peak over the river and village
Santubong River, Kuching, Sarawak 01°42.9N 110°19.6E
Approaching from the west (Peninsular Malaysia/Singapore) this is the first anchorage to access the lovely town of Kuching. The anchorage lies under towering Santubong Mountain and is very picturesque. Anchor near a private dock in mud. There is often lots of trash/junk in the riverbed, so be sure you've set the anchor well. You can obtain permission to use the private dock for your dinghy, and the caretaker is very friendly to visiting yachts. Ashore, across the road, there are many trails up through the jungle. Because the Santubong Peninsula is home to several upscale resorts there are private mini-busses passing hourly to and from Kuching town. There is also a public bus on a less-set schedule that serves the fishing village of Santubong and Kuching. The trip takes about 40 minutes by road. A taxi costs about RM50 one way. You can not get to Kuching town up this river, as it has been dammed.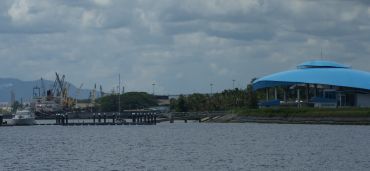 Kuching Marina, on the river, Kuching, Sarawak
Kuching Marina 01°33.5N 110°24.3E
Coming from the northeast of Borneo we were pleased to find an easy bar crossing and safe marina 7 miles up the Kuching River. We were here during neap tides, so didn't experience the proclaimed 3‑5 knot current that can sweep through the marina, bringing trash and the occasional log. The staff is very friendly and helpful. There is 24 hour security (at least on the land side!), restrooms and showers. The large blue marina building is unmistakable as you head up river. It is no longer possible to take your boat (or dinghy) into town as they have dammed the river. But you can take your dinghy to the ferry terminal nearby and leave it there while clearing customs, immigration and port captain. To get to Kuching, walk through the marina gates to the main road and catch a red bus going to the left. Fare to Kuching is about RM2 and takes about 20 minutes. In Kuching you'll find great little restaurants, a river walk, hardware stores (but no yacht shops) and other provisions. Kuching also has some fascinating museums (art, natural history, Islamic history, etc) and a very helpful tourist information office right on the riverfront, open 7 days a week. One hour south of the city is the Semenggoh Orangutan Sanctuary, well worth a visit, and half an hour to the north east is fabulous Bako National Park (take the red bus the other way from the marina) with its proboscis monkey, langurs, bearded pigs and lots of birds.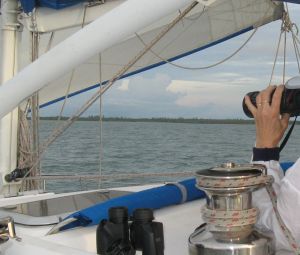 Scanning the coast for the river mouth
Belawai River Mouth 02°14.1N 111°12.8E
A long day sail from Kuching takes you to this river mouth (Kuala Belawai, on the chart) with protection from the north and east. The coast is dead flat here, with no distinguishing marks, and almost no villages. the chart was accurate enough to get us to within visual distance of the river mouth, but was not accurate in terms of the sandbanks. Well, one could hardly expect it, with a constantly flowing river and lots of fine silt. We scouted around carefully to find the deep water (8m or 26ft) channel, and finally found it south of where it appeared on our 2009 chart. We spent a quiet night anchored off the little village of Kampung Belawai. In the morning we were blessed with a visit from 2 Irrawaddy River dolphins. These endangered fresh water dolphins are distinguished from ocean dolphins by their very lazy movements, paler backs, tiny dorsals, and a very rounded head.
There are many other potential anchorages along this eastern shore of the bay, and many boats go up the Rajang River, some all the way to Sibu. It is possible to travel by river all the way up to Tanjung Sirik, the cape on the northeast corner of the bay. We, unfortunately, had a tight schedule to keep with friends visiting from Australia. The Belawai did not have any logs running down it. We have heard that the Ranjang River is notorious for logs. In fact, while we were in Borneo in October, 2010, there was a huge rainstorm with landslides that brought piles of logs into the river. They apparently formed a log jam 50 km long(!) upriver of Sibu.

The seahorse outside Miri Marina, Sarawak
Miri Marina 04°23.1N 113°58.3E Phone: +6085-423-033 MiriMarina.com
This is a well-protected, and well-built marina. It is entered via a zig-zag channel behind a headland so you really don't get swell in here, but it's new enough that many charts don't show the marina. A large sculpture of a seahorse is the defining landmark as you approach. Unfortunately the marina office is a 10 minute walk away (through a convoluted set of paths, and over a wet ditch) and the facilities ashore are, well, not really there. There is a small temporary building next to the parking lot with 3 grotty heads. Showers are in the toilet rooms. The good news is that this is a very convenient and affordable place to leave your boat for inland travel. The Miri airport is well connected for travel to Kuching, Mulu Cave National Park (only accessible by air), Kota Kinabalu, and other points in Sabah and Sarawak plus Kuala Lumpur. The dock master, Captain Fin, will meet you and if he has time, will take you to town to clear in. A taxi driver (in a beat up old car, or a newer SUV) is familiar with the needs of yachties and can get you to 1 day laundry, hardware stores, the airport, etc. Simon's number is available from the yachties-in-residence.


Labuan Marina, with marina office, and mall behind
Labuan Marina 05°16.3N 115°14.9E Phone: 60-87-410 472 Email: ldah@tm.net.my
Labuan Island is not part of either Sarawak or Sabah, but is a Federal Territory, administered directly from Kuala Lumpur. It is a duty free port, more Chinese than Malay, and is connected by ferry (and plane) to Brunei and Kota Kinabalu. We expected a sleepy little back water, and were surprised to see the fancy glass buildings at the waterfront, and dozens of oil rig servicing ships in port. When we arrived the winds were from the SW and so we found shelter inside the arms of Victoria Harbor (05°16.5'N 115°14.3'E) across the water from the marina. We anchored in 20' (6m) in mud. From both the anchorage and the marina the customs/immigration/port captain offices are available by dinghy. Leave your dinghy at the ferry terminal docks and walk in. The marina suffers the fate of other Malaysian marinas built with rows of pilings -- it gets pounded by any swell coming in. Almost half the marina was derelict when we were there in October/November 2010 due to swells and winds from the west. Some finger piers do not have pilings at the ends, and those are very easily pulled from the mother dock. To their credit, the marina workers were hard at work almost daily to repair broken bolts, cracked cement, and drifting finger piers. The marina office is a lovely air conditioned building with a lunge for yachties, free WiFi, and several rooms with tables for casual potlucks or as a place to work on the computer in comfort. There are nice shower/restrooms, and a laundry room with free washer and dryer. The staff are wonderfully helpful and attentive to the yachts.
In Labuan you'll find lots of small restaurants, a choice of 3 grocery stores, and many duty free liquor stores. Prices for hard liquor are comparable to Langkawi (on the Peninsula) but beer is more expensive in Labuan. A good public mini-bus system services the entire island and there area some interesting sights such as the historical "chimney" which tells the story of the coal mining days of Labuan, the Memorial Cemetery honoring the Australians who died here during World War II, a huge Chinese temple, a Sikh temple, and the Surrender Point where the Japanese surrendered in 1945.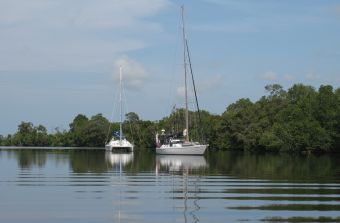 Ocelot and Vamp on the Klias River, Sabah
Klias River (see coordinates below):
The Klias is a rarely visited river, just east of Labuan. There is a twice-daily car ferry that runs from Labuan to Menembok, on the Sabah mainland, and an enterprising yachtie got the river entrance waypoints from the ferry captain of the MV Wawasan Perdana. And voila! A new cruising destination! Here they are, and we can attest to their accuracy:
| | | | |
| --- | --- | --- | --- |
| Wpt | North Lat | East Long | Comment |
| 1 | 05° 19.00 | 115° 18.10 | Alur Timur (the bay east of Labuan) |
| 2 | 05° 19.00 | 115° 18.78 | |
| 3 | 05° 17.80 | 115° 20.09 | |
| 4 | 05° 17.58 | 115° 20.883 | |
| 5 | 05° 17.381 | 115° 21.804 | |
| 6 | 05° 17.637 | 115° 22.28 | |
| 7 | 05° 18.23 | 115° 23.13 | Klias River Entrance |
| 8 | 05° 17.855 | 115° 22.461 | |
| 9 | 05° 18.141 | 115° 22.484 | Jetty at Menembok |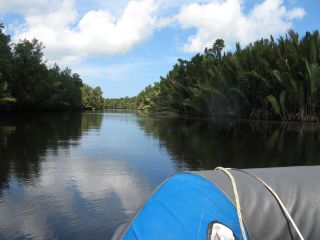 Dinghy exploring along the Klias River, Sabah
Turn to starboard before the jetty to enter the river. Stay right to continue up the Klias. We anchored near the jetty and explored the byways by dinghy. Beautiful nypa palms and mangroves, and small homes on stilts. Nice bird life.
There are 25 miles of navigable river with depths of 25‑45' (8‑14 meters). Once you come to the tourist boat docks at Kota Klias village watch out for the overhead power cables which mark the END of the navigable river. Waypoint for the cables is 05° 26.9'N 115° 37.4'E
Menembok has small shops and ice. At the far end of the river, in Kota Klias, there isn't much, but you can tie up your dinghy and walk around. On Saturday mornings you can get a taxi. Our 3G modem worked most of the time.
This river is beautiful, with wild proboscis monkeys, silver langurs, and macaque monkeys in the trees on shore. Good birding, too. There were bugs, but almost no mosquitoes. It is quiet: no logs, no ferries, no big boats. Near Kota Klias a couple power boats come by in the evening with boatloads of camera‑toting tourists. When they leave, all you hear is the cicadas and monkeys. Hundreds of fruit bats traverse the night sky.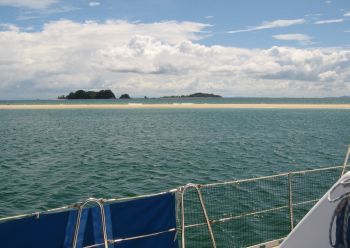 Anchored off white sand, Keraman Islands, Labuan
Keraman Islands 05°13.2N 115°08.7E
Several small islands dot the water to the south of Victoria, Labuan. We anchored for an afternoon off Keraman Island to clean the bottom and put on a new feathering Kiwi propeller. We dropped the hook in 12' (4m) over nice white sand. The water was nice for a swim (unlike the polluted bay in Victoria) but it was shocking to see not one fish. Makes you wonder...
We backtracked along the Borneo coast in November, 2010, doing a 2‑night passage (something to be avoided if possible, due to all the logs in the water). We visited Brunei both heading east and back west, mostly to top up with their $0.20/L diesel. We visited Kuching once more, the second time at the city marina. Then back to Peninsular Malaysia.
There is so much more to see in Borneo. We did visit Kota Kinabalu and Sandakan, but not by boat. (We flew!) There are lots of anchorages to explore on the north and east coast after KK, such as Kudat (with haul out facilities), Semporna, Sandakan and Tawau. Many boats venture up the Kinabatangan River with its wild orangutans, pygmy elephants, incredible birdlife, and other animals. We were lucky enough to visit up there for 3 days, but again, we'd flown.
Indian Cruising Info: Cruising N&E Indonesia | Cruising S&W Indonesia | Cruising Malaysia | Cruising Thailand | Thai Services | Cruising Andamans | Cruising Sri Lanka | Cruising the Maldives | Cruising Chagos | Cruising Seychelles | Cruising Madagascar | W Indian Weather | Cruising Mayotte
Related Pages: Malaysia Home | Malay Newsletters | SE Asia Flora/Fauna | Cruising Malaysia
Cruising Info: General Cruising Info | Equipment | Pacific Ocean Cruising | Indian Ocean Cruising | Provisioning Food & Fuel | Cruising Recipes
Top Level: Home | Destinations | Cruising Info | Underwater | Boat Guests | Ocelot | Sue | Jon | Amanda | Chris | Site Map | Make a Comment
---
Lifetime
Commodores
of the
Seven Seas
Cruising
Association

If our information is useful,
you can help by making a donation
Copyright © 2000‑ Contact: Jon and Sue Hacking -- HackingFamily.com, svOcelot.com. All rights reserved.