Cruising Thailand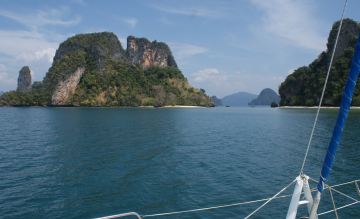 Cruising Phang Nga Bay, Thailand
Thailand has two distinct cruising areas: the coast and islands to the east of the mainland, in the Gulf of Thailand, which we have not yet visited, and the far more often-visited coast and islands to the west of the mainland, in the Andaman Sea which are described below. Our cruising information was gathered during several different cruises to Thailand in 2007, 2010 and 2011/12. Towering limestone karst massifs with many explorable caves characterize the Andaman Sea islands. Phuket is known for its white sand beaches. Phang Nga Bay (to the east of Phuket) has generally calm seas and fabulous scenery. The Similan and Surin Islands to the west of Phuket are best known for their crystal water bordered by granite boulders.
Cruising Guide: The only game in town is the Andaman Sea Pilot, by O'Leary and Dowden, published by Image Asia, and updated every few years. It is available at chandleries in Malaysia and Thailand, and probably overseas. It has good mud maps, write-ups on anchorages from Singapore to Malaysia and Myanmar to the Andaman islands, and all around Thailand. Noonsite also has good info on Thailand.
Services: We've also compiled a rather long but extensive list of services for the Phuket area, originally compiled by the Boat Lagoon chandlery East Marine but then added to by us. The Services page was split off from this Cruising Thailand page as it was getting too long.
Track Files: We have updated the Track files for Malaysia, Thailand, the Bay of Bengal, and the rest of the Indian Ocean. However, we have now embraced the free navigation program OpenCPN, mainly because it offers much better AIS and Google Earth and CM93 chart support. Therefore, the MaxSea track files do not include the most recent tracks for Thailand. We have now begun publishing our more recent OpenCPN track (GPX) files, which do include everywhere we went recently in Thailand. Although we draw less than 5' (1.5m) we generally note on the track files how much depth there is and the state of the tide when things get shallow.
Time: Thailand observes a sun-compatible time zone (GMT+7), so that daylight is approximately 0600 to 1800 (which is 1 hour different from Malaysia and Singapore).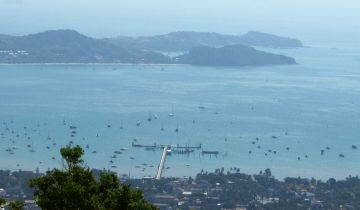 Bird's eye view of Au Chalong, Phuket
Officialdom: At the clearance port of Ao Chalong, Phuket Island all necessary bureaucracy is located in a small yellow building at the head of the long pier. Leave your dinghy at either the end of the pier (tied with a long rope, and where you'll have to climb the floating bridges) or at the steps part way along the pier (again, a long rope is needed due to the tidal change) and walk to the Immigration/Customs office with your papers. At high tide, you can beach your dinghy to the north of the pier, near the ramps at the Lighthouse Resturant, but watch out for the tour boats and longtails!
Visas: Thailand does not require visas in advance for most country's citizens, but the visa you get on arrival is only valid for 1 month (if you arrive by boat) and only 2 weeks if you arrive by land. More to the point, if you arrive by boat they don't even give you a stamp in your passport - they just staple(!) a paper to your passport cover. This means that you can not leave by land (for instance, to renew your visa) unless you post a large B20,000 ($700) bond. You used to be able to do it the "easy way" (give the immigration officer B1,500 or $50) and they'd put a normal stamp in your passport, but a recent crackdown on corruption has stopped this.
Most cruisers get longer visas in Penang, as they sail up the Malacca Straits. These used to be free but the Thai consulate in Penang has recently decided to charge RM110 (about $35) for these visas. Getting to the consulate involves a bus ride & a bit of a walk (or an expensive taxi ride) so it's best to go with someone who has done it before, as it's difficult to find. You must get your application in before noon to get your passport back before they close at 4pm.
Thailand Immigration distinguishes sharply between crew and passengers on the manifest: if you list family or friends on board as "crew" and they are leaving the vessel in Thailand you will have to post a bond of some 20,000 Baht (about $700) which is only returned to you once they have left the country. Anyone listed as "passenger" is free to leave the vessel without a bond issue. The immigration folks are happy to help you understand this, and in 2011 they had no problem with our changing our on-board friends from "crew" to "passengers". Apparently if you arrive with a "tourist visa" (usually 60 days, issued outside Thailand) the captain and 1 crew (also with tourist visa) can leave the boat to fly out of the country. The best way for a boat captain to renew a visa is to clear out and sail back to Langkawi and get another visa. Immigration is in one air-con room, (ahhhh, so nice!) and Customs and Port Captain right next door. You will have to sign a statement for customs declaring the value of your boat, and agreeing to pay a huge sum if you sell or abandon the boat. As of 2011, yachts are permitted to remain 1 year in Thailand before being hit with import duty. This permit is renewable. On clearance, there are small fees to pay (about B300 or $10 total). Holidays and weekends cost 3 times this amount, for either clearing in or clearing out. The office is open 7 days a week from 9‑12 and 1‑3, but they often leave early. The officials speak very good English and are happy to help with the paper work which appears daunting: given that it's primarily in Thai, with only small letters showing the English translation. Not to worry, everyone is courteous and patient.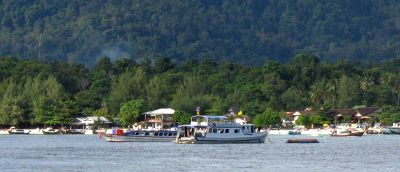 The beach at Ko Lipe, Butangs
During the winter sailing season there is an immigration office on Ko Lipe (the southern-most of the islands, in the Butang Group) which can serve as a place to get Thai stamps to satisfy Malaysia's need for you to leave the county every 90 days. If you clear in with your boat in Ko Lipe and intend to sail north to Phuket, you still need to visit Customs and Port Captain in Phuket. It is possible to clear in and out of Ko Lipe at the same time. Unlike Au Chalong, there is always a fee of about 300 Baht ($10) for clearance. Because sailing overnight is not recommended in these waters (with so many fish traps and fishing boats) the officials in Phuket still seem to ignore passages of up to about 7 days from Langkawi, Malaysia to Phuket, but if you take longer than 7 days, they may back-date your entry to Thailand.
The port of Satun, on the coast near Langkawi is also a port of clearance, though we haven't been there.
Far to the north, Ranong, on the Myanmar border, is also nominally a port of clearance. I say nominally because even though Ranong is the Thai jump-off point for folks making a "visa run" to Myanmar and back (on land), we were unable to clear in there. In 2011 we arrived by boat from India, and sailed to Ranong as it was much closer than Phuket. Up the big estuary, we were not sure how to get Ocelot to the "port" anchorage, so we had anchored on the north side of "town" (it's way inland) and made inquiries at the small immigration office that serves visitors going to and from Myanmar. They told us to take public transport to the Ranong Immigration Office in town (a 20 minute ride). Once there, we learned that since we had an Indian national on board, and they didn't have the facilities to issue an "on arrival " visa for her, they couldn't clear us in. We were told to sail to Phuket immediately. Had it just been Jon and me (with USA and UK passports) we apparently could have cleared in. Bad weather, a broken rudder, and contrary winds meant we arrived in Phuket 5 days later. No hassles there.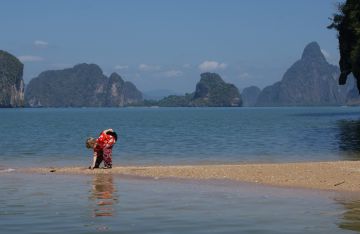 February in western Thailand: blue sky, calm sea.
Weather: Thailand, lying so near the Equator, is outside the cyclone zones of both the Pacific and the Indian Oceans. There are 2 distinct seasons in Thailand: the Southwest Monsoon and the Northeast Monsoon. Monsoon is a word from Arabic mawsin, meaning season - it is not a storm. The SW Monsoon blows from May or June until November or December and is the rainy season. This monsoon makes Phuket's west coast a lee shore. Some vessels spend the entire year in Thailand's Andaman Sea side, by finding protected anchorages on the east side of not only Phuket, but the dozens of islands in Phang Nga Bay. Boats that have sailed south to round the Malay Peninsula can enjoy better weather at the Thai islands in the South China Sea.
The NE Monsoon blows from about December to April and is the drier of the seasons, a great time to cruise the west coast of Thailand. This is the most popular time to be on the Andaman Sea side, and is the season of the famous King's Cup Race, usually held in early to mid-December. If you don't like crowded anchorages, avoid this month or escape to the Phang Nga Bay area. There is no sharp delineation from SW Monsoon to NE monsoon: in December 2011 several lows passed over the area and drove several (race and cruising) boats on the west coast beaches of Phuket. By January and February winds are generally light and you might have to do a lot of motor-sailing to move around. Then again, in January 2011 we had some of our best SE Asian sailing days in the islands south of Phuket.
Thailand is hot (85‑95°F or 30‑35°C) and the humidity is high, but not as bad as Malaysia.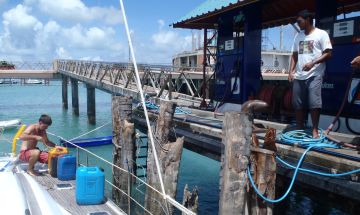 We top up Ocelot at the Au Chalong fuel dock
Money: The Thai Baht is exchanged at a rate of about B30/US$ (it's a bit cheaper in Malaysia). ATMs are available at clearance ports such as Ko Lipe and Ao Chalong, but many of them now add B150 ($5) per transaction - quite a rip-off. Meals in local restaurants cost about B90‑120 for local food (much more for "western" food). The exchange rate has been basically the same from 2007 to 2012.
Fuel: As of 2012 the price of diesel in Ao Chalong was about $1/liter. There is a barge in the Ao Chalong anchorage marked "DIESEL WATER" where you can either take jugs or your whole boat, but beware: one cruising boat bought diesel and found it had water in it. As he said, later, spoofing the attendant, "Oh! You mean you want it separate?" A better place to purchase diesel, petrol, and water (separately) is the non-floating fuel dock on the main Ao Chalong pier. Best to wait for a high tide for easy access. They do take credit cards. The water is free but not really potable.
3G Internet access: In late 2011, Thailand finally installed 3G in certain areas, including Phuket (and Bangkok). However, they seem to have used somewhat non‑standard frequencies, so our Malaysia 3G modem could only get the much slower EDGE protocol that most of Thailand has. Our HTC One S Android phone could access the Dtac 3G network, but we also got a new stand‑alone modem from the extreme SW corner of the downstairs of the Big C shopping center (Big C is just north of Central Festival and just south of the International Hospital). The modem was only $30 in 2011 and all you can eat data plans are about $30/month, with cheaper plans available. EDGE is OK for sending and receiving emails but a bit frustrating for web surfing, and forget large downloads or Skype voice calls. Coverage is pretty good, but speed is not. Some folks have reported better speeds with a CDMA modem, but that's a fairly expensive item that you won't be able to use many other places. Internet access ashore is pretty good. Remember to convert your "air-time" into "data-time" after you top up your SIM or you'll use your time up very quickly. 1‑2‑Call and Dtac seem to be the best companies. SIMs can be bought anywhere, even the ubiquitous 7‑Eleven, and do not require a passport.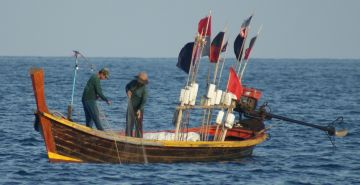 Thai fishermen pull a net. Note flags with floats.
Obstacles and concerns: The Thai islands on the west coast lie just north of the infamous Malacca Straits. Just hearing this term used to strike fear into sailors, as it had a well-deserved reputation for piracy. But over the past 10 years, the Malaysian Navy has pretty much cleaned up its side of the straits (but not the Sumatra side) and the greatest threat to sailors on both the Malaysian and Thai coast is fishing nets. Like anywhere, it's wise to close up the boat and lock it when leaving it. There was a very tragic event in the Butangs several years ago: Burmese kids climbed aboard the cruising yacht Mr. Bean and killed the owner. The kids had apparently been "sold" to a fishing boat, and just wanted to go home. This appears to have been a matter of being in the wrong place at the wrong time, and despite the terrible tragedy, has not kept cruising boats from enjoying the islands of southern Thailand. Minor theft is always a possibility, but no more so here than elsewhere in the world. One caveat: when leaving your vessel to explore the "hongs" (caves in the limestone cliffs) in Phang Nga Bay it is wise to close up: anyone watching your movements will have a pretty good idea of how long you'll be inside the caves, definitely out of sight of your vessel.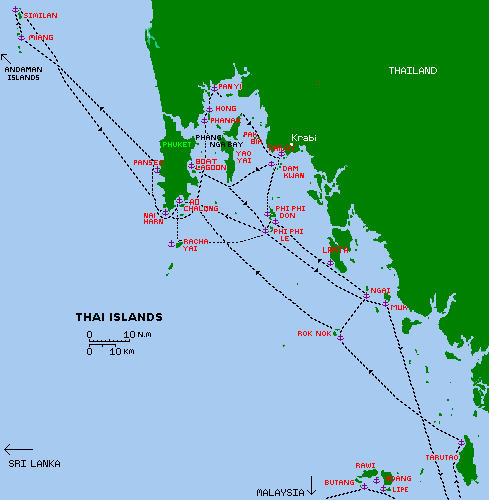 All along the west coast of Thailand there are hundreds of buoyed nets (sometimes marked with a flag at the end, sometimes not). They can be found in anywhere from 20‑100 feet (6‑30m) of water, and there may or may not be ample depth to sail between the floats. Often the first sign of a net is the small open fishing boat moored to the leeward end of the net. Usually the nets are on the bottom, and there is sufficient water to sail over the nets. We've never caught one this way, but we only draw 4' (1.4m).
There are also many larger trawlers and care must be taken to not pass too close behind one that is towing a net. With binoculars you can usually see the black lines for the net extending aft. Sometimes 2 boats will tow a net between them, which is an extremely dangerous situation if you find yourself in the loop, so watch out for 2 fishing boats cruising next to each other.
Anchorages on the Andaman Sea (west) side of Thailand:
The table below and the map show most of our anchorages and marina stops in Thailand. They are organized from south to north, as that is the predominant direction of travel for new-comers arriving from Singapore and Malaysia, (from Langkawi to Ao Chalong, Phuket) and then clockwise around Phang Nga Bay. Then we do the anchorages going north from Au Chalong on the west side all the way to Ranong. Lastly, are the Surins and Similans, the little bits of heaven off the west coast. Because we traveled up and down the islands several times, the dates shown, and the comments, refer to the most recent use of this anchorage/marina unless otherwise noted. Clicking on an anchor on the map will also take you to a description of that anchorage. (BTW, "Ko" is Thai for Island).
Date
Town or Bay
Depth
North
Latitude
East
Longitude
Comments
Jan 2010
Ko Lipe, Butangs
45'
06°29.0
99°17.9
Clearance port, seasonal. Coral. Some moorings
Jan 2014
Ko Adang
mooring
06°31.6
99°17.0
Protected from NE. Flat seas. Snorkel
Jan 2014
Ko Butang
mooring
06°31.7
99°10.5
A bit exposed to swell
Jan 2014
Ko Butang
mooring
06°31.1
99°11.0
More protected. Deep. Snorkel by rocks. Beware current
Jan 2011
Ko Taratao
mooring
06°41.9
99°38.4
Mud. Long beach. Protected. Dinghy up river.
Jan 2014
Ko Rok Nok/Noi
mooring
07°12.8
99°04.0
Best snorkeling. Clear water. Exposed to east
Jan 2011
Ko Muk
mooring
07°22.2
99°17.0
At Emerald cave. Rolly. Longtails.
Jan 2010
Ko Muk bay
40'
07°22.5
99°17.0
Anchor north of E. Cave. Small bay. Poor holding
Jan 2007
Ko Ngai
mooring
07°24.0
99°12.4
Restaurants ashore. 5 miles back to Emerald Cave
Jan 2010
Ko Lanta
20'
07°37.8
99°01.6
Sand/mud. Good holding. Restaurants/shops ashore
Mar 2014
Ko Lanta east
20'
07°31.9
99°06.2
Used S approach with 10' depth. Village ashore, market
Jan 2011
Ko Racha Yai
mooring
07°36.5
98°21.6
Nice snorkeling. Busy day with tour boats. Quiet night.
Jan 2011
Phi Phi Le, Maya Bay
mooring
07°40.8
98°45.9
Beautiful, but crazy crowded daytime. Quiet night.
Jan 2007
Phi Phi Don
mooring
07°44.1
98°46.1
Insane with tour boats. Hard to get mooring.
Jan 2011
Phi Phi Don, Ao Lohdalum
mooring
07°44.8
98°45.9
Best choice for P P Don. N side of town. Loud music
Jan 2011
Ao Chalong Bay
17''
07°49.2
98°21.4
Clearance port. Convenient for shopping & Phuket town
Feb 2011
Panwa Bali: Chalong east
20'
07°48.0
98°22.9
Sand. Protection from NE winds.
Jan 2007
Boat Lagoon Marina
marina
07°58.6
98°24.9
Entrance to the long channel to enter the marina
Mar 2014
Ao Po Bay
mooring
08°03.7
98°26.4
Free moorings, but many claimed by charters.
Jan 2011
Ko Phanak
30'
08°11.4
98°29.1
Mud. Beautiful cliffs. Hongs to explore, both E and W
Jan 2011
Ko Hong group
mooring
08°13.2
98°30.1
Busy with kayakers, but quiet early AM and after lunch
Jan 2007
James Bond Island
9'
08°17.6
98°30.0
Shallow approach. Touristy beach souvenir stalls
Jan 2011
Pan Yi village
20'
08°20.0
98°30.3
Muslim village. Longtail rides in AM thru mangroves
Feb 2010
Ko Pac Bia
mooring
08°07.2
98°40.1
Deep, but moorings. Lovely hongs. Some snorkeling
Mar 2014
Ko Hong Krabi
mooring
08°04.9
98°40.6
Deep. Several moorings. Big open hong to explore.
Jan 2011
Railay Beach, Krabi
15'
08°06.0
98°37.2
Sand. long beach. Restaurants. Walks. Longtail to town
Jan 2011
Ko Dam Khwan (Chickenhead)
25'
07°57.6
98°48.5
Sand, between the islands. Long sand-spit at low tide.
Jan 2011
Phuket Island, Nai Harn Bay
35'
07°46.3
98°18.2
Large quiet bay, beach ashore. Exposed to west.
Jan 2007
NW Phuket Is., Pansea Bay
25'
07°58.9
98°16.5
Sand, protected from north east. Not a very big place.
May 2011
Ban Thap Lamu
15'
08°34.2
98°13.2
Sand/mud. Full protection. Avoid Navy area to N
May 2011
Ko Kho Khao
32'
09°00.5
98°17.3
Mud. Convenient stop to cut the distances
May 2011
Ko Ra, north end
40'
09°14.8
98°19.0
Mud. Eco-trail system ashore.
May 2011
Ko Payam
20'
09°44.4
98°25.5
Mud. Off the village. Nice trails/motorbike roads ashore.
May 2011
Ko Son Tai
32'
09°54.3
98°31.0
Mud. North of the lighthouse, seeking protection from SW
May 2011
Ranong, west coast
22'
09°58.9
98°35.8
Mud. Next to Andaman Club dock that serves Myanmar
Jan 2007
Similans, Ko Miang
mooring
08°33.9
97°38.4
Beautiful clear blue water, good snorkeling. Needs calm
Jan 2007
Similans, Ko Similan/Bangu
mooring
08°40.5
97°38.8
Beautiful clear blue water. Protected from SE/NE
May 2011
Ko Surin Tai, east side
mooring
09°23.5
97°52.9
Great snorkeling. Many moorings to choose from.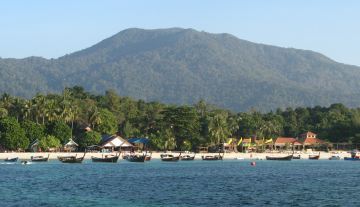 The main beach at Ko Lipe, Butangs
Ko Lipe, Butangs 06°29.0N 99°17.9E
A popular tourist stop for the boating/backpackers. Very busy in winter season, with an Immigration Office on the right side of the beach. This bay is deep and crowded with longtails. Look for sand between bommies or an un-used mooring (which will no doubt be needed once the tourist boats come back in in the afternoon). We stopped here just long enough to clear in and have lunch. Then we motored north to Ko Adang for some peace and quiet.
Ko Adang 06°31.6N 99°17.0E
Lots of moorings to choose from along this long coast, on the west side of Adang. Easy dinghy ride from here to the small rocks to the west with awesome snorkeling and diving, with lots of soft corals and good fish life (only place we found a deadly stone-fish). There can be small stingers in the water even in winter, so we used stinger suits for comfort.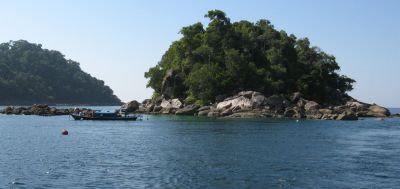 Mooring ball and fishing boat at Ko Butang
Ko Butang 06°31.7N 99°10.7E
West of Adang, Ko Butang is large but exposed to the swell, which seems to wrap around even in winter. There are moorings near the western rocks and channel. Good snorkeling.
Ko Butang, small islands to the south. 06°31.1N 99°11.0E
We moved around the corner of a small island, into a cove with better protection from the NE winds. Mooring are available here, with more good snorkeling.
Ko Taratao 06°41.9N 99°38.4E
This is the first island north of Langkawi, so if you don't go west to the Butangs, this makes a good first night's stop. There are a few moorings off the national park Headquarters at the north west side of the island. If the tide is high, you can take your dinghy far up the river for some mangrove adventuring (stay to the left side until past the first big bend). There is a cave up there called "Crocodile Cave" but if there are no tourist boats going it can be a bit hard to find. Walking ashore may require payment of a park fee, but if you want to walk the beach or see the little museum, it's worth it. We have never been approached to pay for the mooring.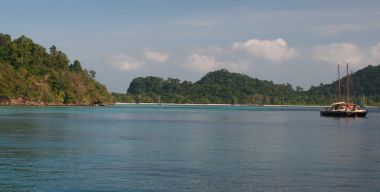 Great snorkeling water at Ko Rok Nok anchorage
Ko Rok Nok/ Ko Rok Noi 07°12.8N 99°04.0E
It's a dog-leg to the west to reach Rok Nok, but always worth it for the fabulous clear water and snorkeling. Unfortunately, much of the coral was bleached in recent years but the rubble still shields many fish species and there are encouraging signs of re-growth of the coral. Moorings are scattered throughout the area, on the western side and in the cut between the 2 islands. You may be hit for fairly stiff park fees here (too many charter boats) and we're not sure they end up going to the park. Try to ask for a week-long permit. This is a different national park than Taratao, Ko Muk, and the Krabi areas. Thailand needs a concept of "multi-park permits" that are affordable for cruisers. Simply not going ashore tends to avoid the request for a park fee.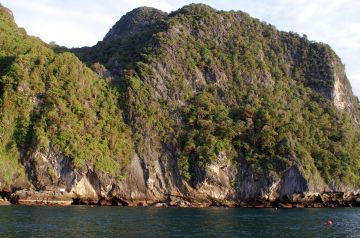 Mooring balls outside Ko Muk/Emerald Cave.
Ko Muk 07°22.2N 99°17.0E
Near the coast, this small island is home to one of the best "hongs" in the area. A hong (Thai for "room") is a cavern in the limestone cliffs, and the best ones are accessible by dinghy or swimming or kayaking. This anchorage is right outside the entrance to "Emerald Cave" and from 9am to 4pm you won't be alone -- the longtails and tour boats will crowd around, disgorging their tourists who will flock into the cave in droves. But outside the tourist hours, if the tide is right you can take your own dinghy (no engine use!) inside the long cave to emerge in a collapsed hong deep within the island, and maybe have it all to yourself. Just don't get caught on a rising tide with a big dinghy inside the hong -- there is a low "roof" to pass under at the inner end. A couple of good flashlight are very helpful for the 300' (100m) passage in and out. There is a more popular anchorage off the beach further south.
Ko Muk Bay, north of the cave 07°22.5N 99°17.0E
If the longtail traffic is too much, or there is no mooring available and you want some peace and quiet, you can tuck into a small bay to the north of the cave. We found it a bit claustrophobic here, so we anchored just outside where it was a bit rolly. It all depends on the winds and currents.
Ko Ngai 07°24.0N 99°12.4E
If the water is too rough, or there are no moorings at Ko Muk, this is a good alternative for the night. It's just 5 miles to Emerald Cave from the southern end of Ko Ngai. But the beaches and small resorts and restaurants on Ko Ngai are worth a stop all on their own.
Ko Lanta 07°37.8N 99°01.6E<br> This anchorage is off the long sandy beach and there is a good floating dinghy dock ashore. We enjoyed beach walking with our friends, and had one of our most memorable Thai meals at the hillside restaurant at the north end of the beach (it's in tiers, with decks and stairs hanging onto the cliff-face). Ashore, you'll find small shops, 7-11's for SIM cards and lots more "civilization" than anywhere else before now, if coming from the south. It's also a good place to get ashore and take a long walk -- something you can't do on the islands south of here except Taratao.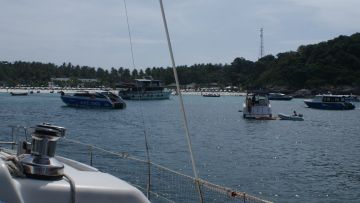 Racha Yai mid-day, busy with tour boats.
Ko Racha Yai 07°36.5N 99°21.6E<br> This group of small islands offer the closest clear water to Phuket, and consequently are the recipients of hoards of tourists during the day (worse in the winter "high" season). Fast power boats arrive by 9 or 10, disgorge their snorkelers or divers, blow the horn, pick them up and head off for another destination an hour later, only to be replaced by other powerboats. If you arrive after 4pm or before 9am you can claim a mooring for yourself, and watch the "zoo" from your own cockpit. The water is fairly clear, and we enjoyed some snorkeling here.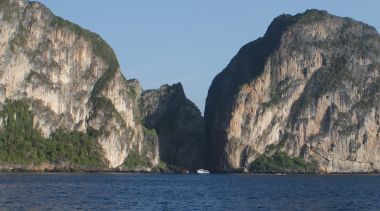 Maya Bay becomes visible as you approach Phi Phi Le
Phi Phi Le, Maya Bay 07°40.8N 98°45.9E
Setting for the dark movie "The Beach", this beautiful hidden cove is no secret! Like other good snorkeling/beach destinations within reach of Phuket (or Phi Phi Don) it fills with day-trippers from 9am until 4 or 5pm. The secret is to arrive before or after the hoards, and grab yourself a big red/orange mooring ball and sit tight. We got here in the afternoon, the last cruising/charter boat to arrive, only to find no moorings. But there was a big tour boat still there, and when asked if he was leaving soon, he said "in an hour", and then offered to let us raft up to him until he left. Very considerate! We had a lovely evening and sunset, then a good peaceful snorkel before the wall-to-wall longtails and powerboats arrived the next day.
Phi Phi Don, Ton Sai Bay 07°44.1N 98°46.1E
Once was more than enough for us here. This is the most famous (read insanely crowded) backpacker hangout in the Andaman Thai islands. Yes, it can be fun ashore, especially for the younger set, but in our minds nothing justifies the hassle of all the tour boats and long tails vying for places in the anchorage. The new wharf helps organize things a bit, but it's not a fun anchorage. Ashore, though, you can find any kind of restaurant you want, and just about any price range. There are also the ubiquitous Thai massage parlors, DVD stores, small stands selling ice cream, cool drinks, fruits and veggies and, of course, endless bars. A fun walk is to head east of the village insanity and work your way into the hills where the workers and real people live. You can follow many little sandy streets to the equally busy beach on the north side where the karaoke bars outnumber the brands of beer.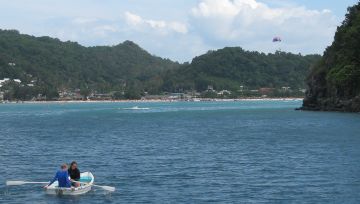 Rowing in from the mooring, Phi Phi Don north side
Phi Phi Don, north anchorage Ao Lohdalum 07°44.8N 98°45.9E
Specifically called Ao Yongkasem in the Andaman Sea Pilot. We tried out this much less crowded anchorage on the northwest side of the village where, Oh My Gosh, we had it almost to ourselves. Well, except for the outrageously loud noise of the karaoke bars ashore, which kept us awake even though we were at least a half mile away (and Ocelot is well insulated). Jon's comment on karaoke: "It's a participant sport, not a spectator sport! Like going to the toilet, do it in a soundproof room, and close the door!" You can land your dinghy and step around the lotion-oiled, bare breasted babes on the beach and head inland for a meal, internet cafe, or massage. From the mooring, you can take the dinghy farther to the north, to the cliffs on Ao Nui for some great diving/snorkeling. The best stuff was on the wall, about 20‑25 feet (6‑8m) down, so it took some great breath control to get up close and personable with the scorpion fish and the cool purple nudibranchs.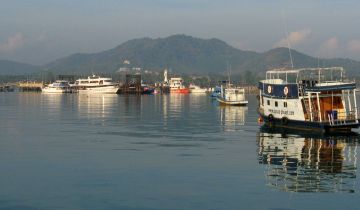 Ao Chalong anchorage. Note pier end on left.
Phuket Island, Ao Chalong Bay 07°49.2N 98°21.4E
This is the principal port of entry for boats arriving on the west coast of Thailand. This is a large bay, which shoals very gradually as it approaches the beach, but there are some shoal patches to catch deep-keel boats to the north. Most boats anchor to the north of the long pier, but as of summer 2011 there was a new marina being built to the south of the pier. Dinghies can be tied to the end of the main pier on the floating ramps, or taken (at mid-to-high tides) to the beach to the north of the pier. The "Yacht Club" north of the Lighthouse Restaurant has ropes so you can leave your dinghy in deep water and retrieve it later, but at low springs you'll still have several hundred feet of icky mud to pull your dinghy through before it floats. There are steps to the water, about 2/3 of the way inland of the pier end, but this is problematic for tie-up due to wind, wakes and 8' (2.5m) spring tides. (See Immigration, customs and harbor master information above.) Ashore you'll find some lovely (cheap) restaurants, lots of small bars, many dive shops, and nearby, a few grocery stores, dental clinics, and transport to Phuket town and other points on Phuket Island. The anchorage is busy year-round with big dive charter boats and speed boats taking tourists to the outlying islands for day trips. The moorings close in are all spoken for, but there is plenty of room for anchoring further out.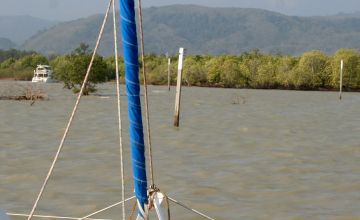 A maze of stakes marks Boat Lagoon entrance
Panwa Bali: Au Chalong Bay EAST 07°48.0N 98°22.9E
When the winds honks out of the NE, this stretch of beach is a great, calm place to tuck in for a few days. It is locally referred to as the Novotel Anchorage, because of the Novotel hotel ashore. Anchor in sand, anywhere off the beach. The water is clearer than the town side of Ao Chalong, and there are a couple small restaurants ashore. Getting to town is more problematic, though. Another calmer alternative to the main anchorage is known as "Aquarium" because it is, not surprisingly, off the Phuket Aquarium at approximately 07°48.1N 98°24.0E. We haven't anchored there but folks say it clean and calm in the NE monsoon. Apparently there is public transport to town and free WiFi broadcast out to the boats.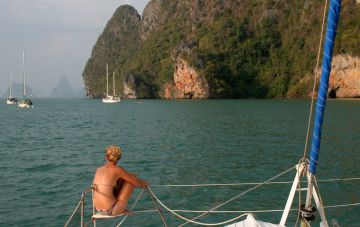 Approaching beautiful Ko Phanak
Phuket Island, Boat Lagoon Marina Eastern entrance to the channel: 07°58.65N 98°24.9E
The channel into Boat Lagoon, on the eastern side of Phuket, has a controlling depth of about 8' or 2.5 meters. There are stakes marking the meandering channel and it is not always clear just how close you need to pass them. The cruising guide recommends leaving them 30‑40' (10‑12m) off port side when entering, but we touched the soft mud a few times, and found deeper water close to the pilings. There is no anchorage inside, just marina, so make arrangements first. They are often full and usually require you to have an established company working on your boat before you come in (the marina gets a kickback from the workers). There are modern chandleries, workshops, haul out facilities, restaurants, and condos/hotel rooms in the marina complex, but prices are pretty high.
Ko Phanak 08°11.4N 98°29.1E
This is a beautiful, vertically convoluted, island. You can anchor along the west side to find protection from the NE monsoon. Dinghy exploration is warranted, as there are some hidden hongs and caves to explore. Watch the long tails, to see where they take the tourists! Please remember not to run your outboard inside the caves as many things don't like the exhaust.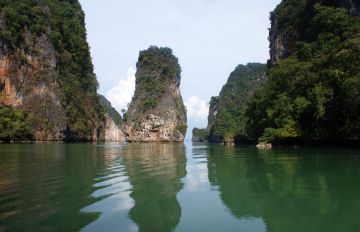 Towering cliffs hide sea caves around Ko Hong
Ko Hong Group 08°13.2N 98°30.1E
Just a few miles north of Ko Phanak, you can stop here for lunch and dinghy exploration in the hongs and around the little islands, then still make it up to Pan Yi that afternoon, arriving after all the tour boats leave. This group of islands is understandably popular with the tour boats, so at mid-day be prepared for some rowdy holiday makers jumping off the tour boats and paddling colorful kayaks around the hongs. Like other places, if you spend the night, you get many hours of solitude after the boats leave, and before they arrive in the morning. If you leave by going through the islands, hug the left bank and don't attempt to exit between the islands to the east as it's very shallow there. Again, exploring the nearby islands by dinghy is fascinating.
James Bond Island 08°17.6N 98°30.0E
This is maybe worth a stop if you are a Bond fan, and remember the hide out of the bad guys in Man with the Golden Gun. The cleft in the rocks is real, but there is no inner sanctuary. The phallic rock offshore is also real, but you can't see it from the anchorage, as the west side of the island is too shallow for access in anything besides a longtail or dinghy. Ashore, the beach is awash is junky stalls selling all manner of tourist bait: seashells, seashell jewelry, and knick knacks. We stopped here once, got some nice pictures of the rock formations, but don't need to go back.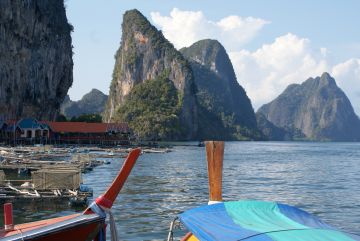 Longtail bows at Pan Yi village anchorage
Pan Yi Village 08°20.0N 98°30.3E
This is a favorite spot of ours. The stilt village is uniquely beautiful against its backdrop of towering cliffs and in the afternoon, after the tour boat hoards leave, you can take your dinghy to the public dock and wander the wooden walkways of this Muslim village. Every time we've been here (5 times now?) we've arranged with a longtail driver (they come out to your boat) to take a 1-hour morning mangrove tour. Cost was about B1,000 or $30 for the whole longtail, but make sure you get one with a muffler, or at least a turbo-charger, or the noise will rattle your teeth out. Each time we've seen something new. Once, at low tide, we got poled thru some little backwater areas where the shores were lined with crabs and crab-eating macaques. Brilliant blue kingfishers perched on low branches looking for their next fishy meal.
Ko Pac Bia 08°06.9N 98°40.7E
Making a clock-wise loop of Phang Nga bay, this is a nice mid-way stop after Pan Yi and before Krabi. Ko Pac bia is next to Ko Hong (Krabi) (not to be mistaken for the Ko Hong Group over by James Bond Island. We picked up a yacht mooring as it was pretty deep and there were reefs closer in. Another boat anchored on the far side of the sandspit to the south. The swimming was good, snorkeling so-so, but the area is less overrun by tour boats, so it's a peaceful place to pass a day.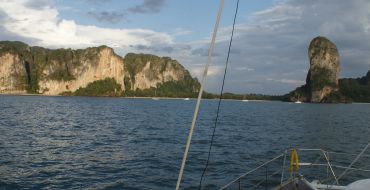 Approaching Railay west anchorage, near Krabi
Railay Beach, Krabi 08°06.0N 98°37.2E
Welcome back to tourist-ville and the incredible cliffs and beach. Railay is a huge long beach between towering limestone cliffs. In the NE monsoon it is a protected bay, but it would be a mess in the SW monsoon. We usually anchor off the south end of the beach, away from the direct line of entering and exiting longtails, but that still doesn't keep the big tour boats from stopping right beside us to drop their passengers into smaller boats. There are (Oh dang) jet skis here (archaic local laws make it illegal to use them for target practice

) and an endless flow of longtails around the point. C'est la vie. This is what you pay to get this incredible anchorage. Ashore, you can walk the beaches or find the inland trails to the far side where there are more trails north and south. If you go to the south end of the far beach you can double back to the beach south of the anchorage. Along the way is a steep trail up to a viewpoint, which continues steeply down to a hidden hong. From the north end of the beach south of the anchorage is a scramble up inside the highest tower of limestone (ladders and sandy, steep trails) where you emerge at a rock window about 1/3 of the way up a cliff for a spectacular view of the bay. Bring a good flashlight. Ashore you'll find a profusion of small restaurants, with a variety of prices. There are also dive shops, souvenir shops, a few little shops selling basic groceries, and even some ATMs. On the far side, you can get a long tail to Krabi Town if you want more culture and less tourism (like a trip to Wat Tam Sauer). At low tide you can walk around the headland to get to the beach north of the anchorage, where you can climb ladders to a platform on the cliff-face with another good view of the area. This is apparently a world-class climbing area.
Ko Dam Kwan (just south of Chickenhead) 07°57.6N 98°48.5E
This is a small group of islands just southwest of Railay, and a nice day trip or over-night stop. The area is used by dive boats, so if you want to dive, just go where they were after they leave! The small beach/sand spit off Ko Dam Kwan makes a nice stroll at low tide. The snorkeling is nothing to write on your website about.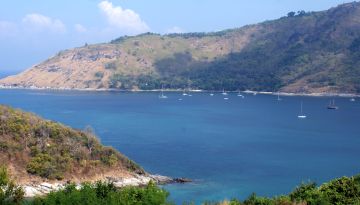 Nai Harn Bay, Phuket Island, during winter season
Phuket Island, Nai Harn Bay 07°46.3N 98°18.2E
This is a favorite hang-out for yachties during the NE monsoon as it is well protected and a lot less crazy than Ao Chalong or Patong. There is a long beach to the east with the typical umbrellas and tourists, but on the north shore is a small cove with a local restaurant where you can take your dinghy ashore. Other options for the dinghy are to tie it to the swim rope barrier on the left end of the beach and wade ashore, or you can drag it up the beach. A small break here can wreak havoc on dinghies left in the potential surf zone. There are busses to Phuket town from here.
NW Phuket Island, Pansea Bay 07°58.9N 98°16.5E
We stopped here just for the night on our way to the Similans the first time. Beautiful ambiance, but we didn't go ashore. Obviously only good in the NE monsoon, not when the wind has any west in it at all.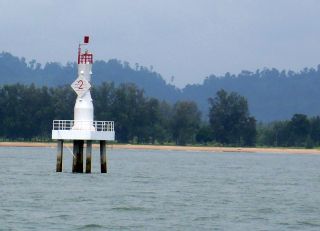 Channel buoy outside Ban Thap Lamu
Ban Thap Lamu 08°34.2N 98°13.2E
This is a good, all-weather anchorage off a small town, from which a fleet of live-aboard dive boats depart (in season, Nov-April) for the Similans and Surins. The entrance is well marked, and the only hazard is the extensive reef on the northern shore, which you must round before swinging south into the bay. At low tide, the beach is well worth walking. We did not find much ashore, but we were only here in the off-season.
Ko Kho Khao 09°00.5N 98°17.3E
We stopped here to escape the winds of the SW monsoon, and to make for a shorter hop along the coast. We didn't even go ashore here, but enjoyed the quiet of the green hills and being out of the wind. From here, with care, you can take the inland passage up to Ko Ra, passing east of Ko Phra Thong if the weather warrants.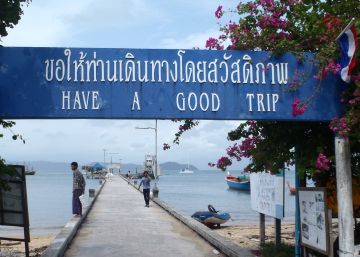 Main pier at Ko Payam, with Ocelot at anchor
Ko Ra (north end) 09°14.8N 98°19.0E
There are 2 piers at the northern end of the island, the northern looking a bit better than it's southern neighbor which appears to have been damaged in the 2004 tsunami. You can walk inland from the northern pier for some nice bird watching, but the really enchanting part of Ko Ra begins inside the gate (open one day, closed the next). Here you'll find foot paths through beautiful lush tropical forest, well sign posted, but not well maintained. Perhaps it wasn't open in the off-season?
Ko Payam 09°44.4N 98°25.5E
Off the Ko Payam village there is a large anchorage, often frequented by fishing trawlers, but with plenty of room for all. Being here in the off-season (SW monsoon) meant that the many little restaurants and shops ashore were either closed or looking a bit sleepy. But what a fun place this must be in the hopping NE monsoon season! Miles of concrete 1 lane "roads" criss-cross the island, leading from one little mini-resort/restaurant/bar to another, with lots of forest and meadow in between. Of course we didn't get out to the west side (which in the SW monsoon was the lee shore) but this place looks like a good one for more attention in the NE monsoon high season! From here you can possibly take an inland journey up towards Ranong (local ferries do it daily east of Ko Chang) but the charts looked a bit sketchy to us, and we didn't like the depths. Being there during spring tides, we probably could have made it, but didn't want to chance it.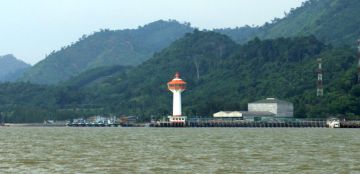 Non-functioning lighthouse, off Ranong
Ko Son Tai 09°54.3N 98°31.0E
To enter the channel leading towards Ranong, you'll find both leading lines and channel buoys north of Ko Chang. Be careful in the channel as it can get very rough if you have a wind against current effect. This is most likely in the SW monsoon, as the whole estuary system empties out through this channel, and the wind from the SW works against the flow.
We pulled into Ko Son Tai to escape bad weather between Ko Payam and Ranong. You have to be sure of your navigation in this area, as you are very close to the Myanmar border and the islands don't have signs on them to tell you which country they are in! We anchored in mud, just north of the lighthouse, and were joined each night by lots of longtail fishing boats also seeking shelter from the wind and rain.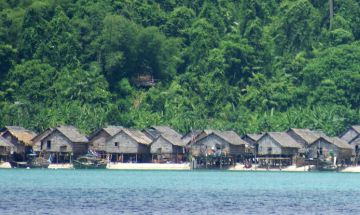 Sea gypsy village, Ko Surin Tai
Ranong 09°58.9N 98°35.8E
This is the northern-most clearance port in the Thai islands, and it's the town from which folk come by land to do a "visa run" into Myanmar for a few hours before returning (with a fresh visa!) to Thailand. Immigration on the dock of the "Andaman Club" is ONLY for those going to the club in Myanmar in a club boat. They showed us off to town, when we said we were clearing in from somewhere other than Myanmar. The town itself is many miles from the anchorage, and though we were lucky in getting a bus to town (for B30 or $1) we had to take a taxi back (for B300 or $10). We found immigration (with difficulty), but we could NOT clear in here. (See the section on "Officialdom" above). Had we had more time, it would have been fun to explore the shops and market a bit more, but getting around was definitely not easy, as the town is very spread out. There may be an accessible anchorage at the "port" ("saphon") part of town to the east of where we anchored, but our charts made it look impossible to enter.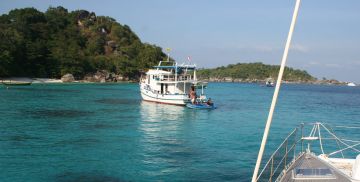 Awesomely clear water at Koh Miang, Similans
Surin Islands, Ko Surin Tai, 09°23.5N 97°52.9E
Better than the Similans, in that these islands are farther from Phuket, and therefore less visited. But they still receive their share of live-aboard dive boats and some day tour boats from Ban Thap Lamu. There are many moorings to choose from. The ones in the cut between the 2 islands (where the National Park campground, chalets, restaurant and office is located) can get a strong current. The snorkeling is superb on the east side of Ko Surin Tai, but the cut itself is swept clean by the current. The park is closed from May 1‑October 31. They let us pick up a mooring and snorkel during this time, but they seemed not to like it much, probably because they couldn't charge us.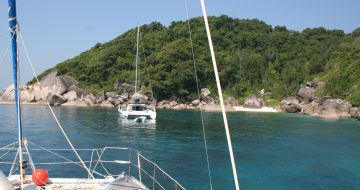 On moorings, in gorgeous Ko Bangu, Similans
Similan Islands, Ko Miang 08°33.9N 97°38.4E
Welcome to Thailand's clearest water (well, here and the Surins!) This National Park is closed from May 1 through October 31. It's shame, as the Ko Miang moorings would offer great protection in a SW monsoon blow. Great diving and snorkeling, and good fish life, as the commercial fishermen are supposed to stay more than 5 miles way. Orange mooring balls are for yachts or tour boats and are not reserved. First come first served. When we were here in 2007 the rangers left us alone. You my be asked to pay a park fee which might be per boat only, or for the boat plus each person on board. If you don't go ashore you may not have to pay.
Similan Islands, Ko Similan/Ko Bangu 08°40.5N 97°38.8E
This is a busier end of the park, so if you want a mooring it's best to arrive mid-day, while the live-aboard dive boats are out doing their thing for the day. The water is awesome, and the granite boulders highlight the shore with wondrous shapes that continue down into the shallow costal water, creating some very intriguing snorkeling and diving. Depending on the winds, either Ko Bangu (the northern island) or the cove on the northern tip of Ko Similan will be better protected. There may not be moorings available where you want, so you may not be able to be picky! Surprisingly, there is some phone/3G coverage, but it's spotty.
Indian Cruising Info: Cruising N&E Indonesia | Cruising S&W Indonesia | Cruising Malaysia | Cruising Thailand | Thai Services | Cruising Andamans | Cruising Sri Lanka | Cruising the Maldives | Cruising Chagos | Cruising Seychelles | Cruising Madagascar | W Indian Weather | Cruising Mayotte
Related Pages: Thailand Home | Thai Newsletters | Thai Diving | Thai Cruising Info | Thai Services | SE Asia Flora/Fauna
Cruising Info: General Cruising Info | Equipment | Pacific Ocean Cruising | Indian Ocean Cruising | Provisioning Food & Fuel | Cruising Recipes
Top Level: Home | Destinations | Cruising Info | Underwater | Boat Guests | Ocelot | Sue | Jon | Amanda | Chris | Site Map | Make a Comment
---
Lifetime
Commodores
of the
Seven Seas
Cruising
Association

If our information is useful,
you can help by making a donation
Copyright © 2000‑ Contact: Jon and Sue Hacking -- HackingFamily.com, svOcelot.com. All rights reserved.