Cruising the Maldives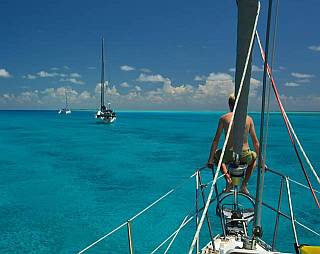 s/v Totem in the clear water of the Maldives
NEW! In 2015 our Seattle cruising friends aboard s/v Totem cruised the Maldives and have offered to share their experiences with us, so that we can post it here. Behan has a great blog where you can learn more about this intrepid cruising family who left Seattle in 2008.
Having a "guest writer" on our website is unusual, but we're thrilled to get the latest from this cruising family who spent 2 months in the Maldives, cruising from Uligan in the north to Gan (Addu) in the south.
[Notes in italics are from s/v Ocelot, gleaned from our 2 visits to the Maldives in 2007 and 2009.]
---
Report from Behan, on s/v Totem:
In 2015 we spent two months in the Maldives, sailing the length of the island chain from north to south. We loved the clear water, vibrant reefs, and beautiful islands. In hindsight, we wish we'd made routing plans that allowed us to stay for a third month, but seasons were changing and it was time to go.
Officialdom:
There are three clearance ports: Uligan, at the very north end of the country, Male, the capital, roughly in the middle, and Gan, at the very south end. For very short stays (a few days) it's possible to do your own clearance, but all other boats are required to have an agent.
Fees:
Maldives is notoriously expensive to visit, but fees have changed in recent years to make longer stays more affordable. If we stayed just one month, our fees for formalities and agent cost were quoted at about $880 ($29/day) including the 12% TGST (government tax on travel/tourism activities). But most of these fees -- customs, port authority, health, and agency fee -- are only payable once. If you extend your stay beyond one month, the only incremental fees are a daily anchorage fee and a cruising permit extension. We spent $1,058 ($17/day) for two months; three would have cost $14/day or $1,271 altogether. It's a little more to check in or out of Male, and agent rates vary, but they're only a fraction of the total. It's mostly official fees.
Agents:
There is a choice between agents and some can be found on Noonsite's Maldives pages. We worked with Real Sea Hawks, and were very pleased with their service. Asadullah Mohammed (Assad), who runs operations in the northern Port of Uligan, is a true pleasure to work with. When help was needed (such as navigating fees in local harbors, organizing internet access on arrival, giving us flexibility on payment when we couldn't do a wire transfer) he was on it immediately and never more than a phone call away, no matter where in Maldives we were at the time. (He even gave us a free SIM for our phone upon arrival!) But he went well beyond just doing his job as an agent. He made us feel welcomed and wanted, taking us around his home island/village, organizing a barbecue on the beach to introduce us to local food, answering all our questions about Maldives culture, and more. His generous hospitality set the tone for our stay, and will remain with us long after leaving the Maldives.
Gan agent: Mas-ood Saeed: +960 689 3433
email mns@dhinet.net.mn
or Ahmed Rasheed +960 689 2846
Operations Port Authority: ph 794 1895
"Asif": Immigration Officer: 775 1085
It is possible to do a short-turnaround, no-agent process. S/v Scraatch did that in 2015 and the short version I heard from Brian is that it was very easy to do everything yourself without an agent and stay for a few days to re-provision before continuing to the Seychelles. [Ocelot also did our own clearance in Gan both times we visited the Maldives.]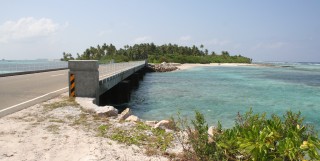 Causeway between Gan and Feydhool
Checking in was the most pleasant and efficient clearance we've had in seven years. Our agent anticipated our arrival, and brought officials out to Totem, inviting us to take a swim in the crystal clear lagoon first since they would be delayed by a few hours. Once on board, checking-in took all of about 20 minutes, including chatting with the officials and our agent. We provided registration, prior port clearance, and passports. Our boat stamp was essential and frequently called into service in conjunction with a signature. The thoughtful agent even brought ice cream and treats for the kids!
Checking out in Gan was an overnight process, but may take longer on weekends (Friday/Saturday in Maldives). This was as simple as providing our paperwork and passports to the agent one day, and collecting them from him the next. Worth noting: agent fees are quoted in US dollars, and paid in wire transfer or cash. Our antiquated banking system at home makes wire transfers difficult, so it took a number of ATM visits to get cash, and Maldives has an expensive standard fee (100 rufiyaa, or about $6.50) for ATM transactions.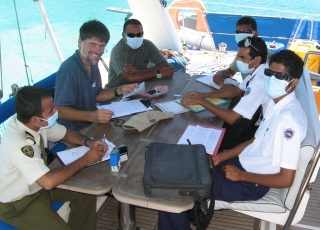 No agent, but officials cautious of swine flu
[In 2009 Ocelot arrived in Gan from the Seychelles and because we planned to stay less than 3 days we did not need an agent. The officials came aboard Ocelot in the Gan anchorage and were fast and courteous. Clearing out involved getting ourselves to Hithadoo, the commercial port, for which we had to rent a scooter, but again, once the officials were located we were able to finish clearance without hassles. It really helped to have an Ocelot "boat stamp" which they liked to have us stamp over every one of Jon's signatures!]
Unfortunately, some boats leave a dirty wake. In 2015 we know one boat that was caught and expelled by the coast guard for cruising without a permit. [In 2009 we knew of a boat that was caught by the Maldivian Coast Guard without a permit and told to leave their anchorage - at 5pm. With all the reefs and bommies that you can't see unless the sun is high, Maldives is not a place to navigate when the light's not perfect.] Another boat hired an agent and spent weeks cruising Maldives, then did a runner and left without payment or clearance papers, later misrepresenting events to officials in Rodrigues and blaming the agent. Unbelievable! Access to a country isn't a right, it's a privilege. Presumably it's the selfishness of boats like these that has increased oversight and regulation for other cruising boats. Be a good guest, and don't be "that boat."
Current Events:
In 2015, the first democratically elected president of Maldives, Mohamed Nasheed, was sentenced to 18 years in prison. This was met with protests in Male that occasionally turned violent. Prior to Nasheed's election, the government was controlled by President Gayoom for thirty years. After Nasheed's ouster at gunpoint in 2012, it returned to Gayoom's family (his half-brother is the current president).
An excellent primer on Maldivian politics and issues is the documentary "The Island President," which provides both political background, climate change impact, and a close look at the work Nasheed did to bring awareness to the challenges his country faces (it's likely to be underwater in this century at the current pace of climate change). But he didn't play by the rules of the economic elite, and is now in jail while the old government goes back to nepotism/cronyism and generally moves things backwards (right down to thug gangs in the capital to push their agenda). Based on our conversations with Maldivians, Nasheed, or Anni, as he's popularly known, did a tremendous amount to improve life for the average citizen. Most believe he is wrongly imprisoned, and hope he'll be released in time for the next elections (2018).
The situation is not at all risky for visiting yachts, but it's worth being aware of. Many Maldivians are very frank about their political views and are interested in discussing their hopes (and frustrations) with you.
Anchorages:
The main challenges with anchoring in Maldives are first, that it's often very deep - right up until it's not! - and second, because it is comprised of atolls, even "protected" anchorages become exposed in the right wind conditions. Coral reefs and bommies abound. It's best to move only in good light, and ideally with some sort of satellite derived chart system.
| | | | | | | |
| --- | --- | --- | --- | --- | --- | --- |
| Atoll | Island/reef | N Latitude | E Longitude | Depth(m) | Bottom | Comments |
| Ihavandhippolhu | Uligamu | 07°05.05 | 72°55.10 | 4.9 | Sand / Coral | W side, near town. Thin band of sand with coral either side. |
| Thiladhunmatee | Rasfushi | 06°43.62 | 72°55.43 | 25.9 | Sand | Pass between 2 reefs. First set failed (slide on coral). Second set 340' out. Only 2 boat lengths from near reef. Tight, but beautiful. |
| Thiladhunmatee | Nolhivaranfaru | 06°04.70 | 73°06.93 | 6.4 | Sand /Coral | N end near village. Bommies far enough apart for easy anchoring spaces. Excellent protection. |
| Thiladhunmatee | Kulhudhufushi | 06°36.91 | 73°00.91 | 6.7 | Sand | Anchored inside breakwaters. Snug inside harbor, with shallow areas |
| S Thiladhunmatee | Kanditheemu | 06°26.15 | 72°55.30 | 26.5 | Sand | S side, towards E end. Bottom seems clear, but deep. Moderate currant though the pass. |
| S Miladhunmadulu | Dholhiyadhoo | 05°59.15 | 73°13.37 | 9.4 | Sand | Reef S of island, on E side. Set well. Coral to east is about 4 meters deep. Can anchor closer to island for better protection. |
| Faadhippolhu | Dhidhdhoo | 05°22.90 | 73°22.96 | 7.3 | Sand / Bommies | North side, toward east end. Sand patch is big enough to clear bommies but being cautious since we arrived at 3pm and light was not great, so floated chain. |
| S Maalhosmadulu | Dhandhoo | 05°13.88 | 73°09.42 | 9.1 | Sand | North of small islet and reef. Easy anchoring, good holding |
| S Maalhosmadulu | Kalhunaiboli | 05°03.28 | 73°00.56 | 24.4 | Sand | In the pass between 2 reefs. Reasonable protection between reefs because they get shallow. |
| Male | Himmiya Falhu | 04°36.43 | 73°23.38 | 12.5 | Sand | North end of lagoon. Water not less than 17' crossing reef, mostly sand. Some bommies around, but big gaps |
| Male | Rasfari | 04°25.99 | 73°21.52 | 5.2 | Sand patch, coral surround | W edge of reef, anchored to see manta rays. Sand area was small, but adequate. Toward reef shallows 8' with bommies. Stop for mantas in good weather only. |
| Male | Rasfari | 04°24.07 | 73°21.45 | 15.8 | Sand / Some hardpack | NE of island, inside the lagoon. Near reef is clear sand but a bit shallow so anchored in deeper water |
| Male | Hulhumale | 04°13.39 | 73°32.26 | 10.4 | Sand | Inside lagoon towards north end. Some bommies around, but mostly sand. Much wash from boat traffic. |
| Ari | Ellaidho | 03°59.77 | 72°56.64 | 15.5 | Sand | Thru pass on north side, then towards the west inside lagoon.. There is 1 bommies at 3' deep a few boat lengths (chain stretched out) to NE. |
| Ari | Dhigurah | 03°31.15 | 72°54.92 | 8.2 | Sand | West side of island. Crossed reef NW of anchor spot, 17' min. depth. 600 island residents. |
| N Nilandhe | Magoodhoo | 03°04.85 | 72°57.43 | 11.6 | Sand | In lagoon NW of island. Entered through pass on north side, avoiding reef just inside. Several large bommies inside lagoon, but otherwise open. |
| S Nilandhe | Kuda Huvadu | 02°41.50 | 72°51.78 | 15.8 | Sand | Northeast of island, just outside coral wall. Water visibility poor compared to typical, very green. |
| Kolumandulu | Veymandhoo | 02°11.30 | 73°05.40 | 7 | Sand / Bommies | Enter lagoon through small pass on north side, with islet on right and wall remnants on left. Bommies inside so need reasonable visibility to see. |
| Hadhdhunmathee | Gaadhoo | 01°49.81 | 73°27.65 | 39.6 | Sand | North of eastern end of island. Inside atoll, but otherwise open roadstead. Super deep, but just beat out a squall and hadn't found another spot to anchor. |
| N Huvadhoo | Maagefuttaa | 00°50.98 | 73°11.05 | 18.3 | Sand | East of island and reef. |
| N Huvadhoo | Cannons & Anchors | 00°40.59 | 73°11.89 | | | Totem did not anchor here, but recommended. |
| S Huvadhoo | Thinadhoo | 00°32.09 | 73°00.25 | 7 | Sand / Bommies | Pass has posts marking either side of outer entrance and a port side post on inner end. Inside, avoid bommies. Most had enough water over them, but a few are shallow. |
| S Huvadhoo | Boduhuttaa | 00°11.94 | 73°12.88 | 9.1 | Sand | North side of island on edge sand bank with 8' to 10' sand to the south and 60' with some bommies to the north. |
| Addoo | Feydhoo | 00°40.36S | 73°07.85 | 22.9 | Sand | Northeast for town/reef on the sandy ledge. Away from reef, depth drops to 120'. |
| Addoo | Feydhoo | 00°40.25S | 73°07.82 | 36 | Sand | Northeast of island/reef on the sandy ledge. |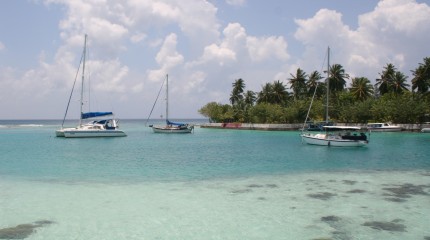 Ocelot at anchor by the Gan/Feydoo causeway
[Per Ocelot: The anchorage that most boats use in Addu is the bay next to the causeway between the islands of Gan and Feydhoo. Enter the cut on a heading of about 230°M to S 0°41.106' E73°08.684', keeping the pole with the bucket on top (if it's still standing) to starboard. There's a float marking the left side of the channel. Then there's another pole on starboard. Once inside the cut, stay towards the police wall (on port side), and leave another float to starboard which marks an isolated bommie. The deepest part of the bay is to port, near the wall. Anchor anywhere on the sand but avoid the area where the waters from the lagoon on the SW side of the causeway come streaming under the causeway and into the anchorage - not only is it uncomfortable, but the current has scoured away all of the sand so there's no holding. If the protected anchorage is full (we had 7 boats in there for a few days, and it felt rather crowded), boats often anchor off the Equator Village Resort east of the small bay in about 65' (20m) but it's hard to hit the sand and not the coral. Note that squalls can blow quite hard (we saw 35 knots) and from any direction. We've been told that the sand-patch at the NW end of Feydhoo also provides a good anchorage, but we didn't check it out. Larger vessels can anchor 5 miles northwest, off the commercial docks, but getting ashore could be a challenge (yachts are allowed to anchor there, but it's not as convenient as Gan).]
Out & About in the Maldives
Resorts:
It used to be that outside of clearance ports, cruisers were only able to visit resorts and unpopulated islands. Unsurprisingly, many boats passing through stopped at resorts. However, many don't really want boats in their view. It's understandable, considering the high price their customers pay for open-plan, lagoon-facing overwater bungalows that come with an expectation of some privacy! If you want to visit a resort, even one you've heard welcomes cruisers, the best way to ensure a welcome (instead of a fee) with your greeting is to call ahead and ask. Fees for unannounced arrivals range from $25‑50, sometimes, per person! Some resorts didn't want any boats, literally chased cruisers away, but other resorts were happy to welcome visitors, IF they were contacted in advance. We decided to steer clear of resorts: the only one we visited by boat was for sale, unoccupied and incomplete, but welcoming staff toured us through facilities, provided boats with endless potable water from their RO system, invited cruisers to their canteen, and were happy to have us snorkel their beautiful house reef, where one afternoon, we swam with dolphins. In Gan, the Equator Village resort is a short walk from the harbor, and welcomes walk‑in visitors to indulge in non‑halal treats. After two months in a dry country it was fun to walk up to the bar and order drinks ($4/can for beer, more for wine/cocktails, $18 for a buffet, which may or may not include pork products).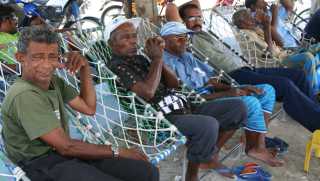 Men relax in "jolis" in the shade, Feydoo
Populated islands:
Since the tourism regulations were eased in 2009, it's become possible to visit populated islands. They're not all quite used to having visitors yet, but most were very welcoming. It's fascinating to be able to walk through the tidy sand streets, where homes behind coral-brick compound walls are shaded by large breadfruit trees. When the hot part of the day has passed, have a seat in a jolie, the ubiquitous Maldivian "park bench" of netting strung over pipe frame, and get a feel for the pace of life.
When visiting populated islands, you can ask at the waterfront for a place to leave rubbish. Note we were requested to keep any alcohol bottles/cans out of a garbage bag, as this can cause problems locally. It's easy enough to save those for later. In some cases, a fee is charged to anchor in the harbor. Your agent can help you to avoid these: sometimes it's appropriate (we paid $12 to anchor at Kulhudhuffushi to buy fuel, and visit their Saturday open market) and sometimes it's not (one island wanted $50 for the privilege, but were dissuaded from any fees after a chat with the Assad from Real Sea Hawks about the nature of cruising permits).
Please remember that respectful dress (women should keep shoulders and knees covered at a minimum; long sleeves and pants or long skirts are better in most places) is appreciated, and be a good guest. Most Maldivians we met in smaller islands were exceptionally friendly, but women were generally more reluctant to engage. Occasionally, we felt our "otherness" more keenly, and some less friendly stare‑downs despite conservative attire.
[The British, when they built the airport on Gan, also built schools and educated the local kids. When the British left, the people of Addu were noticeably better educated than the rest of the Maldives. The British also built all the causeways that link the western islands of Addu Atoll, the only Maldivian atoll with such easy transportation outside of Male. This means that the foreigners at the resort on Gan can freely associate with locals on the rest of the atoll, the only place this can happen in the Maldives.]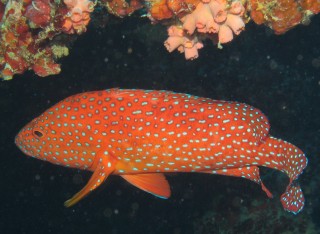 A Vermilion Rock Cod (Coral Grouper) cruises
for a meal in the Maldives. Photo by Amanda
Underwater Life:
We were in the water on most days in Maldives. It is simply spectacular. The best locations were those away from residential populations, although even near Male the water was still lovely. Our favorite spots were in the northern half of the island chain, partly because there are fewer resorts here (and thus less to avoid) and partly because seasonally we had better conditions at that point (it was unsettled and often squally as the monsoon switched during the latter portion of our stay, and as we sailed to the ITCZ). Sites worth seeking out: the manta cleaning stations in North Male, and the whale sharks of South Ari.
[Per Ocelot: The snorkeling and diving right at the entrance to the Gan anchorage is amazing, with a huge fish population and large groupers, wrasses and rays. We dove with Diverland at the Equator Village ($50/dive in 2009) and found them fun and professional. They also filled our tanks for the usual $5‑6 after we did our own dives. See Ocelot's Diving Maldives pages.]
Provisioning:
The major stops for provisioning are the ports of Uligan in the north, Male in the middle, and Gan at the south end of the island chain. Between these points, basic provisioning is available at populated islands, but selection will generally be limited.
Provisioning in Uligan:
Provisioning is minimal in Uligan. A few local shops offer staples (and a wide selection of personal care products) but very little fresh produce. In fact, bring some fresh fruit with you as a gift! We bought green pineapples before leaving Sri Lanka, a very welcome gift to new friends in Uligan. The fresh fruit is appreciated, and the recipient will probably save the top and spend two years nurturing it into a new fruiting plant.

Shopping in Male. s/v Totem
Provisioning in Male:
Male offers better provisioning for staple goods than Sri Lanka, and typically at lower prices. You can supply almost everything you need at Hulhumale, the island across from Male where cruisers anchor (unless completing clearance) and save yourself schlepping bags back on the ferry. Hulhumale is a bedroom community to Male. There's no single destination shop, but a string of them down the main street across the island.
In Male, you can find imports you might not have seen in a while. Two expat-oriented stores, Seagull and Fantasea, have everything from good parmesan to smoked salmon, arugula, asparagus, and quality canned/jarred goods like olives, capers, feta, etc. We were happy to find herbs/spices that don't show up often on international shelves. Many prices were dear, but not all. The STO grocery, a couple of blocks inland from near the fish market, is aimed at locals instead of expats. It has a wider selection and better prices and a great variety of areca nut preparations next to the cake mixes, but fewer imported brands compared to Seagull or Fantasea.
Along the waterfront, the fish market sells gorgeous fish fresh from the boats, at great prices (we paid about $.50/lb for a whole 20 lb yellowfin). There are two open air fresh markets: one on the water-side of the fish market, the other just to the west of the fish market. Small shops down the side streets often deal only in case sizes, which was a great way for us to provision in bulk at a good value.
What you should know: everything is halal, so you won't find pork, alcohol, or other products unwelcome to Muslims. Produce is mostly tropical, with just a few cooler climate imports. Eggs are disappointing. They are imported from India, and from chickens I suspect are fed on fish meal as they have a decidedly fishy flavor, when you can find a good one, that is! In one carton, we had to throw out more than 1/3 of the eggs. It's hit and miss, depending on how the eggs have been handled in transit: cross your fingers that you don't get one that's been dropped or left out in the hot sun. [Per Ocelot, you can also test the eggs by dropping them in a jar of fresh water. Fresh eggs will sink to the bottom, while older eggs will start trying to float. Any floaters are probably rotten already.]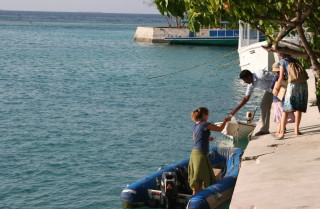 Mulla delivers provisions to the Gan anchorage
Provisioning in Gan:
There are two ways to provision in Gan: on foot from the anchorage to local shops, or by taxi to Hithadoo and a few larger stores.
Feydhoo, the island just west of Gan, has numerous small stores behind the waterfront. The largest of the shops, 3S, is conveniently located across from the fuel station at the small boat harbor. 3S is substantially sized for a Maldivian market, and if you're there when the proverbial ship comes in, the selection grows significantly.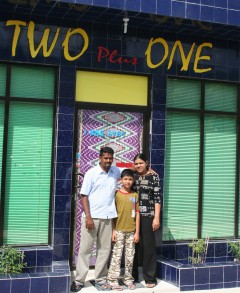 Mulla & his family & store, 2007
There's a delightful proprietor, Mulla, who is exceptionally welcoming and helpful to visiting yachties. His shop "Two Plus One" had closed in early 2015, but he can be found at another smaller shop he runs on Feydhoo called called "Beach Store." You can reach him at 998‑1967 (we found him easily by asking for Mulla from Two Plus One). His shop doesn't have much stock, but he's connected to farms in the Addu island chain and can obtain lovely produce for you. Just tell him what you're looking for and he'll order it in. He's also a trustworthy source to rent a motorcycle, and humored our special request to order roshi – his wife made a big stack of them for us at just 2 rufiyaa each! Mulla is very open to discussing politics, and helpful for those wanting to interpret the complicated web of current events in the country. Here's how well Mulla looks after cruisers: when s/v Smoke passed through in 2014 and was unable to get enough eggs before departure, Mulla sent along additional flats with a later boat that caught up with Smoke in Chagos.
[Ocelot: Walking is always an option for exercise, either east past the resort, or west over the causeways to the other islands. Mulla can arrange for the rental of a motor scooter if you want to go farther. We took him up on the option of a tour in a car as there were several of us wanting to go touring at the same time. It was fun to see the sandy streets and small village atmosphere of Hithadoo (the capital of the atoll), and some wonderful wooden boat building under a huge shed. If you have bikes it's an ideal place to ride, being totally flat. There are several small restaurants, one on Gan just past the resort, and more in Feydoo and just beyond, with hot curries, roti and rice for about $3. Mulla helped arrange a feast for 11 of us for Jon's birthday at a small cafe in Feydoo. In 2009 we rented a motorbike (about $1‑2/hour) from Mulla and used that to explore the islands and get to Hithadoo for clearing out. Great fun!]
Hithadoo, connected to Gan by causeways, is the administrative center for Addu, and has the largest population (second only to Male) thus the largest shops and widest selection. There are three in proximity to each other: hire a taxi to get you there and back. The going rate in 2015 was 100 rufiyaa in each direction between Gan and Hithadoo, and about 300 for a round trip that includes waiting time between stores to help you get around more efficiently. Be sure to set the price in advance; a driver named Mussa tried to charge one boat ten times that after the fact! Several boats recommended a Serbo-Croatian immigrant named Houseman who has lived in Addu the last couple of decades. He can be reached at 990‑0083.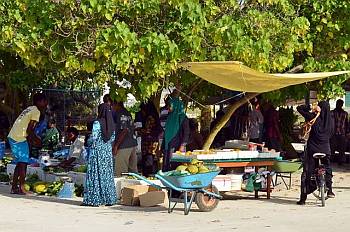 Weekly market in Maldives. Photo by s/v Totem
Other Provisioning:
Outside the three ports, you can find basic provisions on any island with a village. The island that acts as administrative capital in each atoll will usually have the largest population and the best provisioning, as it's probably the best connected to Male for shipments by air or sea. That also makes it more likely to be a place you can buy fish from the harbor, as fishermen will bring their catch here to sell. We bought beautiful rainbow runners for about $1/fish (one kilo worth of fillets) right off the back of the boat in one atoll. Weekly open markets are uncommon but do exist: on Kulhudhuffushi, in the atoll below Uligan, there's a Saturday morning market with locally grown and imported produce. For boats working south and watching weather windows, it's helpful to know that you can do most (or even all) of your pre‑clearance provisioning at Thinadoo, the admin center of the atoll just north of Addu. It's very well served by planes and boats from Male, and has a large protected harbor where yachties can anchor in a blow.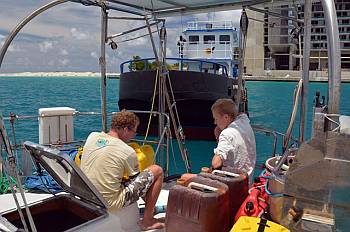 Totem refuels in Male where the prices were OK
Diesel:
Diesel in 2015 was about $.75/liter, give or take, across each of the available ports.
For boats arriving at the northern end of the chain, it's possible to get diesel in Uligan, but it may need to be transported from a bigger island and you'll pay extra. If you can't wait until Male, use the commercial harbor in Kulhudhuffushi. There's a fuel station just a few minutes walk from the water. In Male, a fuel barge will come to you. They have a reputation for leaning on the meter, so know your available capacity and be clear about exactly how much you want. In Addu, there's a fuel station at the small boat harbor in Feydhoo: some boats may be able to pull up wharfside, but it's a short distance to take jerries if necessary. [Ocelot: Diesel and water can also be delivered to the anchorage, but the meter on the diesel truck over‑read by about 10%. In 2009 we rented a truck for about $7 (Rf100) and used jerry jugs to get diesel from the station, where the meters were accurate. Water and fuel jugs, in the form of cleaned out 20‑30 liter plastic containers, are almost free to buy. Mulla sold us rain water (pure and delicious) right from his own catchment, delivered to the anchorage in jerry jugs (ours and his).]
We topped up our tanks in Thinadhoo, the administrative center of the atoll just north of Gan. It has a large harbor with easy anchoring, and trucks for both diesel and petrol come right to the water. The prices there were actually slightly better than Male or Gan.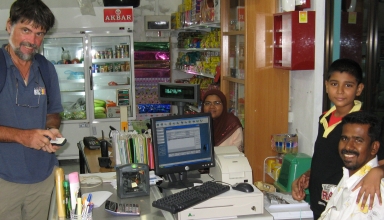 Jon, Arifa, Rafu & Mulla inside Two Plus One, 2009
Internet:
In 2015 internet access was nearly ubiquitous. Even when we were out of sight of populated islands there was invariably a cell tower somewhere in range with 3G bandwidth. SIM cards are cheap, and a 30‑day prepaid data plan for 8.5 GB was about Rf 600 (US$40). However, we found that the data metering was suspect, and that our SIM from Oredoo drained data at a rate of FIVE TIMES what we metered on our computer. So we switched to the other service provider, Dhiragu. Data still disappeared at a startling rate, but only about double the metered level, so you can expect to have easy access, but pay for it, unless you curb usage. Presumably because there's such easy access to broadband, we never saw an internet café.
Sailing conditions:
Conditions from March through May vary depending on when the monsoon switches. In 2014, that was the first days of April. In 2015, it was the last days of April. In general, we had very mild conditions during the final weeks of the NE monsoon. The transition began with gentle westerlies while we were still in the middle of the island chain (N5°+). Once it switches, making southing can be uncomfortable, and take longer. More overcast days kill the daylight visibility essential for navigation among reefs inside the atolls. The SW monsoon kicked in as we neared the south end of Maldives, in a pattern with days of heavier weather (20+ knots and regular afternoon squalls) interspersed with milder days (still often squally in the afternoon).
How the current ran in the same location varied in the reports we heard from cruisers during our stay. We experienced current in the larger gaps between atolls of up to 2.5 knots. Occasionally there's even more on the passes into atolls. In general, however, the current was less than 2 knots and manageable.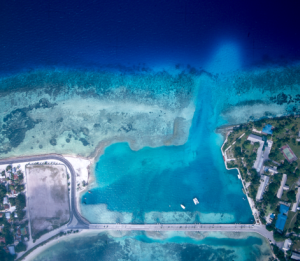 Our Addu anchorage, with Gan to the right
Charts:
We primarily use 2011 CM93 charts on OpenCPN, but also use current Navionics charts via iNav on an iPad. They were generally pretty accurate but did not have a level of detail sufficient to rely upon them in poor visibility. The most important tool for navigating in Maldives is your eyeballs.
We found Google Earth to be an invaluable tool, although not an infallible one. We used it both as an overlay on OpenCPN (via KAP files) and on the ipad. With nearly ubiquitous internet, you can access Google Earth underway to compare historic views of satellite images as a helpful way to see if anything was under a cloud in the most recent shot. However, it's important to note that we encountered reefs which did NOT show up on Google Earth: the pace of geologic change is apparently sped up around here as sands shift! [Ocelot: We talk about this and show examples on our KAP File page. Just because Google Earth shows their purple fog does not mean that there's no land there. Where GE shows islands, that's where they'll be, but GE doesn't show everything, and sometimes land or reefs are hidden under the purple fog.]
[For Ocelot's track and anchoring location in Addu, MaxSea users can download an Indian Ocean Layer file.]
End of the report by s/v Totem. Thanks Behan!
---
For more information about the Maldives and Ocelot's time there, see our Maldives Newsletters, Diving Maldives and our Destinations page on the Maldives.
Indian Cruising Info: Up | Cruising N&E Indonesia | Cruising S&W Indonesia | Cruising Malaysia | Cruising Thailand | Thai Services | Cruising Andamans | Cruising Sri Lanka | Cruising the Maldives | Cruising Chagos | Cruising Seychelles | Cruising Madagascar | W Indian Weather | Cruising Mayotte
Related Pages: Maldives Home | Maldives Newsletters | Maldives Diving
Cruising Info: General Cruising Info | Equipment | Pacific Ocean Cruising | Indian Ocean Cruising | Provisioning Food & Fuel | Cruising Recipes
Top Level: Home | Destinations | Cruising Info | Underwater | Boat Guests | Ocelot | Sue | Jon | Amanda | Chris | Site Map | Make a Comment
---
Lifetime
Commodores
of the
Seven Seas
Cruising
Association

If our information is useful,
you can help by making a donation
Copyright © 2000‑ Contact: Jon and Sue Hacking -- HackingFamily.com, svOcelot.com. All rights reserved.