Cruising Seychelles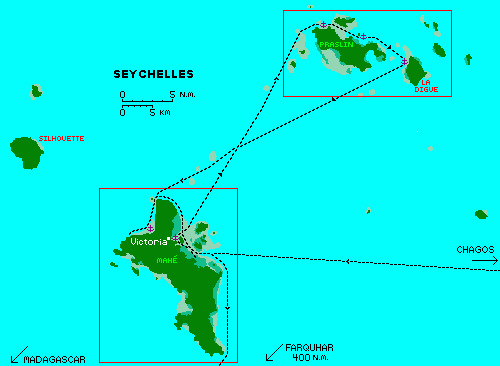 Our tracks through the Seychelles - click on the map to go to that area
Dear Cruisers,
In 2007 we spent 10 wonderful weeks in the Seychelles, all during the strong southeast trade winds time (May through October). and we returned again, (heading the other direction!) in August 2009, so our comments on anchorages apply to that season. From about November through April, the Southwest Monsoon is in force. With the different prevailing winds, different anchorages can be used and the conditions are obviously different.
As an overview, the islands are clean and beautiful, the people friendly (if not sometimes a bit reserved), the bird life prolific and the hiking awesome. Unfortunately, due to coral bleaching and the tsunami in 2004, the marine environment has been damaged and the snorkeling is only so-so. (Although friends who cruised here during southern hemisphere summer (November to March) said the diving is great, but more for the abundant fish life and undersea features than for the coral.) But the fishing is exceptional, especially if you don't mind hooking a sailfish or some other huge creature. The 2006 series CM93 electronic charts for MaxSea and C‑Map were OK but had some discrepancies of up to 100m, mostly in the southern approaches to Victoria.


Victoria harbor from the quarantine anchorage
Pirates: New. As of 2009, the anti-piracy efforts in the Red Sea and its approaches have pushed some Somali pirate activity further south. Some pirates have been known to operate near the Seychelles. In April 2009, 2 Seychellois boats were hijacked and their 9 crewmembers held for US$3 million ransom. For much of April and May, the Seychelles were not allowing cruising boats to leave, as the waters were considered unsafe. In June of 2009 the Indian Navy and the stronger trade winds forced the pirates to abandon the Seychelles so cruising boats were again allowed to leave. Still, it's always best to check the situation. The International Chamber of Commerce keeps track of all piracy worldwide, and they publish both a piracy map and a piracy report that are well worth examining before entering Seychelles waters. Note that their data is usually a week or so old before it gets published. You can read Jon's rant in our first newsletter once we were back on the boat in April 2009 in South Africa, and anxious about sailing north in a pirate-ridden sea.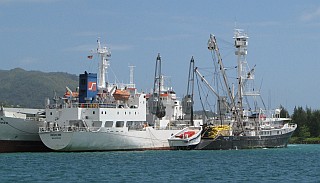 There are lots of tuna boats in Victoria harbor
Arrival/Departure: When approaching the Seychelles, you have to call Victoria Port Control on VHF 12 or 16 on arrival. They can see you as you approach the quarantine anchorage , and will tell you to stop within a designated area just outside Victoria Harbor. Be sure to call again once you reach the anchorage, so that they don't delay the boarding. Try to arrive during work hours M-F or you may pay overtime or spend the night at the fairly exposed quarantine anchorage. Most of the quarantine anchorage is hardpan, but we found anchoring depth in sand/rock on the western extreme (04°37.1 S 55°28.4 E) of the quarantine area. You'll shortly be boarded by officials, then invited into the inner harbor. Do not attempt to enter Victoria Harbor in the dark unless you've been there before. There is now a charge for the boarding of your boat, payable (obviously) after you've had a chance to hit the ATM. In mid-2009 it was Rs 175 (at 13/US$). There is still a per-day charge that is dependent on your tonnage, paid on departure. For example, a yacht of 20 to 100 gross tons pays Rs 75/day for the first 5 days, then Rs50 per day for days 6 - 10, then Rs40/day for days beyond that.
Customs and immigration are all within the port complex so relatively easy to walk to. This is the first place in the world we have had to turn in our passports while competing the clearance procedures prior to departing, which the local US consulate did not like at all. Once you have been cleared to leave (which you must do within the narrow time frame of 2 days) your passports are returned by immigration as you leave the harbor. In fact, they only gave our passports back once we were underway.
For more info, see Noonsite's Seychelles pages.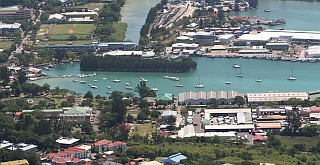 Victoria yacht harbor from south. Town to left
Victoria: The yacht harbor appears small, but in fact it can hold more than a dozen cruising boats. However, the holding is pretty poor and boats often drag in strong south-easterlies. The bottom was dredged to make one of the islands, so there's little for the anchor to grab on to. We found adequate holding just east of Hodoul Island (04°37.6 S 55°27.4 E) in about 30 feet (9‑10m). If you start getting shallower than this, the bottom is hard rock and the anchor won't hold. Hodoul Island is a nature preserve and the raucous calls of nesting Grey Herons herald the start of day. At sunset, the sky fills with the white wings of returning Cattle Egrets who roost in the mangroves and casuarina trees.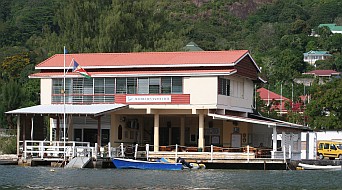 The Yacht Club and dinghy dock, high tide
Victoria is the most convenient anchorage for running errands in town, such as shopping or internet. The Seychelles Yacht Club at the head of the bay is friendly and welcoming. Their charge of about US$40/boat/month allows use of the docks, restaurant and bar (we've never figured why we must pay to patronize a bar!) and (cool) showers. The Yacht Club is a lovely hang-out place with a big covered veranda by the water and some of the best food deals on the island. Behind the club building are several workshops where we found men competent to help with outboard engine repairs and general boat repair info. Drinking water can be had from the faucet by the small boat-ramp (on the right as you're coming in). In 2007 the Yacht Club was in danger of being evicted and having to move, so nobody was doing any maintenance and the place was getting a bit run-down. On our return in 2009, we were pleased to see it not only still in situ, but improved! There is now an extension on the deck, and a floating pontoon for dinghies, making it accessible at all tides. Diesel can be bought from the fishing wall on the right as you come in, and the wall is deep enough to take most yachts alongside. There is a surcharge to bring your boat, but not if you jerry can it.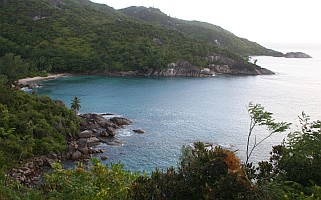 Bird's eye view of Anse Major, Mahé
Internet: There is pay WiFi at the Yacht Club run by Coco-Net, one of the big cyber-houses (you can buy an access card at the bar) but it's pretty weak by the time it gets out to the anchorage. To send email, Coco-Net insists that you change your email server to go through their server, which is an unsafe internet practice in our opinion (they can then see all your email and harvest the addresses to sell to spammers). So we didn't use any of the Coco-net outlets. Better (and possibly cheaper) is to take the short walk to Cable & Wireless and use their network. All internet access in the Seychelles is pretty slow as it all has to go via satellite, which adds almost half a second of latency (delay). In 2007 it took us all day to update our website (OK, it was a big update) but we were eventually successful. 3G wireless internet access was available but new enough that few people knew how to hook it all together and get it working. There is also a good private internet cafe up the hill from Beau Vallon near the bus stop for the Victoria buses. They buy bandwidth from both Cable & Wireless and Coco-net.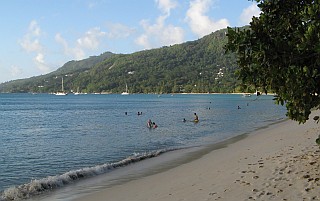 The anchorage at Beau Vallon, Mahé
Other Anchorages in the Inner (Granitic) Islands: Folks wanting a more secure anchorage, but still in reach of Victoria by dinghy can go south of the main harbor into one of the bays. Farther southeast is Eden Island, a huge South African-funded/developed marina/condominium place just south of Victoria is a dock-side alternative to anchoring in town. This is the best place to leave your boat if you intend to fly out, but there have been thefts recently, so be sure to secure the boat and place everything below decks. After 20 months on the dock at Tuzi Gazi, Richards Bay, South Africa we were sorely tired of docks, so we never took Ocelot to Eden Island. Town is a short (Rs7) bus ride away.
Most boats spend a fair amount of time in Beau Vallon (04°36.5 S 55°25.7 E) on the west side of Mahé. (The waypoint is approximate, as there is lots of beach front to anchor off!) Here, you have to do a surf entry with your dinghy to get ashore. Surprisingly, even in the SE trades the west facing anchorages develop quite a shore break and there were some exciting entries and exits, especially after a few beers on the beach in the evening! Beau Vallon is beautiful, but can be ruined by jet‑skis and waterskiing companies with little regard for yachts. Farther west from Beau Vallon is the small (2 boat?) anchorage of Anse Major (04°37.8 S 55°23.9 E) . It affords some so-so snorkeling, but a nice secluded beach, and good hiking into the interior and along the coast. The 2 anchorages south of there are Marine Parks: yachts have been charged or not, depending on the day of the week and the whim of the officials.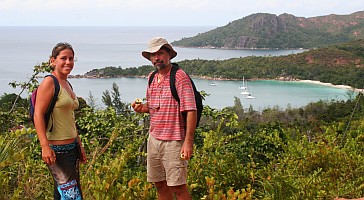 Hiking above Anse Lazio, Praslin with Ocelot below
On Praslin the main anchorage in the SE Trade season is lovely Anse Lazio (04°17.6 S 55°42.0 E) on the NW side of the island. It has good holding, some good snorkeling, and fine walking in the surrounding hills. Its main drawback is the surf entry to the beach which can be very hazardous. In the far right-hand end of the beach behind some rocks you can usually make a safer dinghy landing. There are other (shallow) anchorages between Curieuse Island and Praslin, but most fall within the Marine parks boundaries. La Digue (04°20.7 S 55°49.6 E) has a man-made protected inner harbor where you can stern tie to the wall. On the jetty are hundreds of bicycles for rent by the hour or the day. The island has almost no motorized traffic (tourists get to their hotels by ox-drawn carriages) so the biking is relaxing. We preferred not to be cheek and jowl with the charter boats, so we anchored out.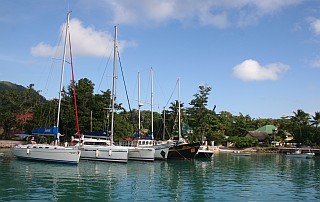 The small manmade harbor at La Digue
Private Islands and National Marine Parks: To its credit, the Seychelles is trying to conserve much of its natural marine beauty. For yachts, this is a pain. It pays to visit the National Marine Parks office in Victoria to get the current low-down on park boundaries and fees. For example, Sainte Anne park (just east of Victoria and including 3 major islands and the reefs between them) is a protected area and it costs something like US$10/person/day to anchor there, plus an anchorage fee. This gets a bit steep for a family! We were invited to go by dinghy to the close islands, but in SE Trades that's not always possible, and we still would have had to pay the day fee. All the outer (low sand atoll) islands are either private or owned by IDC, and they levy fees for visiting yachts. Permission must be obtained ahead of time at the IDC office in Victoria. If you rock up and want to anchor without a permit, you'll be asked to leave. Strangely, if you get even just a one-day permit, you may be invited to stay longer, especially if you have a skill or other resources that the island needs. On our way south towards Madagascar the winds forced us to seek refuge inside Farquhar Atoll (entrance at 10°06.7 S 51°09.5 E) the southeastern-most island group of the Seychelles, and 400 nm south of Mahé. You can read about our experience there in our Farquhar newsletter.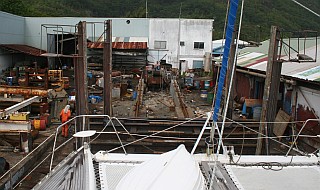 Pretty, it ain't. But they do great work!
Boat repairs and haul out on a railway lift are possible at the (less than lovely) Mazorki's yard south of Victoria in Providence. The owners, a father and son team, are great mechanics and machinists and can order in items from Singapore in a few days. The father especially doesn't just fix a problem, he analyzes what went wrong and fixes it so it won't fail again. He did an excellent job on our ProFurl roller gear (which is now better than new) and gave us some good advice on our sail drives.
Provisioning is easy in Victoria with a choice of 3 or 4 good supermarkets. But with everything imported, don't expect any bargains! Each major market carries things the others don't, so it pays to shop around and price compare. There is a thriving wet market in town with all the usual fresh fruit and veggies, plus fish and meat. Above the market stalls are souvenir shops. Bargaining is worth trying, but not always successful, probably depending on the merchant's mood and previous sales.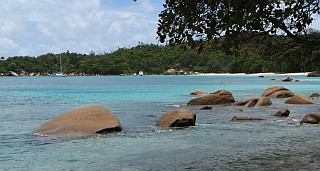 Ocelot on the far shore of Anse Lazio
Changing money: NEW! Recently, the Seychelles was forced by the IMF to float the Seychelles Rupee since they had defaulted on some loans. So, no more black market like we reported in 2007 . No more government folks getting rich behind the scenes. There are ATM cash machines at all the banks, and we counted no fewer than 10 Money Changer businesses on the main street in Victoria. The MCB Bank ATMs will take both Visa and MasterCard. Obviously a flourishing new business! Both Visa and MasterCard can be used at the bigger grocery stories, but at least one (Docklands) converts the total to Euros (to their advantage, of course) and then puts the charge thru in Euros. But Docklands is one of the more expensive stores anyway.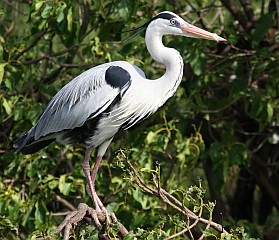 Grey Herons roost near Victoria
Favorite anchorages: Anse Lazio on Praslin (clear water, OK snorkeling) is beautiful. Beau Vallon, on the western side of Mahé, with its long white sand beach is great, but is can get very crazy on weekends with jet skis, water-skiers, etc. Anchoring limits are supposedly defined by the big yellow buoys but not all charter boats follow the rules. The bottom in Beau Vallon is soft sand -- so soft that our CQR anchor didn't want to roll over and set properly, forcing us to dive the anchor in whenever we went there. Anse Major, south of Beau Vallon is tiny and lovely, but not great holding.
Walks and Wildlife: Awesome trails criss-cross Mahé's forested hills. Some are well marked, others challenging (as in, you could find yourself on the top of a granite cliff!) There's a lovely coastal trail from the south side of Beau Vallon to Anse Major (start off by following the road until it peters out). On Praslin, there are many trails, including the primeval walks through Vallée du Mai, a World Heritage site. You can rent bicycles to take you all around La Digue on the coastal road (more like a trail in places) and up to view points in the center of the island. Birding is world-class, though those of us on the sea are perhaps already familiar with some of the more "exotic" sea birds such as the noddies, terns, and herons. White-tailed tropic birds soar from the cliffs on Mahé. Many species of land birds are found nowhere else.
Indian Cruising Info: Cruising N&E Indonesia | Cruising S&W Indonesia | Cruising Malaysia | Cruising Thailand | Thai Services | Cruising Andamans | Cruising Sri Lanka | Cruising the Maldives | Cruising Chagos | Cruising Seychelles | Cruising Madagascar | W Indian Weather | Cruising Mayotte
Related Pages: Seychelles Home | Seychelles Newsletters
Cruising Info: General Cruising Info | Equipment | Pacific Ocean Cruising | Indian Ocean Cruising | Provisioning Food & Fuel | Cruising Recipes
Top Level: Home | Destinations | Cruising Info | Underwater | Boat Guests | Ocelot | Sue | Jon | Amanda | Chris | Site Map | Make a Comment
---
Lifetime
Commodores
of the
Seven Seas
Cruising
Association

If our information is useful,
you can help by making a donation
Copyright © 2000‑ Contact: Jon and Sue Hacking -- HackingFamily.com, svOcelot.com. All rights reserved.