Chagos Arrival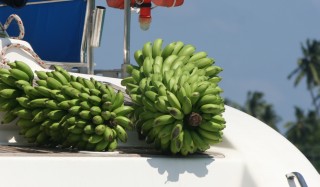 We took two stalks of bananas for Chagos
21 April 2007, Peros Banhos Atoll, Chagos Archipelago, Indian Ocean
Dear Friends and Family,
At about 11:00am on Tuesday, April 17, we said goodbye to the Maldivian friends we'd made in Addu Atoll, fired up Ocelot's engines, dug both anchors out of the sand (we'd had some strong squalls come through), and set sail. Our course to the Peros Banhos atoll of the Chagos Archipelago was SSW (200° magnetic) and the distance was about 300nm. But as we cleared the SW "kandu" (pass) out of Addu, our track suddenly took a jog to the left. Checking the instruments, we found that we were in a swift ocean current that was pushing us east at almost 4 knots!
So we adjusted our course to put us back on track, but we were all concerned - the current was stealing a lot of our speed and we didn't want to fight it all the way to Chagos (and possibly further to the Seychelles). We'd chosen to leave during a period of NW winds so this gave us some sailing flexibility, but the current still slowed us down markedly. Luckily, it soon dropped off to a more manageable 2.5 knots, and then tapered off slowly from there all the way to Chagos.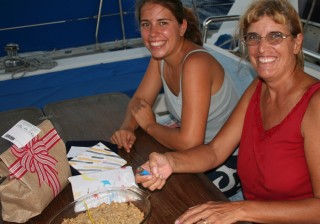 Amanda turns 18, despite the single candle!
Our passage coincided with the dark of the moon, which was unusual - we usually plan to make passages with as much moon as possible. Still, the skies were largely cloudless, which allowed the the stars to blaze forth in all their magnificent glory. The Milky Way is more visible in the southern hemisphere and the stars were so bright that we really didn't need a moon to see. The Big Dipper was on our right, doing slow cartwheels across the sky, while the Southern Cross did the same on our left. The last 2 stars of the Big Dipper (not the handle) form a pointer to the North Star, but since we're already in the southern hemisphere the North Star is below the horizon and we won't be able to see it again until the mid-Atlantic sometime in early 2008.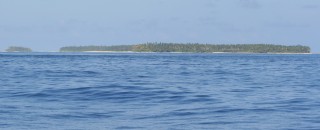 Our first view of Chagos: the coconut trees on
the north side of Peros Banhos Atoll
Light winds and the adverse current made our passage fairly slow, as passages near the equator usually are, but after almost exactly 3 days we motored through a pass in the atoll and anchored at the northern end of Peros Banhos. We're not sure if Google Earth shows this remote location, but you can try looking at 5°15.3'S 71°46.4'E.
We were greeted by about 10 cruising boats - and a party! Actually, the party was in honor of a cruising infant who'd just turned 1 (rather than Amanda, who turned 18 the day after we left Addu) but cruisers usually take any excuse to party. This one started on the beach, with a treasure hunt for the many youngsters, then Polynesian dancing by the older kids. We had a potluck with fresh fish later on under a thumbnail moon and palm trees, with a fragrant gentle breeze.

A school of chromis in the coral, Peros Banhos
The snorkeling and underwater life here are stunning. Underwater visibility is often well in excess of 100 feet (30m) and the fish have never been shot at, so they're very friendly. Huge coral reefs, featuring colorful plate corals, fans, and lots of undersea life are everywhere. It will take us weeks just to identify all the new fish we're photographing. Just today we saw a turtle so close that we could have reached out to touch it, and dolphins were playing just in front of our anchorage.
We'll probably stay in this (western) atoll for another week or so, until the normal SE trades start. Then we'll move 25nm east to the better protected Solomon Atoll (5°20'S 72°15'E), the only other atoll here that the governing British Indian Ocean Territories (BIOT) folks let us visit. Sometime in mid-late May we hope to make the 1,000nm passage to the Seychelles, but we're going to see and explore as much of Chagos as we can first.
Fair winds and calm seas -- Jon, Sue and Amanda Hacking
Up | Chagos Arrival | Paradise Found | Chagos Home | Chagos Cruising Info
Laos Letters | Vietnam Letters | India Letters | Nepal Letters | Indonesia Letters | Malaysia Letters | Thailand Letters | Sri Lanka Letters | Maldives Letters | Chagos Letters | Seychelles Letters | Madagascar Letters | Mayotte Letters | Africa Letters
Top Level: Home | Destinations | Cruising Info | Underwater | Boat Guests | Ocelot | Sue | Jon | Amanda | Chris | Site Map | Make a Comment
---
Lifetime
Commodores
of the
Seven Seas
Cruising
Association

If our information is useful,
you can help by making a donation
Copyright © 2000‑ Contact: Jon and Sue Hacking -- HackingFamily.com, svOcelot.com. All rights reserved.