Indonesia Letters
Caribbean Destinations | Pacific Destinations | Indian Ocean Destinations | Pacific Newsletters | Indian Ocean Newsletters | Flora and Fauna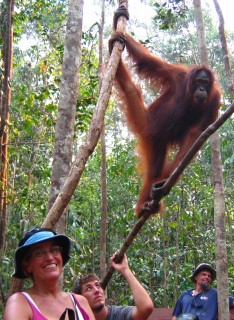 Sue & Jon topped by an orangutan
in Indonesia's Borneo jungle
We're re-vamping these Indonesia Newsletters pages with our return to Indonesia in 2014, starting with the Sail To Raja Ampat rally, then many more months on our own. The letters are now posted with the newest on top (see nav bars on the left), working backwards in time like a blog. We'll get the map (below) updated soon...
The 2006 Darwin-Indonesia rally had a nominal start date of Saturday, July 22 but we don't usually sail to someone else's schedule, preferring to wait until we're completely ready and the weather is favorable. In this case, Sue's emergency knee surgery in Adelaide followed by our careening Ocelot on the Darwin beach, meant we weren't quite ready when the rally started at noon - we were still shopping for supplies (good quality meat) that we were unlikely to get in Indonesia. But when we got back to Ocelot later that afternoon the weather looked good so we jumped off just a few hours behind the rest of the crowd. Within a few hours we'd started catching and passing the back of the fleet. It was fun to sail with almost 100(!) other yachts - somebody was always within VHF radio range, which is almost unheard-of on an ocean passage.
At night the winds would usually die and we often had to motor-sail, but the sun always brought a gentle breeze so we could fly our colorful spinnaker, which is always a delightful way to cross oceans. Although the passage was marked by relatively light winds and rather slow speeds, we actually averaged 5 knots over the 4 days and the GPS says that we hit 12.5 knots on our last day. The following are our noon positions and statistics as we sailed from Darwin, Australia to Kupang, Timor, Indonesia (wind speeds and directions are apparent, not true):
July
2006
South
Latitude
East
Longitude
Day's
Run
Miles
to go
Wind
Speed
Wind
Direction
Comments
Sat 22
12° 26'
130° 49'
0
471
17->5
80°
Leave Darwin at 2pm
Sun 23
11° 53'
129° 01'
111
360
6-8
150°
Motor-sailing at night
Mon 24
11° 26'
127° 29'
94
266
6-12
110-150°
Nice spinnaker run by day
Tues 25
10° 57'
125° 43'
109
157
7-15
90-170°
Wind finally picking up
Wed 26
10° 09'
123° 35'
157
0
15-25
150-160°
Anchor off Teddy's Bar, Kupang
The newsletters we sent while on passage are shown by date, plus we've included the other letters that we sent as we traveled through this huge and fascinating, predominantly Muslim, country.
The 2014 letters mark our journey from August to December, over the northern part of Indonesia to Sulawesi, Raja Ampat, Papua, and onwards. The newsletters are as follows:
| | |
| --- | --- |
| To Sulawesi | describes our passage from Tarakan, with the rally to Sulawesi |
| To Morotai | describes our sail from Manado to Morotai and more rally |
| Arrive Raja Ampat | describes our first adventures in Raja with Christopher |
| Crossing the Equator | describes more sailing and exploring in Raja with Amanda |
| Raja Ampat | describes our travels to Sorong and back out to the islands |
| Raja Underwater | describes our some of the wonders of Misool, southern Raja |
| Xmas in Raja Ampat | describes our cruising parties and Xmas celebration in Raja |
Enjoy
Indonesia Newsletters: Triton Bay 2017 | Baliem Valley | Raja Ampat & Kofiau | Through South Indo | Yacht Wreck! | To Dili, East Timor | Triton Bay 2015 | Whale Sharks! | Banda | Ambon | Raja to Balbulol | Xmas in Raja Ampat | Raja Underwater | Raja Ampat | Crossing the Equator | Arrive Raja Ampat | To Morotai | To Sulawesi | Jungles of Borneo | Beautiful Bali | Dancing & Diving | Venting Volcanos | Indonesia Arrival | 24 July 06 | 22 July 06
Related Pages: Indonesia Home | Diving Indonesia | Cruising N&E Indo | Cruising S&W Indo | Indonesia Letters | SE Asia Flora/Fauna
Indian Newsletters: Laos Letters | Vietnam Letters | India Letters | Nepal Letters | Indonesia Letters | Malaysia Letters | Thailand Letters | Sri Lanka Letters | Maldives Letters | Chagos Letters | Seychelles Letters | Madagascar Letters | Mayotte Letters | Africa Letters
Destinations: Caribbean Destinations | Pacific Destinations | Indian Ocean Destinations | Pacific Newsletters | Indian Ocean Newsletters | Flora and Fauna
Top Level: Home | Destinations | Cruising Info | Underwater | Boat Guests | Ocelot | Sue | Jon | Amanda | Chris | Site Map | Make a Comment
---
Lifetime
Commodores
of the
Seven Seas
Cruising
Association

If our information is useful,
you can help by making a donation
Copyright © 2000‑ Contact: Jon and Sue Hacking -- HackingFamily.com, svOcelot.com. All rights reserved.