Chagos Letters
Caribbean Destinations | Pacific Destinations | Indian Ocean Destinations | Pacific Newsletters | Indian Ocean Newsletters | Flora and Fauna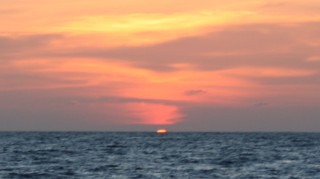 Sunset at sea, just before a green flash
Our passage from Gan Island, Addu Atoll in the Southern Maldives to Peros Banhos Atoll in the Chagos Archipelago was short but exceptional in that we had a strong east-bound current for the whole trip. Other boats ahead of us had not reported this, so it must have started up shortly before we left.
Strangely, except for Indonesia, we've generally had a gentle current with us for much of our passages. This current against us was a rude awakening. We certainly don't want to have to fight it all the 1,000 miles to the Seychelles. According to the Pilot Charts, there should be a strong west-flowing current a bit south of Chagos. If necessary, we'll take a more southerly track to the Seychelles in order to take advantage of this current.
The following are our noon positions and statistics. Distances sailed are over the bottom - our distance through the water was much more, as we generally had over a knot of current against us. We probably sailed over 100nm further through the water. Wind speeds and directions are apparent (from our perspective) not true:
April
2007
South
Latitude
East
Longitude
Day's
Run
Miles
to go
Wind
Speed
Wind
Direction
Comments
Tues 17
0° 46'
73° 10'
5
285
11-15
60-75°
Strong 3-4 knot eastbound current
Wed 18
2° 17'
72° 38'
98
187
8-13
50-120°
Amanda's 18th birthday!
Thurs 19
3° 50'
72° 13'
96
91
4-8
100-140°
Motor-sailing much of the day
Fri 20
5° 15'
71° 50'
91
0
2-4
aft
Flat calm conditions and beautiful landfall
Totals: 290 nautical miles in 3 days exactly, for an average speed of 4 knots over the bottom (over 5 knots through the water).
Up | Chagos Arrival | Paradise Found | Chagos Home | Chagos Cruising Info
Laos Letters | Vietnam Letters | India Letters | Nepal Letters | Indonesia Letters | Malaysia Letters | Thailand Letters | Sri Lanka Letters | Maldives Letters | Chagos Letters | Seychelles Letters | Madagascar Letters | Mayotte Letters | Africa Letters
Caribbean Destinations | Pacific Destinations | Indian Ocean Destinations | Pacific Newsletters | Indian Ocean Newsletters | Flora and Fauna
Top Level: Home | Destinations | Cruising Info | Underwater | Boat Guests | Ocelot | Sue | Jon | Amanda | Chris | Site Map | Make a Comment
---
Lifetime
Commodores
of the
Seven Seas
Cruising
Association

If our information is useful,
you can help by making a donation
Copyright © 2000‑ Contact: Jon and Sue Hacking -- HackingFamily.com, svOcelot.com. All rights reserved.