Laos Letters
Caribbean Destinations | Pacific Destinations | Indian Ocean Destinations | Pacific Newsletters | Indian Ocean Newsletters | Flora and Fauna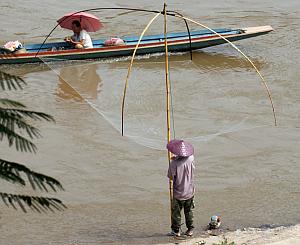 Fisherman on the Mekong River
In May 2014 we finally found the perfect time to take a long anticipated SE Asia inland trip. Because we wanted to sail from Peninsular Malaysia east to Borneo and beyond, we wanted the SW Monsoon (monsoon = season) to have started. The switch from NE Monsoon to SW doesn't happen overnight, so we let the wind do its thing while we traveled for a month through northern Laos and Vietnam. During that time we left Ocelot in a marina near Singapore (Danga Bay, which closed just a month after we returned) and flew north on cheap Air Asia promotional flights.
Laos (pronounced in the French way "LAO") has long been heralded as a Top Favorite among our cruising friends for its laid back atmosphere and the feeling of stepping back in time. With the help of a beautiful (paper!) map, and the latest Lonely Planet Guidebook on our Kindle we determined that northern Laos, from Luang Prabang north, held the most appeal. It was, after all, HOT season, and so we sought the waterways and cooler hilly climes. We found the tranquility, the beauty, and the mountains, but not a lot of "cool". At least we're acclimatized.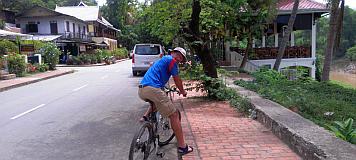 We toured Luang Prabang on rented bikes
We traveled light. One small day pack each, and Sue's started out half empty, in anticipation of adding beautiful Lao textiles. We used the WOW system of clothing: 1 Wet, 1 On, 1 Waiting, which translates to 3 sets of underwear, 3 fast dry tops, 3 shorts/skirt items. We wore the same open sandals daily, and didn't carry any other shoes. Replacement sandals are easy for those with shoe size 41 and under (not so easy with Jon's 44, which did break). Sue carried a convertible fanny pack/shoulder satchel (small) for passport, credit cards, money, notebook, pen, hand sanitizer, and motion sickness pills (necessary on the 4‑10 hour bus rides in the hills). We also had a camera and 2 lenses, a smart phone (used more as a quick camera than a phone), a cheap cell phone, and 2 Kindles for all our reading and guidebooks. Jon carried a small netbook so we could download our photos, post pictures, and write emails when we found WiFi internet access.
Average room cost: $15/night with our own bathroom, WiFi and A/C. Sometimes it included breakfast. We figure this falls into the "flashbacker" category, but we slept well!
Meals averaged about $4/person. Land and boat transport came to about $1‑2/hour of travel.
The newsletters we sent while traveling are:
Laos Letters: Up | Mekong River | Luang Prabang | Luang Namtha | Northern Laos
Indian Ocean: Laos Letters | Vietnam Letters | India Letters | Nepal Letters | Indonesia Letters | Malaysia Letters | Thailand Letters | Sri Lanka Letters | Maldives Letters | Chagos Letters | Seychelles Letters | Madagascar Letters | Mayotte Letters | Africa Letters
Destination: Caribbean Destinations | Pacific Destinations | Indian Ocean Destinations | Pacific Newsletters | Indian Ocean Newsletters | Flora and Fauna
Top Level: Home | Destinations | Cruising Info | Underwater | Boat Guests | Ocelot | Sue | Jon | Amanda | Chris | Site Map | Make a Comment
---
Lifetime
Commodores
of the
Seven Seas
Cruising
Association

If our information is useful,
you can help by making a donation
Copyright © 2000‑ Contact: Jon and Sue Hacking -- HackingFamily.com, svOcelot.com. All rights reserved.