India Letters
Caribbean Destinations | Pacific Destinations | Indian Ocean Destinations | Pacific Newsletters | Indian Ocean Newsletters | Flora and Fauna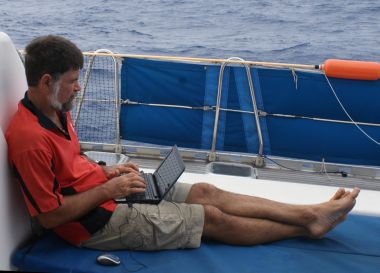 Computer time outside -- a quiet passage
India has been a goal of ours for several years. Problem is, India isn't really equipped to handle cruising boats. In 2011 they only had 2 marinas and they're in Cochin and Mumbai, over on the west side of India. Indian officials also take bureaucracy to a high art form, and corruption (backsheesh) is pretty much a way of life (although there are always moves afoot to reduce this). But we had friends in Chennai (Madras) who helped smooth things over as much as possible. Our hosts were the Tamil Nadu Sailing Association. They were extremely friendly and very willing to help us with whatever we needed.
Our India trip had 2 parts. First, we visited the Andaman Islands, just a few days sail from Thailand. We'd planned to stay longer but found that rising ocean temperatures had bleached the coral, so the diving wasn't as good as it had been in years past. So we continued to the Indian mainland for an inland tour through Sikkim in northern India.
The following are our noon positions and statistics as we sailed from the Similan Islands of Thailand to the Andaman Islands of India, as well as links to the "passage notes" that we sent out while we were underway. Wind speeds and directions are apparent (from our perspective) not true:
Feb
2011
North
Latitude
East
Longitude
Day's
Run
Miles
to go
Wind
Speed
Wind
Direction
Comments
Mon 7
8° 55'
97° 17'
(27)
323
0-9
---
Pigmy killer whales & Spinner dolphins
Tue 8
10° 04'
95° 43'
116
207
6-15
25-60°
Strange lumpy patches of water
Wed 9
11° 11'
94° 09'
113
94
10-15
±80°
Slow down for daylight arrival
Thu 10
11° 41'
92° 43'
(94)
0
9-12
60°
Anchor in Port Blair at 7:15am
Totals for this passage: 350 nautical miles in 3 days exactly (72 hours) for a fairly slow average speed of 4.9 knots.
We spent a couple of weeks exploring the Andaman Islands, and sent out several newsletters. Swimming with Mantas and Glorious Sailing are fairly self explanatory. Not Such a Bad Day describes an argument we had with a reef (our first in Ocelot), but that was still better than what happened to the US cruisers on Quest, who'd just been murdered by Somali pirates.

First light on Mt Pandim, Sikkim, Indian Himalaya
After playing in the Andaman Islands for a couple of weeks, we set sail for Chennai (Madras) on mainland India. The following are our noon positions, with links to the "passage notes" that we sent out as we sailed.
2011
North
Latitude
East
Longitude
Day's
Run
Miles
to go
Wind
Speed
Wind
Direction
Comments
Feb 25
11° 26'
92° 24'
(11)
724
10-19
±75°
Caught 2 fish, mellow conditions
Feb 26
11° 44'
90° 08'
135
589
12
120-180°
Running wing & wing
Feb 27
12° 07'
87° 24'
163
426
12-18
±110°
Nice sail, fishing fleet at night
Feb 28
12° 29'
84° 45'
158
268
12-20
±120°
Slow down for daylight arrival
March 1
12° 50'
82° 17'
148
120
10-20
±120°
Glorious sailing
March 2
13° 05'
80° 17'
(120)
0
5-10
±90°
Tie up at the Tamil Nadu Sailing Association
Totals for this passage: 735 nautical miles in 5 days exactly (120 hours) for an average speed of 6.1 knots (but the GPS says we hit 13.4).
The press made a big deal of us, as we were the first group of cruising boats to arrive in Chennai on purpose (a French boat had pulled in a few weeks earlier with a medical emergency). They interviewed us repeatedly and published several articles, which we link to on our Celebrities newsletter. Once we repaired our damage from the Andaman reef, we left on a fun trip into Northern India, where we visited another game park, toured an organic Tea Plantation, rode on a narrow-gauge railway, explored several hilltop towns, and took an 8‑day camping trek into the Himalayas to see Mt Kanchendzonga (Kanchenjunga), third highest mountain in the world!
India Letters: Up | Heading for India | Approaching India | Andaman Arrival | Swimming with Mantas | Glorious Sailing | Not a Bad Day | Bay of Bengal 2 | Bay of Bengal 3 | Friends are Good | Approaching Chennai | Chennai Arrival | Celebrities | Northern India
Destinations: Laos Letters | Vietnam Letters | India Letters | Nepal Letters | Indonesia Letters | Malaysia Letters | Thailand Letters | Sri Lanka Letters | Maldives Letters | Chagos Letters | Seychelles Letters | Madagascar Letters | Mayotte Letters | Africa Letters
Caribbean Destinations | Pacific Destinations | Indian Ocean Destinations | Pacific Newsletters | Indian Ocean Newsletters | Flora and Fauna
Top Level: Home | Destinations | Cruising Info | Underwater | Boat Guests | Ocelot | Sue | Jon | Amanda | Chris | Site Map | Make a Comment
---
Lifetime
Commodores
of the
Seven Seas
Cruising
Association

If our information is useful,
you can help by making a donation
Copyright © 2000‑ Contact: Jon and Sue Hacking -- HackingFamily.com, svOcelot.com. All rights reserved.