Madagascar Letters
Caribbean Destinations | Pacific Destinations | Indian Ocean Destinations | Pacific Newsletters | Indian Ocean Newsletters | Flora and Fauna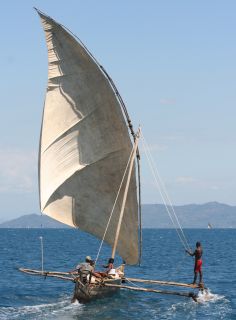 Madagascar: sailing outrigger
Our passage from the south from the Seychelles to Madagascar in 2007 was unique for us as it was our first all-upwind passage to date. This made our speeds somewhat slower, and the trip more bouncy. Although we chose the best weather window we could, the window slammed shut on us about a day earlier than expected, so we sought refuge for 10 days in conveniently placed Farquhar Atoll. But our adventures started before we'd even had a chance to clear into Madagascar officially!
Cruising along the coast of Madagascar was delightful. Although the country is very poor, the villagers sail everywhere in their colorful and picturesque dhows, making good use of the interesting winds that blow one direction in the morning, and the other direction in the afternoon.
The list-server we use to send out our newsletters was down for the entire time we cruised Madagascar, so most of these newsletters were sent to only a few folks, as our on-board email can't handle large lists of recipients.
The following are our noon positions and statistics as we sailed from Mahe Island (Seychelles) to Madagascar, with a stopover in Farquhar Atoll in late September, 2007. The basic course for these legs was about 220° magnetic (SSW). Wind speeds and directions are apparent - true wind-speeds were somewhat lower and true wind angles were a bit further aft (our forward speed pulls the apparent wind forward):
Sept/Oct
2007
South
Latitude
East
Longitude
Day's
Run
Miles
to go
Wind
Speed
Wind
Direction
Comments
Sun 23 Sept
4° 37'
55° 27'
0
435
17-22
50°
Nice sail, tropic birds & dolphins, 1 reef at night
Mon 24 Sept
6° 14'
54° 16'
129
306
20-25
45-70°
A bit bouncy, but clear skies for the most part
Tues 25 Sept
7° 40'
52° 52'
121
185
17
60°
Lighter winds, being headed, sailing the wind angle
Wed 26 Sept
9° 10'
51° 35'
121
64
15-24
70°
Massive front arrives early, anchor outside Farquhar Atoll at 10pm
Thur 27 Sept
10° 09'
51° 11'
-
0
25+
-
Move inside Farquhar Atoll, very nice & protected

---

Mon 6 Oct
10° 23'
50° 45'
(30)
187
22-30
60°
Leave Farquhar, lumpy seas, squalls at night, go to 3 reefs
Tues 7 Oct
12° 02'
48° 45'
158
29
27
60-45°
Veer around N Madagascar, anchor in Rantabe Bay!
Totals:
Distance
Time
Speeds (knots)
Leg
Nautical
Statute
Km
(days)
Avg
Max
Mahe Island to Farquhar Atoll, Seychelles
435
500
806
3.5
5.2
10.1
Farquhar Atoll to N Madagascar
217
250
402
1.3
6.7
12.1
In 2009 we returned to Madagascar on our voyage north from South Africa towards the Seychelles. Our short "hop" from Mayotte to Madagascar was completed in about 41 hours, on a mostly glassy sea. We were lucky to have a few hours of sailing breeze during the day, something we weren't really expecting! You can read about our short passage in our Ocelot Returns newsletter.
The newsletters we sent out from Madagascar are below, the first 5 from 2007, and the last one from 2009:
Up | To Farquhar Atoll | Madagascar Arrival | Yacht Rescue | Inland Madagascar | Madagascar Coast | Ocelot Returns
Other Madagascar Pages: Madagascar Home | Madagascar Letters | Madagascar Journal | Mad Flora & Fauna | Cruising Madagascar
Laos Letters | Vietnam Letters | India Letters | Nepal Letters | Indonesia Letters | Malaysia Letters | Thailand Letters | Sri Lanka Letters | Maldives Letters | Chagos Letters | Seychelles Letters | Madagascar Letters | Mayotte Letters | Africa Letters
Caribbean Destinations | Pacific Destinations | Indian Ocean Destinations | Pacific Newsletters | Indian Ocean Newsletters | Flora and Fauna
Top Level: Home | Destinations | Cruising Info | Underwater | Boat Guests | Ocelot | Sue | Jon | Amanda | Chris | Site Map | Make a Comment
---
Lifetime
Commodores
of the
Seven Seas
Cruising
Association

If our information is useful,
you can help by making a donation
Copyright © 2000‑ Contact: Jon and Sue Hacking -- HackingFamily.com, svOcelot.com. All rights reserved.