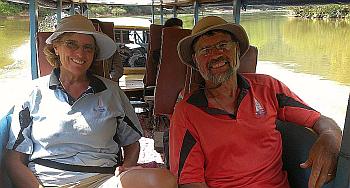 On a smaller long-boat, on the Nam Oh river
Dear Friends and Family,
Our last week in Laos was a whirlwind of more wild bus rides, higher hills, more remote towns, more intimate glimpses into the lives of some of the hill tribe people, and for a grand finale, a wonderful boat ride down the Nam Ou river to catch a bus into Vietnam at the northern‑most border crossing. For much of this week we were the only foreigners on the buses and boats. Way off the beaten track!
We spent one whole day getting out of Luang Namtha towards our final destination of Phongsaly, the northern‑most town in Laos. We had to sit in the middle isle of a minivan on plastic stools, below window level. Sue took anti‑motion sickness pills for this journey, as she did for most of our bus rides, but others obviously needed them. We had to stop for the night in dusty, non‑touristy and mostly Chinese Oudamxai, where all the roads seemed to be torn up and not yet re-constructed. It was a necessary overnight as it is at the crossroads of all the northern byways, and the buses north all leave at 7:30am.
The few views we did get showed that the scenery was Laos beautiful, rolling hills, deep valleys, spots of forest but predominantly clear cut swatches of land, very few with new plantings. There were some rubber plantations of lush dark leaves capped by lighter new growth, and a few teak plantations. We were getting used to the bamboo and thatch huts - they began to look sort of normal.
| | |
| --- | --- |
| Picturesque rice fields in Phongsaly province | Akha Pixar mother & baby |
We were surprised to find other foreigners on the bus with us in the morning (we were getting used to being the only Western travelers) as we headed north to Phongsaly. Other bus occupants included hill tribe people, men alone, or women in beautiful textiles with children on their laps. We were up for a 9 hour bus ride, and we had no snacks, so we hunted around the bus station. The small food shops and markets were, ... interesting. Lots of chicken and pig innards. Probably rat and frogs as well. We walked back towards our guest house to Siso bakery and bought baguette sandwiches of egg or tuna, moistened with ketchup.
The bus was big, old and funky with rotting wooden floors and no head liners, so we could see all the water damage. The road was paved for most of the way (some parts only 1 year old) but often only 1 lane wide. We wound up and up, into hillier and hillier country. It got refreshingly cooler, too. Late in the day, when we thought surely we must be arriving soon, someone pointed out a glistening white set of buildings on a far hillside. Phongsaly. It spiraled up the hillsides and to us was reminiscent of Darjeeling, but without the high mountains. The air was fragrant with flowers and wood smoke.
| | |
| --- | --- |
| Cooling the bus's brakes with water | Looking south from our guest house, towards the old tea plantations |
We stayed in the nicest guest house we could find: Vivaphone Guest house, which was weirdly laid out with huge concrete open spaces inside, and a back balcony overlooking the hills. It was our worst guest house: the bathroom door didn't close, the lighting was bad, and the WiFi didn't work except in the lobby. But hey! This was an adventure. The stunning view was the only thing to recommend it.
Surprisingly, for such an un-touristy town, we found one of best restaurants of our trip. Laoper Restaurant is an open fronted place, set off the main street. We climbed the steps to find about 10 round tables, well occupied by locals. We started to sit, but were ushered into the kitchen (with an open fire) where we were to point to food in the trays in the glass fronted fridge. We asked for Ga (chicken). No. Moo (pork)? Yes. Then we pointed to mushrooms and veggies. We were served exquisitely flavored pork and veggies, pod peas and mushrooms. Then a dish of just veggies, a big bowl of rice, and broth. We ate with chopsticks. It wasn't our cheapest meal, but it was so tasty! And the concept of the kitchen flavoring our ingredients as they thought best was ingenious. Two big Beer Lao topped it off.
| | |
| --- | --- |
| The kitchen cooking fire of the Laoper Restaurant | Pregnant woman working the fields |
We awoke to the glory of the hills, and rising fog. Our first stop was the tourist office to get an area map. We arranged a jeep trip to hill tribe villages for the next day then rented a scooter. We headed southeast from town to Ban Kormen where the tea trees are reportedly centuries old. We passed hillsides of low tea cultivation which was surprisingly not very neatly laid out, but still beautiful. It was nice to be in tea land again. At the village we found the Tourist Pavilion of Tea which was informative, but there was no one to talk to. They apparently roll the dried tea leaves into cigar-shaped packages, but we were unable to buy any. The people smiled and waved, but basically we toured around on our own. At lunchtime, women came in from the hills with bags of tea, selling to a pickup truck. We wanted to see women on ladders picking from tall old tea trees, but no luck.
We did find the small local tea factory on the far side of town, at the end of a very rough trail. Again, everyone ignored us, so we took shots of women sorting and throwing tea in the air from round baskets. We watched the weighing and buying of new leaves. Inside we saw the usual tea factory machines, but Chinese rather than 1800's British. The staff brought in green leaves and the workers jumped on the drying racks, shoes and all, and crawled around with the tea, spreading it out. Sanitary? Good thing tea is boiled.
| | |
| --- | --- |
| Tea picker with her morning load of tea leaves | At the tea factory, where the tea is processed, sorted, and boxed |
Phongsaly is known for its old town, which is more similar to old towns in southern Yunnan than to anything like those in southern Laos. We walked the cobble stone streets, seeing the old wooden and sometimes mud and daub houses. This was the area that leads one to say that Phongsaly is "not quite Laos, not quite China".
As a final adventure of the day we attacked the staircase through the woods that led to the top of 1640 meter Phou Fa ("Sky Mountain") and a stupa. From there we had a great view of the whole town and the surrounding hills.
| | |
| --- | --- |
| Phongsaly from "Sky Mountain". Our guesthouse is big, white, left of center. | Akha head-dress (back) |
The day of our hill tribe tour was a long one, partly because the most accessible villages where the women still dress in traditional garb lie several hours (by jeep) from Phongsaly, so we did lots of road travel. We stopped with our driver/guide at a local market where he chose banana-leaf-wrapped goodies like rice, tree frogs, mushrooms, and chicken for lunch.
Our guide told us about the different tribes: the Phunoy, Akha, Akha Pixar, Akha Cherpio, Akha Moochie and Tai Yang. Some are Christian, some animist, some devout Buddhist. Most live in thatch huts and cultivate bananas and rice, make bricks, and raise water buffalo for meat, not milk. We bought a few trinkets, admired the clothing and the babies, and even got to sit and watch 10 minutes of a science fiction animated movie that had been dubbed in the local language. Photographically it was a good day, but it's hard not to feel a bit like voyeurs into the people's lives. Jon, especially, had a difficult time with this. In theory, part of our (not cheap) tour money was given to each of the villages as payment for our right to visit.
| | |
| --- | --- |
| Akha Pixar woman & her baby | Typical Akha village in Phongsaly province. |
To get from Phongsaly to Vietnam, we chose to ride a local long boat down the Nam Ou river. The boat landing is in the small village of Hat Sa, situated east and far below the Phongsaly escarpment. It was the day before the monthly market, and the bus was overloaded with cargo, bags, jugs, children, and women in beautiful clothing. We counted 45 people on a bus with nominally 23 seats! Luckily it was only a 1 hour bus ride!
All we saw of Hat Sa was the boat landing, where the men in a small ticket kiosk seemed to know just what we wanted: tickets down river to Muang Khua. This is now divided into two boat rides, and a bus trip in the middle to get around the new dam on the Nam Ou river. We were the only foreigners on the trip so we settled in to get as comfortable as we could on the inward-facing plank benches that were only inches off the floor of the wooden boat. Slowly the boat filled with locals carting bags of produce or in one case, an open bucket of snails. Hundreds of them. Some even escaped and had to be gathered up again.
| | |
| --- | --- |
| The long-boats were smaller than on the Mekong | Shooting the rapids in a poorly handling long-boat |
The Nam Ou is a much smaller river than the Mekong, and here in the hills it was flowing freely. Our boat was about 50 feet long and only about 4 ft wide, and very low to the water. It was powered by an inboard diesel steered from the front. We passed small villages, sometimes stopping to offload or on-load people and cargo. The new dam made a big scar in the landscape, and we had to pay for an open bus ride along the steeply cut hillside to the next landing dock. From there, it was another 2 hour ride to Muang Khua.
Busses run daily from Muang Khua to Dien Bien Phu, Vietnam, and we had a lovely 3 hour ride to the border over hills getting ever more steep and forested. Entry to Vietnam was slow but uneventful. A mountain pass delineated the 2 countries, and we entered Vietnam under towering, craggy peaks, to drop to the valley of rice fields and water buffalo that surround the city of Dien Bien Phu. Strangely, as soon as we crossed the border, horn usage increased dramatically to almost Indian proportions!
Fair winds and calm seas -- Jon and Sue Hacking
Laos Letters: Up | Mekong River | Luang Prabang | Luang Namtha | Northern Laos
Destination: Laos Letters | Vietnam Letters | India Letters | Nepal Letters | Indonesia Letters | Malaysia Letters | Thailand Letters | Sri Lanka Letters | Maldives Letters | Chagos Letters | Seychelles Letters | Madagascar Letters | Mayotte Letters | Africa Letters
Top Level: Home | Destinations | Cruising Info | Underwater | Boat Guests | Ocelot | Sue | Jon | Amanda | Chris | Site Map | Make a Comment
---
If our information is useful,
you can help by making a donation
Copyright © 2000‑2019 Contact: Jon and Sue Hacking -- HackingFamily.com, svOcelot.com. All rights reserved.