Ocelot Returns
3 Aug 2009, Nosy Komba, Madagascar

A glassy sea, en route to Madagascar
Dear Friends and Family,
Just wanted to let you all know that we arrived safely in Madagascar. In marked contrast to our passage up from Richards Bay, the 200 mile passage from Mayotte to Madagascar was very gentle as the winds were very light.
We tried to get everything organized so we could leave on Wednesday, July 29, but there was just too much to do. To leave that afternoon we had to have the anchor up by 3:30 pm as we had to motor for 2 hours to get to the pass through the reef, and we certainly didn't want to do that in darkness. We don't usually like to leave in the afternoon as we prefer sailing during the day, but leaving then would have meant that we could arrive in Madagascar in daylight.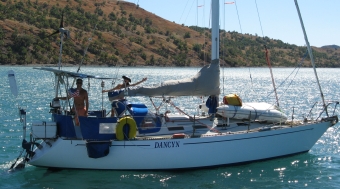 Our friends on Dancyn arrive from Chagos
As it was, we left first thing Thursday morning to an absolutely gorgeous sunrise as we motored down to the pass. Now, the GRIB weather files that we had said there was essentially no wind at all between Mayotte and Madagascar, but reality proved different. We had a delightful sail all day with 18‑8 knots of breeze from just off the beam (directly off the side of the boat - a fast point of sail for us). About evening the wind died and we had to motor sail the rest of the way, but we got a whole day of sailing that we weren't expecting.
We arrived in Nosy Mitsio about 11 pm. We don't like night approaches but we'd been here in 2007 and we had good GPS tracks from that trip. (See an interesting story about our yacht rescue from that time.) The radar showed the island (and the other boat anchored in the bay) well and we had half a moon to light things up. So the final leg went well and we anchored without incident.
The next day Dancyn arrived with Laura Jean, our main reason for coming to Madagascar now. So for the last few days we've been getting caught up, sharing meals, and exploring the coast of Madagascar with the bamboo and palm-frond villages and the fishermen paddling around in their outrigger dugout canoes. All good fun.
Fair Winds and Calm Seas -- Jon and Sue
---
4 Aug 2009, Nosy Be, Madagascar
Dear Friends and Family,
Just a quick note to say that we've (FINALLY) got our radio email working again! We are VERY relieved, as we depend on it for many of our weather products, like GRIB files. Without email we can still get Weather Fax charts and check into cruiser radio nets that give weather reports, but we prefer having the real data ourselves. Now we can.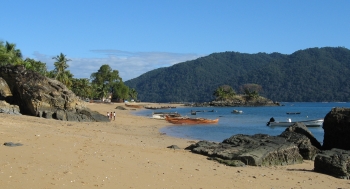 Beautiful beach, Nosy Komba, Madgascar
And, of course, we can finally catch up with all of you who've written. But the backlog's pretty big so please be patient.
Unfortunately, the GRIBs we received this morning show that the channel between Madagascar and the Seychelles is howling for the next 5 days. Hopefully, the winds will die down (and go more into the south) so we can have a more comfortable trip.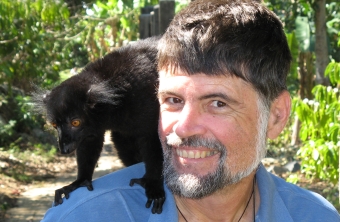 A wild Black Lemur on Jon's shoulder
In the meantime we'll have some fun exploring more of Madagascar. This morning we went for a delightful walk up in the hills of Nosy Komba (Nosy means Island). On our way down we came across a bunch of lemurs who climbed all over us trying to get to the bananas that we were carrying. We'd seen lemurs in Mayotte (although these were a new variety) but our friends Laura Jean and John had not, so it was fun to see it again through their eyes.
Nosy Komba has a couple of backpacker-type places and a fledgling tourist industry. They do some nice wood carvings (last time we were here we brought wood carving tools to trade). They also do some lovely table-cloths (or hangings) with intricate drawn-thread work and/or embroidery. Ocelot's already pretty full of wood carvings, but cloth packs down pretty well.
Rumor has it that prices in the Seychelles have sky-rocketed, so we probably won't be staying there long. Interestingly, the government has decided not to artificially inflate the Seychelles Rupee any more, which means there's no black market in dollars any more.
Right now, we're sitting at anchor in Hell-ville, going through the check-in process while all the trading dhows sail to and fro, in and out of the harbor, looking very colorful indeed. We're all well and life is glorious.
Fair Winds and Calm Seas -- Jon and Sue
Up | To Farquhar Atoll | Madagascar Arrival | Yacht Rescue | Inland Madagascar | Madagascar Coast | Ocelot Returns
Laos Letters | Vietnam Letters | India Letters | Nepal Letters | Indonesia Letters | Malaysia Letters | Thailand Letters | Sri Lanka Letters | Maldives Letters | Chagos Letters | Seychelles Letters | Madagascar Letters | Mayotte Letters | Africa Letters
Top Level: Home | Destinations | Cruising Info | Underwater | Boat Guests | Ocelot | Sue | Jon | Amanda | Chris | Site Map | Make a Comment
---
Lifetime
Commodores
of the
Seven Seas
Cruising
Association

If our information is useful,
you can help by making a donation
Copyright © 2000‑ Contact: Jon and Sue Hacking -- HackingFamily.com, svOcelot.com. All rights reserved.